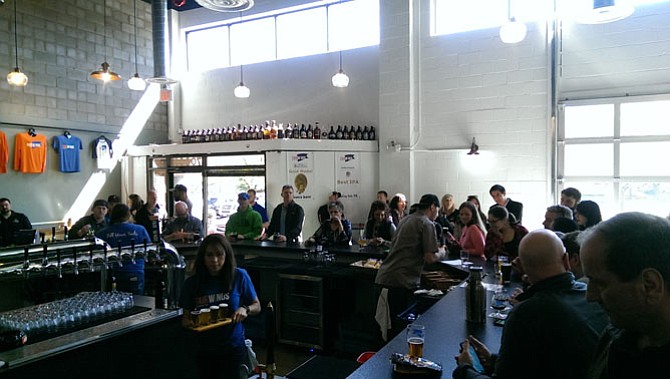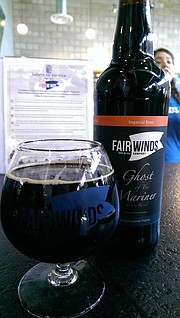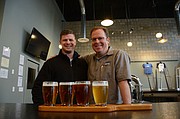 On a glimmering spring Sunday afternoon, the occasion might call for a light, effervescent beverage: a saison or farmhouse ale, a session IPA. But at Fair Winds Brewing Company in Lorton, customers lined up on April 10 to taste of something much darker, the second "Brewer's Reserve" limited release beer: a barrel-aged imperial stout called "Ghost of the Mariner."
A chalice of the positively inky liquid gives the impression of the haunting, murky depths that clearly inspired this rare beer. For a special bourbon barrel-aged version of the regular stout, head brewer Charlie Buettner of Burke scored some fresh coffee beans from Ricks Roasters Coffee Company of Fredericksburg to deepen the already sinister-black beverage.
Whole beans were rolled around inside oak barrels that once contained Bowman's Virginia Gentleman bourbon to impart some of their roasted flavor and color. Their impact is immediate on the palate, but fresh and not overwhelming. Then there's subtle, sweet vanilla notes from the bourbon that drift across the tongue like midnight clouds over a black sea.
The release of the beer nearly perfectly coincided with the recent announcement of Fair Winds as the Washington City Paper's Best Local Brewery in their 2016 Reader Poll, just 13 months since the brewery opened. They beat out 2015 winner Port City Brewing Company in Alexandria and runner-up 3 Stars Brewing Company in Washington, D.C.
For head brewer Buettner, the award didn't sink in until the morning after it was first announced.
"It's huge," he said. "This is a local magazine. It's what keeps the lights on, the community of people saying that you're good."
Buettner was recruited from Mad Fox Brewing Company by Falls Church resident and Fair Winds owner Casey Jones, who spent 12 years in the U.S. Coast Guard and makes it a point to hire and offer special events and discounts to veterans.
Though Buettner said the award is a great validation of the work Fair Winds has put in so far, he also said it's no grounds for becoming complacent. "We're not thinking about today," he said, "but tomorrow, always tomorrow."
Fair Winds Brewing Company is located at 7000 Newington Road, Suites K & L, in Lorton. For more information, visit www.fairwindsbrewing.com.