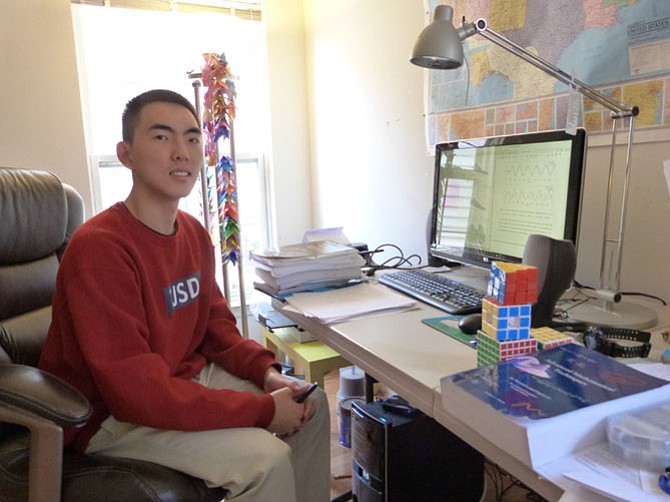 When Michael You was 3 years old, he would flip through the pages of science picture books. He was particularly drawn to those with illustrations or photographs of ocean animals.

"I've always liked oceans and sea life and I enjoyed visiting the Baltimore and Washington Aquariums," said You, now a senior at Thomas Jefferson High School for Science and Technology and Hayfield Secondary School, both in Alexandria, Virginia.

That fascination, boosted by months of research and preparation, manifested itself recently when You became a regional finalist in the 2015 Siemens Foundation STEM Competition, which promotes science, technology, engineering and math (STEM) education. The competition supports and honors students who push their academic boundaries beyond the classroom and engage in hands-on research projects. You won a $1,000 college scholarship for his efforts.
You researched SONAR (SOund Navigation And Ranging)-related whale beachings and how bubbles in the blood vessels of whales can cause injuries when whales are exposed to SONAR. A television documentary about endangered ocean animals inspired the project. "It was interesting because I didn't understand how it could be because I couldn't find a connection between SONAR and whale strandings."
You realized that SONAR-related whale beachings were a legitimate, growing problem. "But no one was really paying attention to it or researching it," he said.

He developed a mathematical model to test the effects of high-energy sound sources on bubble oscillation in small tubes. In announcing You's award, David Etzwiler, CEO of the Siemens Foundation, said the project has the ability to "advance research and exploration in critical fields."
One might say that scientific research is in You's blood: His father, Liangzhi You, is a senior scientist at the International Food Policy Research Institute and his mother, Xuemei Chen, is a patent examiner at the United States Patent and Trademark Office.

In fact, his mother served as his mentor for the Siemens research project. "My mom has done research on bubbles in oscillation," he said. "She helped me understand bubble mechanics."
Chen says that her son has always been interested in science and technology. "He really deserved this honor," she said. "He's a very motivated kid. When he decides to do something, he makes up his mind and he manages to finish it."
You hopes his project can help individuals become more aware of human impacts on the ocean and galvanize people to protect vital marine ecosystems. "I have concerns about whales becoming extinct," he said. "Military sonar could be part of the problem."
"I have concerns about whales becoming extinct."

— Michael You, Thomas Jefferson High School for Science and Technology
In his spare time, You is a competitive swimmer and plays the violin and piano. You also teaches competition math at his local Chinese School on Sundays, focusing on number theory, combinatorics, algebra and geometry.
"My schedule is pretty packed," he said. "When I'm doing something, I try to do it as fast as possible and by focusing on one thing, I can do it quickly. Then I feel accomplished and you can move on. I enjoy doing everything I do."
You, who has a 4.5 weighted grade point average, recently finished applying to two colleges. He hopes to study electrical engineering