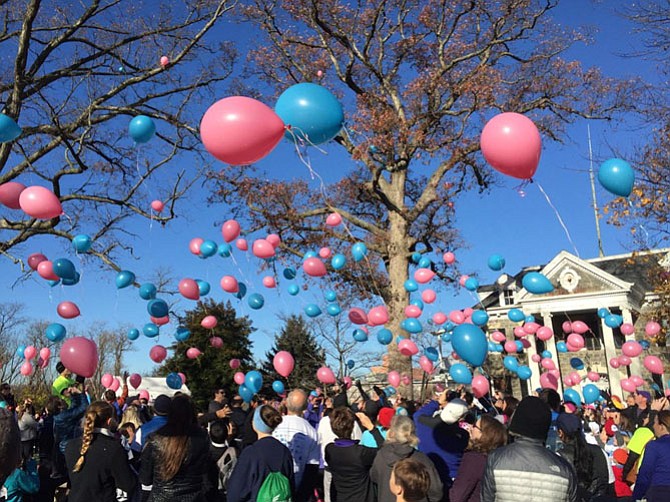 Neil Lawson was on the last segment of the Jennifer Bush-Lawson Foundation's Memorial 5k Run, but this part was the hardest. Not for any of the hills through that area or the rough terrain, but for Neil Lawson, it was the moment where the Jennifer Bush-Lawson Foundation's Memorial 5k took him past Nottingham Elementary School, past the site where his wife Jennifer Bush-Lawson was fatally struck by a dump truck last year.
"In that moment, I reached out and touched the pole [near where she was killed]," said Neil Lawson. "It was a sad moment, but I had my son running with me.That made it easier."
But it wasn't just the oldest of Neil Lawson's three children running with him. More than 2,000 people came out to support the Jennifer Bush-Lawson Foundation at the Nov. 21 event. More than 600 signed up for the 5K run and 400 children ran in mini-races. More showed up for the food trucks, climbing wall, and other events in the lawn around north Arlington's Knights of Columbus building. All proceeds from the race went to the Virginia Hospital Center and the Arlington Pediatric Center (APC). Ashley Leonard, executive director of the foundation, estimated that more than $95,000 had been raised.
"Seeing the community celebrate and support this, it means so much to me and to the hospital center," said Michele Werner, director of development at the Virginia Hospital Center. "The [Jennifer Bush-Lawson Foundation] has been a fantastic partner and a very good friend to our patients."
According to Werner, between 600 and 700 new children are born in Arlington each year. If a mother is uninsured or on Medicaid, the Virginia Hospital Center is their only way to receive care. New mothers can also receive treatment at the APC for up to a year, and the center takes care of children up until age 16. Basic check-ups can cost $1,172 for each child per year. The APC sees more than 3,560 children each year and has an annual budget of $2.2 million, 40 percent of which is funded through charitable giving.
Bush-Lawson's connection to the Virginia Hospital Center and health care for young mothers stemmed from her own experience with three difficult births. Each of her children needed to be admitted to the Hospital Center's Neonatal Intensive Care Unit shortly after birth. After each birth, Bush-Lawson spoke to her husband about how fortunate she had been to have access to this medical care, and how many others weren't as fortunate.
The activities culminated in one of the Lawson family's newer traditions. According to Neil Lawson, whenever the family visits Jennifer Bush-Lawson's grave, they bring balloons with them. He and his three children write messages on the balloons and release them, sending them up to their mother. At the end of the 5k, Neil Lawson, his children, and hundreds of supporters release pink and blue balloons into the air.
"She was an unbelievable daughter," said Bush-Lawson's mother, Fran Bush, who also noted that Bush-Lawson would have loved the event. "She's left such a legacy … we think about her every single day. She did a lot of running, sometimes she'd even outrun Neil [Lawson]. Neil has been an unbelievable father to their children."
Not just at the event, but throughout Arlington, Fran and Bruce Bush said they've received a very warm reception.
"The people here have been unbelievably kind," said Bruce Bush. "I have never been to a place with friendlier people."
Some of the runners had known Jennifer Bush-Lawson before the race. The Hudspeths did not know Bush-Lawson particularly well, but they went to church with her.
"She always came into church with a smile," said Christian Hudspeth, "She always seemed happy and engaging. She had a very strong bond with her family."
Wendi Carrol went to Southern Lehigh High School with Bush-Lawson, and said that while Bush-Lawson was a couple grades older, she had always seemed sweet and driven.
Other runners didn't know Jennifer Bush-Lawson at all, but were very impressed with the quality of the event.
"The race was very close by, and it's a fairly hilly course," said James Scarborough. "There was a lot of sponsorship, they really brought in a lot for charity."
The high quality of the event's coordination was noted by several of the runners.
"We're out here to support the community. This event is so well organized, especially for a first time race." said Anne Bloom.
"As moms, our heart breaks. We want to show our support for the family," said Ellie Bernhardt.
"For all the families," added Barb Young.