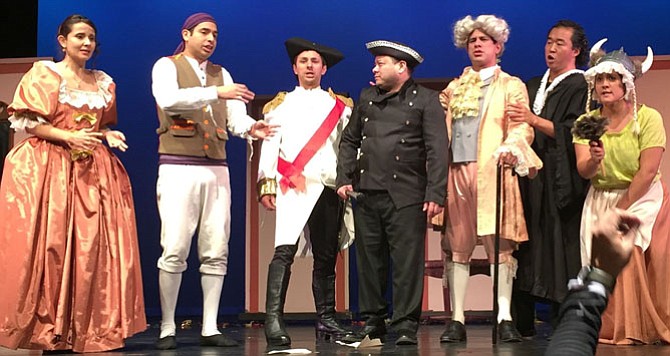 From the children's reaction, you'd think it was a cartoon show. Or a puppet show. Maybe a circus? But no, it was … an opera.
"I loved the show," said a 7-year-old. Another shouted "bravo," like a La Scala veteran. Others raved about the costumes and the swordplay. There was laughter throughout.
The 70-minute opera, Rossini's "Barber of Seville," was performed for several hundred school children for Nov. 17-20 at Thomas Jefferson Theater in Arlington, produced by Opera Guild of Northern Virginia, a nonprofit.

"I thought it was important to expose them to an art form they have probably never seen before," said Chris Phillips, principal of Jefferson-Houston School in Alexandria. "They may not understand the words, but I told them to look at the movements and emotions in the opera."
And movements there were: Confetti was shot out of a small cannon, actors were chasing each other around the stage, and one actor pretended to put a Spiderman outfit on another singing a serious aria. There were lots of falls and slapstick. Lots of children remarked about the child in a parrot costume chasing the others on stage with a plastic meat cleaver.
Mee Kim brought 53 children with her from Campbell Elementary School in Arlington to the opera on Wednesday. "First I explained the story and the plot in class," she said. They didn't mind that much of the singing was in Italian.
Occasionally, the maid, played by Katherine Leon, explained the plot line and others described the story intermittently. Leon also introduced each singer along with voice part and each instrument played by the orchestra, conducted by Artistic Director Jose Sacin.
Among other principals in the production were Alex Albuquerque, Erin Passmore, Darcy Monsalve, Eduardo Castro, Greg Voinier and Kinneret Ely and Nathan Letourneau. Opera NOVA volunteer Lynn Bragan was checking each group as they entered, having prepared seating arrangements for each group.
"Barber of Seville" is one of several operas performed by Opera NOVA, including "The Magic Flute" and "Monkey See and Monkey Do." Its president, Miriam Miller, is making plans to produce Scott Joplin's "Treemonisha," which languished for nearly 50 years before being discovered in the mid-1970s. Miller's mission is to bring opera and the arts to young people, minorities, seniors and other underserved communities. "Once again the little girls liked the Princess the best — aka the leading lady — with or without royal lineage, " Miller said.