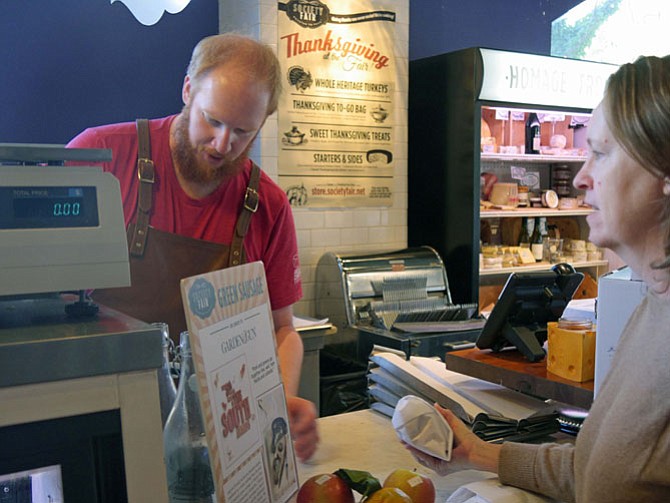 It was the Saturday before Thanksgiving. Justin Owens, butcher and one of the managers at Society Fair, said, "Today starts the crazy four days. People woke up this morning and realized Thursday is Thanksgiving and we have been getting panicked phone calls asking if it is too late to order their Thanksgiving dinners."
He says they have sold 30-40 whole turkeys and have at least 300 pounds of turkey breasts in the meat locker. Currently the whole turkeys are sold out but with more expected on Monday.
Suzanne Laporte steps up to the glass meat counter and chooses four boneless chicken breasts and two strip steaks. "I live in Maryland and drive here every weekend because the meat is so good," she said. Laporte also orders a plastic bag filled with the olive oil crackers made in-house. "They don't even need cheese. I just eat them as a snack."
Owens has been at Society Fair on S. Washington Street since it opened four years ago. He got on-the-job training as a butcher at Restaurant Eve where he worked before he came to Society Fair. He said his first job there was as a server.
"I started learning about food. I was looking for a passion and found a talent I didn't know existed," he said.
Owens pulls out "a good local pork loin from Pennsylvania" and a glistening sharp knife. He said, "I'm going to french the chops and what I trim will be used for sausage" as he piles chunks of fat on the cutting board. "This small one is actually an oyster knife," he explains as he scraps around the bones. He said, "This is the stuff people want these days — natural and organic has become the norm again, the way it used to be. We make sure we know where our meat is coming from; we take field trips."
He says his customers want a lot of steaks such as rib eyes and New York strips and "the things we make ourselves, the patés and terrines and sausages and the pasta salad and other sides. "A sign for pork with mustard greens sausage sits on the front of an empty white platter. "This has become a signature meat, famous in a way." He adds, this sausage was featured in Garden and Gun Magazine under "Homemade in the South" awards. Owens says he teaches as much as he sells. "That's why I do the butchering out here in the store so people can watch and ask questions."
Next to the butcher block is the cheese case filled with Prairie Breeze cheddar made by Mennonites, Pipe Dreams Ash log and Black Betty described as "sleek and sexy with deep caramel and fruit aroma." Owens said, "I wrote that. Cheese people think they are very poetic." Owens says he started the cheese program at Society Fair and helped create "what we were going to do here." He works with a local person in buying cheeses and does his own research. "I like to start people with something easy, for instance like Maytag blue cheese from Iowa until they get used to that taste and then move to something more complex." He says cheese is finally becoming a little more mainstream and people are more adventuresome. "Some people specifically search for raw-milk cheeses." His own favorite: "I love soft, young goat cheese." One of the staff volunteered that they call him the "curd nerd."
A staff member walks by and Owens said, "You'll need to make more punch. The bourbon is in my office." He explains they are currently making seasonal autumn harvest punch which gets bottled and sold online and in the wine bar. "The idea really started with my signature dish, apple-raisin stuffed pork chops. I had the syrup left over from soaking the raisins and it ended up in the punch." He said it has become sort of a cliché "but we do use everything nose to tail."
Owens says he grew up with two younger brothers but, "mom and I were the adventuresome eaters, even as a kid. My brothers and dad were meat and potatoes." Now when he goes back to Maine his mother has saved up a lot of new places for them to try. Also he recalls his grandmother's sauerkraut soup. "I remember the smell, the bay leaf. She loved making egg salad so I went to her house for lunch every day. So one day — and she hates me telling this story — I found her chewing gum in my sandwich. I never let her forget it."