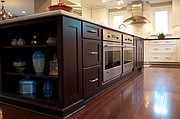 There's no doubt that the concept of a family kitchen has been radically altered in the past few decades. Homeowners are comfortable with less enclosure; more visual continuum. They are also embracing zoning ideas that make it easier for a hostess to move between food preparation tasks and entertaining guests.
But suppose the proposed solution for more kitchen space is to "lose the living room?" Unthinkable at first, but then — "really innovative, clever... a huge breakthrough."
Such were the revelations of Joy Green, owner of a 3,000-square-foot residence in Oak Hill, as she contemplated a plan to introduce a gourmet kitchen into the rear of traditional-style three level home.
Joy and husband Helmut, both in their mid-60s, had purchased the house new in 1983; raised three boys in it and, like most homeowners of the period, had happily adapted to what the home had to offer.
What the home offered was a 1,000-square-foot first level template consisting of a front foyer with a living room to the left; a family room, kitchen and dining room (moving from right to left) on the rear of the house.
One could walk directly from the foyer to the family room, but each room was less than 150 square feet. "And," Joy adds, "there was an excess doors." Five in the family room alone.
"The traffic through the kitchen was frequently clogged," she said.
Yet, curiously, the spacious front-facing living room was scarcely used.
"When the kids were small, the living room was a kind of containment area for their games, " Joy said. "But as they got older, we stopped using the living room. Which made our first floor plan rather odd — since the kitchen was too dark and cramped and didn't have the kinds of storage capacity that I really needed."
Fast forward 15 years, and the Greens have finally removed a wall between the family room and the kitchen. There's now more light. But the wall separating the kitchen from south-facing dining room still blocks out the morning sun, and the space remains quite restricted.
"Storage was really a problem. I had to keep certain cooking implements in the basement or other closets. Just keeping track of what was where was really inconvenient."
But as the Greens gradually became empty-nesters and then retirees, thoughts of retrofitting the first floor to better satisfy emerging entertainment and culinary pursuits prevailed. Joy began to research kitchen design ideas in magazines and online. She came across kitchen design pro Marcelo Dobrauchi of Terranova Construction K&B and set up meeting in her home.
"I had been experimenting with new space plan ideas for months," Joy said.
"I was kind of stumped. But Marcelo put everything into perspective almost immediately. In the end, he drafted eight floorplan variations. He was very thorough on every issue — and there were many."
"I thought an open plan might be be better suited to what Joy and Helmut were looking for," Dobrauchi said, "so I sketched out a concept showing how they could convert the living room to a formal dining room while reconfiguring the adjacent kitchen/family room space as a large open kitchen revolving around a food prep island and dining counter."
Since this would entail deleting three interior walls concealing electrical wiring and plumbing, Dobrauchi devised a way to re-route much of the critical infrastructure into a specially-designed 12-foot-by-8-foot passageway conjoining the kitchen to the relocated formal dining room.
Meanwhile, by rerouting HVAC vents, the designer eliminated the need for ceiling-flush bulk-heading, adding the vital inches needed for higher, more capacious cabinets.

To accommodate a wide assortment pots, pans, cooking utensils, the design team built an L-shaped system of floor cabinets fitted out with custom-designed slots and cubbies.
At 16-feet-by-3-feet, the handsome food prep island and five stool dining counter is the kitchen's focal point. A pair of state-of-the-art baking ovens are within easy reach of the white quartz counter surface — which parallels a black quartz surface that includes a wine refrigerator and a glass-facing stemware cabinet.
The built-in works perfectly for the couple's everyday dining requirements, but is also an ideal staging area for the buffet-style service they generally employ for larger parties.
Jana Neudel, a Terranova interior design expert, worked closely with Joy in developing the kitchen's finish work elevations.
Nordic white mission-style cabinet facings present a pleasing shade contrast to the truffle-colored facings of the food prep island. Natural stone tiles with herringbone detail in a 3-inch-by-6-inch brick pattern, meanwhile, present a softly neutral back splash that ends texture to an open sunny space.
Completing the transitional-style interior design statement, walnut flooring and crown molding create a visual unity. Natural light floods in from all directions.
A perfect space for entertaining, and gourmet cooking pursuits.
John Byrd (byrdmatx@comcast.net) has been writing about home improvement topics for 30 years. See more stories at www.HomeFrontsNews.com.