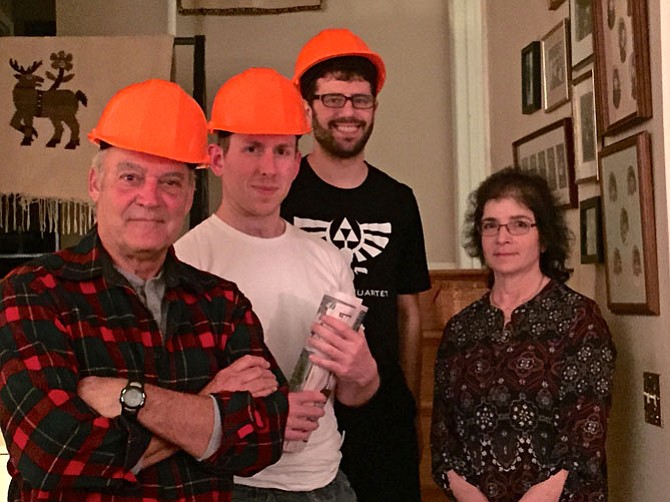 When and Where
The Vienna Theatre Company presents "Eclectic Essentials" on Oct. 30 & 31, and Nov. 6 & 7.
The show will be at the The Vienna Baptist Church, 541 Marshall Road, SW Vienna.
Tickets will be available at the door for $14 or to reserve tickets, email vtcshows@yahoo.com.
For more information, visit http://www.vienna...">www.viennatheatre....
Although their home at the Vienna Community Center may be under construction, the Vienna Theatre Company is as active as ever. Showing off their many hats, and making the best of their current situation, the Vienna Theatre Company is well on their way as they prepare for their fall production this year, "Eclectic Essentials." Welcoming an enthusiastic scramble to find rehearsal space and having to accommodate a new pre-production routine, the Vienna Theatre Company cannot be stopped – the show must go on.
This fall, the Vienna Theatre Company opted for an evening of one-acts, embracing the expected challenges due to the Vienna Community Center renovation. "Eclectic Essentials" consists of five one-act plays. "It will be fun and a little bit of a challenge," said Laura Fargotstein, one of the show's directors. With the renovations anticipated to end in 2017, the group's collective positivity inspired the concept for the fall production. Laura Fargotstein, a member of the Company's Board of Directors for about three years now, is directing "Mere Mortals," a play by David Ives.
"Mere Mortals" features Kevin Comer, Patrick David and Michael Schwartz. This play is about three good friends - construction workers in New Jersey – eating lunch together like they always do, until Charlie (Patrick David) tells an incredible secret. The two friends have different reactions, and then tell animated stories of their own. At a recent rehearsal of "Mere Mortals," Kevin Comer -- who plays Joe -- said, "My character is the skeptical one of the three. He's grounded and does not like to fantasize." Patrick David, who plays Charlie, said this one-act "is wonderfully written, and very enjoyable. The audience will like it and the other actors are fantastic." While the characters speak about lighthearted things, as they would on an average lunch break, "the real theme here is about escaping from the drudgery of reality – imagining a better place," said Comer.
"ECLECTIC ESSENTIALS" includes five one-acts, under the individual direction of Adriana Hardy, Jessie Roberts, Laura Fargotstein, Jeff Mikoni and Leta Hall, and Melissa Sim and Haley Murphy. "I, as a director, have to bring everything to each rehearsal. That's part of the reason why the plays have to be very simple," said Laura Fargotstein. "The one-acts idea fits well with this simplicity," she said. Although the plays are all very different, these short pieces will explore the human condition - through friendships both old and new, warm satire, and clever wit. From absurd comedies to a new play from Singapore that takes on current events in a wacky way, "Eclectic Essentials" enhances these "low-key, simple concepts" with a punch.
The Vienna Theatre Company will be performing at the Vienna Baptist Church this fall and has other places like the Vienna firehouse in mind for future performances. Despite the changes and displacement, "We are going to have to stay active and keep a presence in Vienna," Fargotstein said.
ACTORS AND DIRECTORS come from all over, but the heart of the company resides in Vienna. The company, founded in the early 1970s by Norman Chaudet, is now sponsored by the Town of Vienna through the Department of Parks and Recreation, and was incorporated in 1985. At its beginning, the Company used the old gym at the Vienna Community Center for its rehearsal and performance space. Today, the search for viable performance locations continues. "Each director has to find a rehearsal space," said Fargotstein. Although finding spaces large enough to rehearse has proved to be a challenge, the Company improvises with what they have. Fargotstein held her last rehearsal at her home.
"We are trying to be very positive and look at this as an opportunity to bring different things to the Company," Fargotstein said. "We are even more active than we are ordinarily – and that's ironic!"