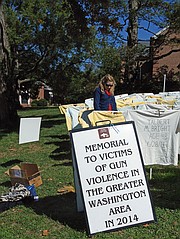 Blue, white and yellow T-shirts are draped over white crosses dotted across the lawn of Rock Spring United Congregational United Church of Christ at 5010 Little Falls Road in Arlington. Each T-shirt has the name, birth date and date of death of one of the 155 victims of gun violence in metropolitan Virginia, Maryland or D.C. in 2014 according to Heeding God's Call, who initiated this traveling memorial.
This display was installed Sunday, Oct. 11 on the Rock Spring church lawn and will be there through Saturday, Oct. 24. According to Kathy Dwyer, senior pastor of Rock Spring, the issue of gun violence will be addressed in the 9 a.m. and 11 a.m. church services on Oct. 18 and the display dedicated after the 11 a.m. service that day.

"I think there has been a shift since 9/11 and we all recognize our own vulnerability and that is difficult. The natural response is fear," Dwyer said. "As Christians our call in the face of fear is to have faith and to create places of peace."
She said that it seems every week there are senseless acts of gun violence, "and there are some whose response is to give the teachers guns so they can protect themselves. It is important to be people of faith." Rock Spring has also prepared a letter, which will be delivered to homes in the neighboring area explaining the memorial and giving resources to families who may have children asking questions. "Find out what your child knows already; keep your answers simple; ask more questions to find out how they feel," she said.
Dwyer says this is an effort "to pivot from fear to faith which is easier to do in a community that calls on us to be our best selves." The display will have 23 yellow T-shirts honoring Virginians in our area who have been the victims of gun violence in 2014, 57 blue T-shirts for metropolitan Maryland and 75 white T-shirts for Washington D.C.
"We welcome the community to attend the ceremony on the lawn Oct. 18 after the 11 a.m. service and to visit the memorial where you can walk among the T-shirts and reflect on the victims and their loved ones,"she said.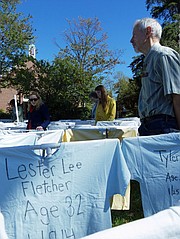 The memorial is scheduled to move to St Mark Presbyterian in Rockville for its last display of this year.
This display called "T-Shirt Memorial to the Lost" is a project of an organization called Heeding God's Call, an effort to call attention to the 30,000 gun deaths in America each year targeting people from 3-73 years old. The organization advocates common sense gun measures. The T-shirts rotate among sites and will have been displayed at 14 locations in metropolitan Virginia, Maryland and D.C. by the end of the year.
The movement began when Heeding God's Call Philadelphia paired with the Presbyterian Church of Chestnut Hill and St Martin-in-the Fields Episcopal Church in 2012 to develop the "T-Shirt Memorial to the Lost" to commemorate the 288 lives lost to gun violence that year. The first local location to display the "Memorial to the Lost" in the D.C. area was Chevy Chase Presbyterian on April 5, 2014 where the local congregation assisted in writing the names on the 176 T-shirts of area gun violence victims in 2013.