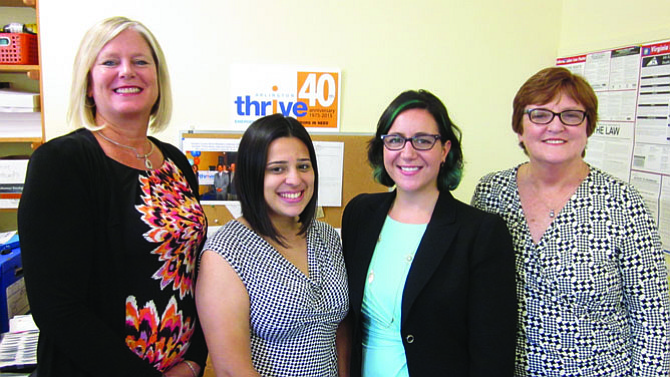 Never heard of THRIVE Arlington? There is a reason for that. THRIVE has existed for 40 years in Arlington, albeit under a different name: AMEN. Because the organization is not church-affiliated, THRIVE wanted to assure donors it was a secular organization, hence the name change. But the other reason one might not have heard of THRIVE is the pride they take in being a behind-the-scenes organization. They aren't flashy; they don't seek the limelight. They have a budget of $1 million to fill the gap for Arlingtonians who have an emergency need for money: anything from emergency medication for an infection, to rent money for two months when an accident sidelines a breadwinner.
THRIVE runs on a staff of four and a roster of volunteers. They will only provide emergency funding through a caseworker from an accredited aid organization: those case workers hear of a need, call THRIVE, and THRIVE writes a check. They write the check directly to the landlord or the pharmacy, so funds stay on track. Temporary is key word in THRIVE's mission: this is not for chronic needs. THRIVE will only help with rent or utilities payment twice a year. THRIVE can only give funds to residents of Arlington.
This is THRIVE's 40th year. Started by former County Board member Ellen Bozeman and several church representatives, it was called "Arlingtonians Meeting Emergency Needs," and while it has been helped by local religious organizations in the past, and the Presbyterian church provides a low rent office, it is secular, with a third of its funding from individual donors who are private citizens. Half of THRIVE's funds come from the county; 10 percent from foundations; and the rest from individuals, including Combined Federal Campaign funds.
THRIVE is part of the Continuum of Care in Arlington. THRIVE's staff of 26 volunteers have a "duty phone" which they use to take calls and forward them to THRIVE staff. It also has all-volunteer board. Funding THRIVE has taken on new urgency since Fannie Mae help-the-homeless funding ended in 2013. In addition, Arlington County requires THRIVE to be able to match the funds the county provides, by half.
According to Gerry Shannon, THRIVE is finding an increase in elderly residents not being able to make ends meet.
The stories of those who benefitted from THRIVE are many. Shannon cites the family which lost its income temporarily when a landscape worker broke his leg: were it not for THRIVE, this family, who had paid rent faithfully and worked hard for years, would have been out on the street. Shannon also noted that THRIVE often receives funds from Arlingtonians it helped — one recipient donates, via her company, $100 every year to "pay forward" the generosity she received when she was temporarily in need.
THRIVE's new board, is looking for increased involvement, both in terms of funding and volunteering, from Arlingtonians. It will kick off the effort with a gala event on Wednesday, Nov. 18, from 6:30 to 9 p.m. at the Army Navy Country Club, with tickets at $100 each. Sponsorship opportunities are available. The Metropolitan Chorus will sing, hors d'oeuvres will be offered, and there will be an open bar.
THRIVE also sponsors a running program, "Resolve to Run" with a series of training runs, working with a coach, leading up to the George Washington Parkway Ten Miler and 5K, when THRIVE runners will run to benefit the group. For more information about both events, see: info@arlingtonthrive.org.