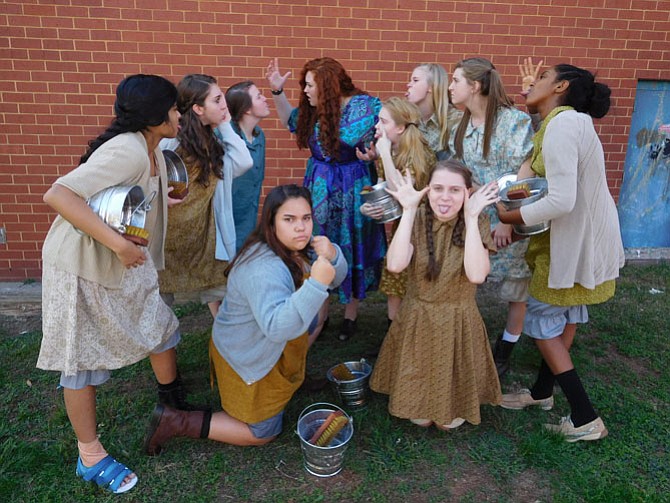 Complete with Daddy Warbucks, Sandy the dog and a certain red-haired orphan, Chantilly High is presenting "Annie, the Musical."
The curtain rises Thursday-Friday, Oct. 22-23, at 7 p.m., and Saturday, Oct. 24, at 2 and 7 p.m. Tickets are $12 at the door or $10 via www.chantillyhsdrama.com.
Director Shannon Khatcheressian cast the show last spring, so the 40 actors learned their lines and music over the summer. There's also a production team of 35 and a live orchestra directed by Laurelyn Morrison — whose husband Michael, a former Chantilly thespian, will be playing bass. Evan Ayars is the choral director.
"Things are going great," said Khatcheressian. "The students are making wonderful progress doing a full-scale musical in the six weeks since school started, so I'm excited about the final product. It's a really fun show for them to do. Ensemble members are playing three to five roles each, and we doubled the number of orphans so more students could perform."
She said the actors have embraced their characters and all their subtle nuances. "We're eager to bring a musical classic to the stage," said Khatcheressian. "It'll be enjoyed by all ages — children seeing this story for the first time and adults who grew up with it. It's a wonderfully timeless piece for a wide audience."
The story takes place in New York City in December 1935, with scenes in an orphanage, at the White House and in the heart of Times Square. And instead of having a traditional set, Chantilly will use an artist's projections on stage and on the theater's side walls to illustrate the various locations.
Senior Hannah Warnick portrays Annie. "She's a 13-year-old orphan looking for her parents," said Warnick. "They left her at the orphanage with half of a locket and a note saying they'd come back for her. She's rambunctious, outgoing and a leader; all the other orphans look up to her. She's optimistic about her situation and tries to lift the orphans' spirits; she's also the one who stands up to the orphanage owner, Miss Hannigan."
Warnick loves playing a high-spirited, younger teen because "kids don't worry about how silly they look or if something's wrong; they just do it. And I get to interact with almost everyone in the cast and work with the dogs. It's really awesome playing a lead, especially in my senior year. It feels like all the hard work paid off, and Annie's such a classic show that I'm honored to play this role."
Her favorite song is "Hard Knock Life," which she sings with the orphans. "I love the aggressive and powerful choreography," said Warnick. "It shows how angry we are about our situation, and we use lots of props like buckets and scrub brushes."
This show contains all the iconic songs from the movie, plus extra numbers from the original musical. "So even those who know the show well will be surprised by something new," said Warnick. "People will leave appreciating what they have, their families and the relationships they've formed with people they love and those who love them."
The story's moral, she said, is that "no matter how hard things seem, don't be discouraged. Try to stay positive, hold your head up high and know that 'The sun will come out tomorrow.'"
Playing Hannigan is senior Grace Mattes. "She's a horrible, selfish person who's always drinking," said Mattes. "She doesn't like the orphans, but needs the money from her job because it's the Depression. She thinks she's awesome, but is actually sloppy, rude and mean, even when she's not trying to be. This is my favorite part I've ever played because I can't be like that in real life, so it's great to do it onstage. Plus, I have some really funny lines."
Mattes especially likes the song, "Easy Street," which she sings with Hannigan's brother, Rooster (Caleb Mitchell) and his friend Lily St. Regis (Becca Gustafson). "We're the play's three caricatures," she said. "And this is a big, over-the-top, dance number." Mattes said the audience will enjoy this musical since it's a "family show with catchy songs and beloved characters that are easy to either love or hate."
Junior Adam LeKang portrays Daddy Warbucks. "He's a wealthy businessman who doesn't share his feelings with anyone," said LeKang. "He's a doer, and it's cool how he changes through the show. After Annie comes into his life, he starts to open up, show his feelings and accept her. It's a fun role; I like getting to stretch my acting abilities. I normally play comic relief or a crazy person; but this time, I'm solemn and stone-faced."
His favorite number is "We'd Like to Thank You, Herbert Hoover," sung by the poor people living in a shantytown called Hooverville. "It's a funny and sarcastic song, as they jokingly show their 'gratitude' to Hoover, who's responsible for them being there," said LeKang.
He said the audience will love the real dog playing Sandy, which brings a new dimension to the stage. "The costumes are spectacular, too," he added. "And the dancing has really cool choreography and dynamics."
Playing Grace Farrell, Warbucks's secretary, is junior Sydney Kendrick. "She's from a wealthy family and wants to be in the business world like her father," said Kendrick. "She starts having feeling for Warbucks, but suppresses them because work comes first. She's proper and confident, but also stands up for those she loves."
Kendrick enjoys showing "the relationship between Annie and Grace. I can direct the servants, but am also maternal toward Annie." Kendrick likes the song, "I Think You're Gonna Like It Here," which she and the servants sing while showing Annie around Warbucks's mansion.
"People will like the goofy faces the actors make in this show, and the projections will give a more intimate feel to what's happening," she said. "They'll also enjoy seeing the orphans joke around, and the unscripted bits Mrs. K. added to the show make it hilarious."