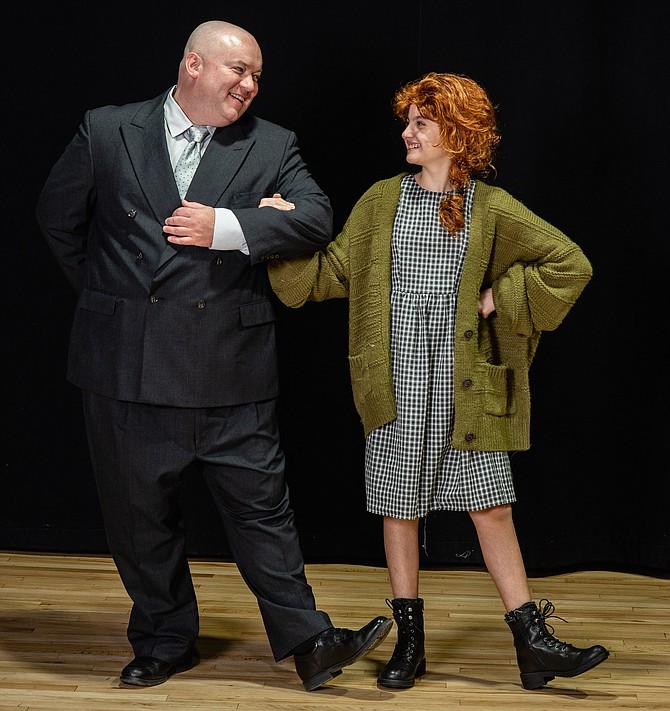 It's a blockbuster musical classic. A show beloved for decades. It's "Annie" from the Reston Community Players. It's the story of one optimistic young girl, an orphan, in search for her parents on her unexpected encounters in New York City starting from the doorstep of Miss Hannigan's New York City orphanage to finding her way from rags to riches.
"! can say that this musical, 'Annie,' will continue to entertain for eons," said Reston Community Players director Sue Pinkman. "How can you not love a spunky little girl who, against all odds, keeps hope alive and looks forward to a better tomorrow?" The musical has some of the greatest musical theatre hits ever written, including "It's a Hard Knock Life," "Easy Street," and "Tomorrow."

"I feel a responsibility to give the audience what they expect: an adorable little girl who can sing her heart out, a sweet story of hope and optimism, a fun night at the theatre ... and of course, the cutest dog ever!" added Pinkman. "With equal parts pluck and positivity, Annie charms everyone she encounters."
Leading the cast of "Annie" are Kylee Hope Geraci and Eva Jaber, who share the title role. The large Reston Community Players company for "Annie" include Doug Marcks in the role of billionaire Oliver Warbucks, joined by Claire Jeffrey (Grace Farrell), Jennifer Redford (Miss Hannigan), Joshua Redford (Rooster Hannigan), Emily Jennings (Lily St. Regis), Nathan Ramee (Bert Healy) and Richard Durkin (FDR). The role of Sandy, "the cutest dog ever," will be played by Whimsy.
"Annie's" musical director is Sam Weich. For Weich, the goal is "to be an upbeat show. It is a fun jazzy score. My goal is for people to walk out happier than they arrived and to be humming the songs as they leave." Reston Community Players veteran Jolene Vettese is the choreographer.
Kylee Hope Geraci, who portrays Annie, said, "I love playing Annie, because she is strong, kind, and optimistic. The show has a great message and I love to sing the iconic songs. Playing Annie reminds me to always have hope and stay optimistic."
Eva Jaber, who also portrays Annie, said "Annie has always been one of my dream roles. Annie's character is full of hope. The story of 'Annie' is one of perseverance and how one little girl can make a big difference in many lives."

Remember "The Sun Will Come Out Tomorrow!"
Where and When
Reston Community Players present "Annie" at Reston Community Center's CenterStage, 2310 Colts Neck Road in Reston. Performances April 26 to May 18, 2019. April 26-27, May 3-4, 10 and 17 at 8 p.m. May 5 and 12, 2 p.m. matinees. On May 11 and 18, there are performances at 2 p.m., and 8 p.m. Tickets $28 adults, $24 seniors and students. Special ticket pricings for the 2 p.m matinees on May 11 and May 19; $25 for adults and $21 for seniors and students. For tickets, contact the box office at 703-476-4500 or online at www.restonplayers.org. CenterStage is accessible and offers listening devices for the hearing impaired. Note: The musical is appropriate for all ages