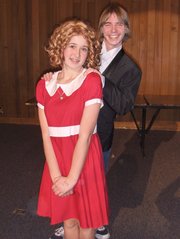 Centreville — Annie, Daddy Warbucks, even Sandy the dog — they'll all be on stage when Stone Middle School presents the much-loved musical, "Annie Jr."
Show times are Thursday, Dec. 13, at 3 p.m.; Friday, Dec. 14, at 7:30 p.m.; and Saturday, Dec. 15, at 3 p.m. Tickets are $7 at the door, except for the Dec. 13 show, which is pre-sale only during school lunches, Dec. 10-12.
The cast and crew of 35 have been rehearsing since September, and Director Lois Stanzioni is pleased with their progress. "They're extremely talented kids and I'm proud of them," she said. "They're really stepping up and 'becoming' their characters."
It's 1930s New York City, FDR is the president and the U.S. is in financial difficulties. Annie's an orphan in Miss Hannigan's orphanage; but after she meets the wealthy Warbucks, her life changes forever. The action takes place in the rundown orphanage, Warbucks' lavish mansion and on the streets of New York.
There'll be a live pianist and drummer, and Drew Tobin, as FDR, will be in an authentic, 1930s wheelchair. Stanzioni did the choreography, starting work in July. She said the audience will love Annie's "relentless optimism. It may strike adults as unreasonable because it's based on nothing. Her life is cold, dark and depressing — and yet, she clings to hope."
In the title role, eighth-grader Aubrey Cervarich described Annie as "spunky and close to my own personality — loud, bubbly and outspoken. But inside, she just wants to be loved and nurtured because she's always been the one to do that to others."
She and classmate Maggie Deely, playing Hannigan, planned on acting these roles together since fifth grade, so "it's a big dream for both of us. Broadway and dancing are huge to me, and 'Annie' was the show that opened my eyes to that."
Besides having singing talent, Aubrey's been an Encore dancer for four years now, so she's a triple threat in Stone's show. "There'll be a little tap, some modern hip-hop and a lot of jazz numbers," she said. "It's amazing playing the leading role, and I'm also the dance captain, so I teach the dances to the others, which is really cool."
Her favorite song is "Tomorrow" because a live dog will be onstage while she sings it. "I like the sincerity of Annie, who's never had anything, and the dog, all by itself," she said. "They come together, ready to love and take care of each other." Aubrey said the audience will like the dog, plus all the characters' personalities. And, she added, "We've been working really hard on the show."
Portraying Warbucks is eighth-grader Jacob Dietz. "He's a rich businessman who doesn't know anything except how to run businesses," said Jacob. "When he gets an orphan to spend Christmas at his home, it's to boost his image. But eventually, he falls in love with Annie and wants to adopt her. He's awkward at first, but livens up. He changes character as the play goes along, and it's fun to act that out on stage."
Jacob solos on the number, "You Won't be an Orphan for Long," and likes how "the song doesn't seem to make sense, but really does." And he believes the audience will say, "The whole play was awesome."
As Hannigan, running the orphanage, Maggie Deely plays someone "angry, moody and annoyed easily," she said. "She's also an alcoholic and hates little girls. She's supposedly looking for love, but rejects people who flirt with her."
Maggie loves this part because "I get to be loud, which I enjoy. It's my first big role — and my dream role — because playing a villain, you get to really show your acting abilities." She likes her solo, "Little Girls," because "it's funny and I get to show lots of expression and really belt it out."
She said the audience will enjoy the show's acting and singing. "We have some serious talent," said Maggie. "They'll also like the 'NYC' number because it makes you think of the city's hustle and bustle, but it's pretty, as is New York City with all the lights."
Eighth-grader Sean Luffy plays Hannigan's brother, Rooster. "He's a ladies man, he's classy, has tricks up his sleeve and is a swindler and a crook," said Sean. "He doesn't have much money, but likes it a lot." Sean's enjoying portraying someone so different from himself. "It was a challenge at first," he said. "But then I got to know him better and it worked."
He likes the "Easy Street" number, which Rooster sings with his girlfriend, Lily St. Regis, and Hannigan. "It's got a wide range of notes and exposes what they really plan to do about Annie," said Sean. "I think the audience will like the villains and the colorful costumes."
Playing Lily is seventh-grader Molly Van Trees. "She's Rooster and Hannigan's accomplice, trying to get reward money as 'Annie's parent,'" said Molly. "She's ditzy, dumb, blonde, kind of an airhead, materialistic and likes money. I get to have a high, nasally voice and funny expressions, and I definitely have the best costume — a purple-and-white, flapper dress with a purple sequined jacket."
Most of all, she said, "The audience will love Aubrey's performance; she's going to steal the show. They'll be talking about her for awhile."
Classmate Isabelle Bingham-Wright plays Grace Farrell, Warbucks's secretary. "She's prim, proper and educated and never loses her cool," said Isabelle. "She's also graceful and elegant. I love acting so ladylike and I love my costumes — a pencil skirt, blousy shirt and pretty dress."
Isabelle says the audience will like the show's energy. Agreeing with Molly, she added, "Our Annie is phenomenal. She really brings out that childish excitement and happiness that can be in people."