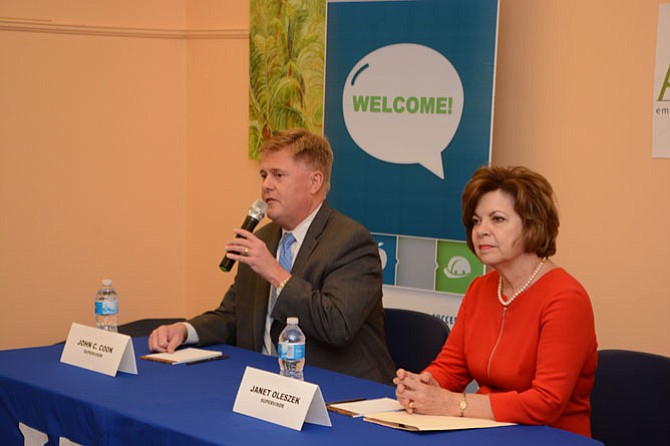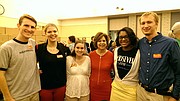 Sophomore Joe Russell with the George Mason University Democrats said his organization has helped register around 950 additional voters on campus. They've brought all the Democrat candidates for local offices to visit their school, Russell said. "We want to make sure students are aware of elections." Russell and several members of the Democrats campus group attended the League of Women Voters meet the candidates event for Braddock District on Oct. 8.
"We've just seen the campaign literature," said George Mason junior Scott Loudin of Republican supervisor incumbent John Cook. "Seeing what he has to say is really interesting."
Junior Taylor Pigram said it's important for them to remember "us being part of Braddock District, of Fairfax County."
"We're educating students about what the local issues are," Pigram continued. "Our diverse population on campus mirrors Fairfax County."
CANDIDATES for supervisor -- incumbent John Cook and challenger Janet Oleszek -- answered a series of questions in the first part of the evening program, with queries ranging from a position on how the Northern Virginia Training Center land should be used once the facility closes to expansion of Braddock Road.
On Braddock Road, Cook referenced a study taking place with citizens associations and called for better pedestrian crossing and the possibility of a bus and carpool lane. Cook said that he was "not in favor of any toll on Braddock Road."
Oleszek called an expansion to eight lanes "a real possibility." "It's clear to me this is going to happen," she said. She was critical of the destructive impact widening the road would have on Lake Accotink and Accotink Creek.
"It would turn Braddock Road for two miles into a freeway," Oleszek said, "I'm wholly opposed to it."
When questioned about whether they support a meals tax or not, Oleszek said she would be in favor of it. "We know we need more resources," she said and referenced the projected budget deficit facing the Fairfax County School Board for the 2016-2017 school year. "We're one of few jurisdictions in our region that does not have one."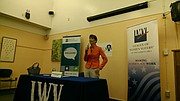 Cook said a meals tax would not solve the school budget problem, and that he did not want to see property tax go up either.
Another question asked the candidates about their views on reforming the Fairfax County Police Department.
"We have to, to make our police department better," Cook said. "It takes a change in philosophy, from warrior to guardian mentality."
Cook also said he has pushed for more Crisis Intervention Training for officers to be better prepared to handle situations with individuals with mental illness. "The Board of Supervisors needs to step up," he said.
"We've suffered from a lack of transparency for quite some time," Oleszek said. "Training is critical to safe policing and communities." The Democrat challenger also said she would like to see the retirement systems and health insurance improve for the police department.
DURING THE SECOND PART of the program, School Board member Megan McLaughlin appeared at the meeting without Katherine Pettigrew, who is running against McLaughlin for the Braddock District representative seat.
McLaughlin answered a series of questions, including some about the online budget tool that allows citizens to submit proposals for decreasing the projected school system shortfall, later start times for middle school students in addition to high school and treatment of transgender students in schools.
When the school board voted to add gender identity to the county's nondiscrimination policy, "we fell short of educating families on what it means," McLaughlin said. "We looked at following the letter of the law. There was no operational impact."
Video from the Braddock District candidates meet and greet, as well as previous such events for other races, is available to stream on the League of Women Voters website at www.lwv-fairfax.org/2015MeetandGreet.html.