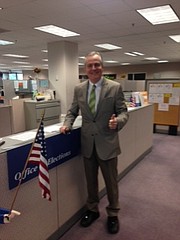 Carey Campbell announced he has entered the race for Braddock District supervisor as an Independent, joining incumbent Republican John Cook and Democrat challenger Janet Oleszek.
Campbell, an accountant and U.S. Air Force retiree, filed his candidacy paperwork on April 29 and was confirmed on the ballot May 1.
"I'm excited by support in Braddock District for our positive Green New Deal Eco jobs for economy campaign," Campbell said in a statement. The new candidate has already been endorsed by the Independent Green Party.
"As an Independent candidate in a nonpartisan race, I look forward to continuing to visit constituents door to door," Campbell continued. "I promise to carry your concerns into office. Let's get it done together. I ask for your guidance and support."