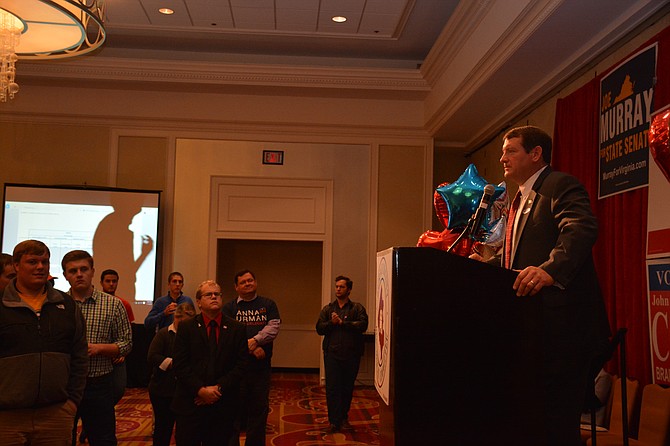 Supervisor John Cook (R-Braddock) said he much preferred this night to the one when he was elected to his first term. A close race with his opponent meant waiting around until late into the evening. This year, Cook defeated Democrat Janet Oleszek by a more handy margin of about six percent of the vote.
"Local government is about being the level closest to the people," Cook said, as the first speaker at the Fairfax County Republican Committee election results viewing party. "It's about getting things done, the right way." The party was held Nov. 3 at the Fairview Marriott hotel in Falls Church.
Cook attributed his victory to having a full term to "do a lot of work," including work with Chairman Sharon Bulova and Sheriff Stacey Kincaid on a "Diversion First" program to help prevent people with mental illness from ending up in the Adult Detention Center without prior mental health evaluation, work raising awareness and developing resources for victims of domestic violence, and working with community leaders.
"People have shown appreciation for that, and I'm very thankful," Cook said.
Incumbent Supervisor Pat Herrity (R-Springfield) recorded a more lopsided victory in his race against Independent Green candidate Corazon Foley. He spoke about continuing to push "the message of transparency from our government" and working with the School Board during his next term.
Arthur Purves was unsuccessful in challenging incumbent Board of Supervisors Chairman Sharon Bulova. At the podium, he described himself as "marching to a different drummer."
Jennifer Chronis came closer to knocking off her incumbent opponent John Foust for Dranesville District Supervisor, however still trailed by about eight points at the end of the night.
"I'm not going away," Chronis said she told Foust when she called to congratulate him on the victory. "I'm proud of the race we ran and the issues we discussed."
The surprise of the night was Fairfax resident and Republican Jeanette Hough finishing ahead of incumbent Ted Velkoff for the third at-large seat on the Fairfax County School Board.
Craig Parisot was shown to have finished about a point behind Democrat Kathleen Murphy for the 34th District House of Delegates seat, but a representative from the Republican committee reminded members of the audience there would be a final tally taking place first thing in the morning.