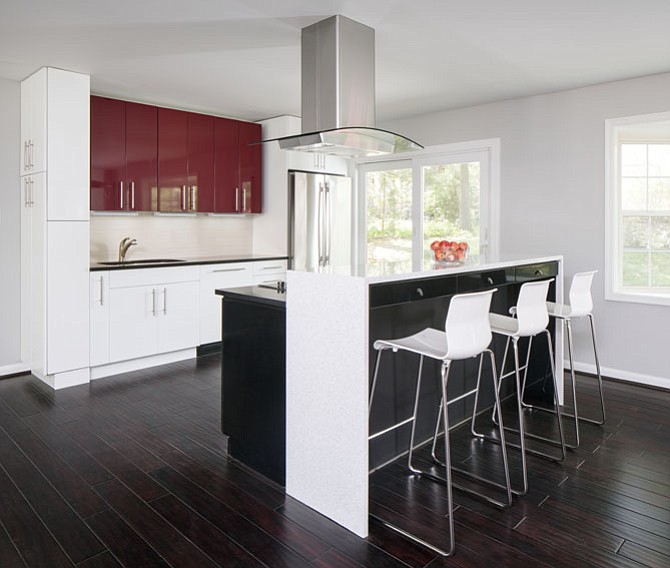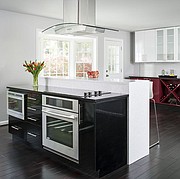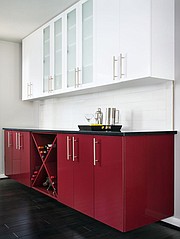 When a Springfield couple decided to remodel their 1960s home, they wanted to think outside the box, especially when it came to the kitchen.
"Originally confined to a small kitchen 'box,' crunched in the back of their house, this couple wanted to expand and modernize their … house to a contemporary, European design," said Stephanie Brick, associate architectural designer at Nicely Done Kitchens in Springfield.
In what Brick describes as a "bold move," walls to the kitchen and dining room were removed, and the kitchen was relocated to the opposite side of the home. The result was an open, free-flowing, light-filled space that suites the couple's lifestyle.
"With their cook top and generous prep space on the island in front of their bar-height seating, they can now cook, serve and enjoy company all from the comfort of their new kitchen design," said Brick.
Simultaneously bold and sleek, red, white and black cabinetry is softened by a muted gray backsplash and coordinating paint color for the walls.
"The black perimeter countertops are expertly contrasted by the bold white quartz waterfall countertop, cascading elegantly over the sides of the bar-height seating area," said Brick.
Glossy cabinet front paneling hides the kitchen's modern appliances and helps maintain the sleek design. "The ruby-red cabinets on both sides of the kitchen are floating, anchored to neither the ceiling nor the floor for a subtle yet distinctly modern aesthetic," said Brick.
Design options are plentiful. "Today, homeowners have a wider variety of style choices than they did even a couple of years ago," said Evelyn Nicely, president of Nicely Done Kitchens. "Contemporary kitchens have certainly gained popularity all over the country, and also in Northern Virginia. Contemporary kitchens offer the clean, streamlined look that a lot of homeowners are after."
Before deciding on a daring design, there are factors to consider. "It is acceptable to put a traditional, transitional or contemporary kitchen in a traditional or even colonial house," said Rich Caswell, project manager at Nicely Done Kitchens. "If you're talking about stark modern, its more of a bold move in terms of resale or what a realtor might think."
"However, in our area, we have a mix of clients," said Nicely. "Traditional and transitional kitchens are just as popular as the contemporary kitchens. We pay close attention to our clients' preferences and tastes, as well as the entire style of the home, to be able to provide them with a kitchen that will increase and hold its value. The homeowner and the designer determine the perfect style of kitchen that will be chosen, be it, contemporary, traditional or transitional."
The bottom line, said Brick, is that homeowners should a create a design that appeals to them most. "By large and by far, anytime you're redoing your home, it's a huge investment of time and money," she said. "Go with your heart. If modern is what you love, then that's what you should go with. You're going to be using your kitchen day in and day out."