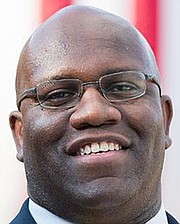 Democrat
Age: 34
Family: mother, Michelle and sister, Jennifer
Education including degrees and institutions: Saint Olaf College, c/o 2003, 2009 Graduate of Virginia Commonwealth's Minority Political Leadership Institute, 2010 Graduate of University of Virginia's Sorensen Institute Political Leadership Program
Offices held, dates: City Council, elected 2012
Occupation and relevant experience: Community Use Program Specialist, Fairfax County Public Schools
Community involvement:
Boards and Commissions:
Eco-City Alexandria Environmental Action Plan Steering Committee 2013-present
Sister Cities Committee 2013-present
Eisenhower East Design Review Board 2013-present
Gang Prevention Community Task Force 2013-present
Children, Youth and Families Collaborative Commission 2013-present
Alexandria Campaign on Adolescent Pregnancy (ACAP) 2013-present
Metro Washington Council of Governments—Human Services and Public Safety Committee 2013-present
Alexandria Budget and Fiscal Affairs Advisory Commission, 2011-2012
Alexandria Youth Policy Commission, 2007-2011; Vice Chair, 2009-2011
Alexandria Commission on HIV/AIDS, 2005-2007; Chair, 2006-2007
ACPS Budget Advisory Committee, 2007-2008
ACPS Special Education Advisory Committee, 2011-2012
St. Stephen's and St. Agnes School Alumni Board Member, 2006- 2012
Advisory Board Member of the Concerned Citizens Network of Alexandria, 2010-Present
Non-Profit work:
NAACP- Alexandria Branch President, 2011-2012
Taylor Run Citizens Association, 2008-Present
Northern Virginia Urban League Young Professionals Network, Political Engagement Committee Chair, 2009
Board Member of First Night Alexandria, 2011-2012
Board Member of Volunteer Alexandria, 2008- 2012
Sorensen Institute for Political Leadership, University of Virginia, Class of 2010
Virginia Commonwealth University's Minority Political Leadership Institute, Class of 2008
Virginia Commonwealth University's Minority Political Leadership Institute, Program Advisory Board, 2008-Present
Alexandria Lacrosse Club, Coach, 2009-2010
Political:
Alexandria Young Democrats, 2005–Present; President, 2006-2008
Virginia Young Democrats, 2005-2010; Minority Caucus Chair 2007, National Committee Member, 2008-2010
Website: www.chapman 4council.com
Email address: chapman4council@gmail.com
Twitter handle: @chapman4council
Name three favorite endorsements: Education Association of Alexandria, Alexandria Committee of Police, Local 5, Northern Virginia Association of Realtors


QUESTIONS:
What is one issue that defines your call to serve, why does it matter, and how will you tackle it?
Affordable housing is the issue that has pushed me to run for city council. I believe that our community needs to continue to have housing options for all income levels, local government needs to work with the development community, non-profits and especially our faith-based communities to find creative solutions so that none of us are forced out of a community that we all love.
What distinguishes you from your opponents and why should voters choose you?
My expertise and experience in the field of education and youth policy. I am the ONLY candidate who has served on both the school board's budget advisory committee and also the city's budget and fiscal affairs advisory committee. This is extremely important because school and youth funding makes up over 30% of the city budget, and we need someone on council that has an intimate knowledge of both, especially now when we are looking to deal with school capacity in a fiscally responsible way. I am also the only candidate that has worked full-time in our local schools, so I know the experience of students and staff, and understand the supports they need from the city.
I believe you should choose me because we should not have a governing body which does not have members that don't intimately know and understand 30% of its own budget.
Beyond funding, how else can city government help the school system?
City government can support the school system by leading the community wide discussion on pre-K programs, after school programs and workforce training programs. By ensuring that the schools and community partners and non-profits all understand their own place in each of those three programmatic areas, this city can create a successful and seamless transition for our students throughout their lives and ensure that the proper supports are available for them so that they become successful students and then successful adults.

City government can also ensure that social service programs are available to ensure that we have healthy families and we need to continue to fund libraries and make sure our families have access to improve literacy and the love of learning.
How do you convince citizens that you are truly listening to them even when you have to disagree with them?
I believe that you have to take the suggestions of citizens, and explain the specifics of how or why a suggestion does not work, maybe because of lack of funding or other unintended consequences. I also believe that constant dialogue with citizens will allow for greater transparency with decision making, and also better align policy making with the will of the citizens.
Any number of economic hiccups beyond the city's control (federal government, economic downturn, etc.) could force re-ordering of city budget priorities. For reductions, which three areas would you turn to first?
The first thing that I would look at is the city's equipment replacement policies, for things like the city's car fleet, because by slowing down how quickly we replace well maintained equipment, we would save money. I would look to adjust some of our partnership and funding formula with third party organizations such as WMATA and I would also look at city positions, such as in our courts, where the city is subsidizing jobs that are the state's responsibility to fund fully.

If you were given $1 million to spend any way you would like for the betterment of the city, how would you spend it?
I am torn — For immediate impact, I would want to spend it on improving our road surfaces, but also I would want to use it to tackle one of our communities biggest issues — affordable housing, because we have seen that $1 million, when loaned to one of our non-profit developers, can be used to retain affordable housing in the city.