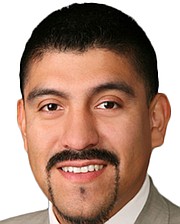 Republican
Age: 34
Family: Kamila Lipowska-Torrez and Alexandra Torrez (wife & daughter)
Education including degrees and institutions:
United States Air Force Community College Associates Degree
Devry University Bachelors of Science in Business Administration
Microsoft Certified Professional CompTia
Network + CompTia
Offices held, dates: I am a candidate.
Occupation and relevant experience: NanoTech IT Support - Small business owner
Community involvement:
Board Member - Alexandria Regional Council, United Way
Board Member - Alexandria Sheriff's Office's Correctional Services Advisory Board
Board Member - Government Relations Committee, Alexandria Chamber of Commerce
City Commissioner - Alexandria Commission on Employment, Department of Community and Human Services & Center for Economic Support
Member - American Legion Post 24
Member - West End Business Association
Member - Old Town Business Association
Member – Old Town Civic Association
Member – North Old Town Civic Association
Member – Alexandria Sportsman's Club
Website: fernandotorrez.com
Email address: friends@fernandotorrez.com
Twitter handle: torrez4council
Name three favorite endorsements:
Former City Council Frank Fannon
Former Virginia Governor George Allen
QUESTIONS:
What is one issue that defines your call to serve, why does it matter, and how will you tackle it?
As a small business owner, Air Force Veteran, and immigrant I bring a unique perspective and set of skills. I believe in the American Dream and am proof that anyone in this great nation can achieve their goals if they join together work hard, work smart, and persevere. City Council has ignored the business community, city's infrastructure, education for far too long and it is time these issues are in the forefront of our city representatives. As a first time father, I have a greater desire to see the City of Alexandria in a better path. I want my daughter to receive an outstanding education and live in a vibrant area.
What distinguishes you from your opponents and why should voters choose you? In 2008, I started NanoTech, a small IT business that supports small to medium business throughout the City of Alexandria. For the past seven years, I have been involved in the City's business community, which has allowed me to understand the struggles that small businesses have experienced in starting or expanding within city limits.
As councilmember, the first order of business would be to streamline the licensing, and permitting process. Relieving small business owners from burdensome regulations will make Alexandria business friendly. By bringing in new and expanding small businesses, Alexandria will be able to expand its commercial tax base.
As a military veteran, I want to focus on tapping into our veteran community, which is currently 8% of our population, and work to incentivize these "vetrepreneurs" to choose the City to locate their businesses.
Beyond funding, how else can city government help the school system?
My wife and I have recently become new parents and our daughter, Alexandra, will become a student in the Alexandria City Public School system in the next few years. Just like every parent, it is very important for us to provide our daughter the best education possible. ACPS's challenges come in many forms, including budget cuts, overcrowding and accreditation issues, as in the Jefferson Houston Elementary case. From my perspective, the City needs to work to increase community awareness, support creative instructors and administrators, and strengthen the relationship between City Council and the School Board. These steps are best accomplished by electing members to each respective body of governance that bring a new and diverse representation. We can then look into its core: the teachers and school principals — those individuals that interact daily with our children and into whose hands we place the minds of our young. Their needs must be supported in order for them to achieve success.
How do you convince citizens that you are truly listening to them even when you have to disagree with them?
There will always be those who will agree to disagree. It is important that City Council members understand the reasoning or both sides of whichever issue is being discussed by the City Council. This is why it is important to have a diverse and energetic Council with new ideas. Communication between the Council and the citizens is a critical step in striking a balance. As a case in point, this past summer I was part of the A-frame and digital signage Ad-hoc committee which was assigned the task of considering the 'sandwich boards' that many small businesses display as a marketing tool, on the sidewalks just in front of their stores. It was important for me to make sure that the community at large understood this form of marketing helps attract customers and that not allowing them will hurt our business community, which is already a small 28% of our tax base. By communicating this point at several meetings of the Committee, I successfully convinced the committee of the importance of this marketing strategy. Community engagement between City Council, residents, and small business owners is of critical importance.
Any number of economic hiccups beyond the city's control (federal government, economic downturn, etc.) could force re-ordering of city budget priorities. For reductions, which three areas would you turn to first?
All business owners have gone through this before. However, it doesn't always mean that we need to constantly cut down on the budget. If anything, this is a warning sign to diversify our services, streamline procedures, and expand our reach to attract more clients or in this case more business into our city. I believe we have turned most pages except for the technology sector. I have reviewed some areas within our operational budget that without any further detail it made me question myself if we are really investing on scalable technology and maintenance. I have also brought this up during the first meeting for FY2016 at the Durant center this past week.
If you were given $1 million to spend any way you would like for the betterment of the city, how would you spend it?
I wouldn't spend it right away. I would use this $1 million to start a fund and promote public-private partnerships for one of the items below. The factor that would determine where the money would be allocated will be determined by the type of partnership and most advantageous deal for the city.
a. Affordable housing
b. Revamping our technology through the city
c. After school programs or programs for kids with disabilities