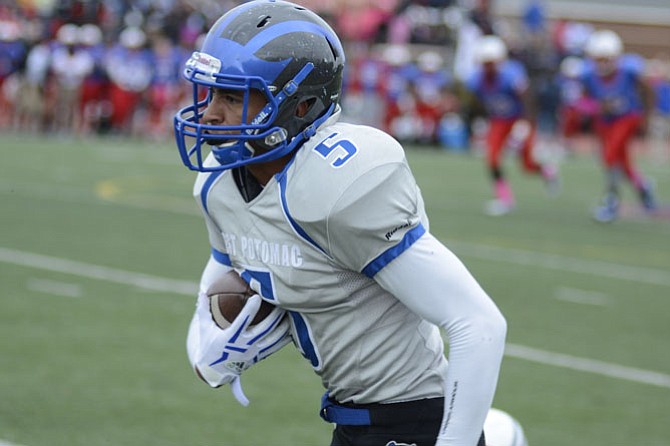 Jeremiah Ross warned his players of potential momentum swings prior to Saturday's game against rival T.C. Williams, but the West Potomac head coach had no idea the Wolverines would have their mental toughness tested so quickly.
West Potomac fumbled on the first play from scrimmage and T.C. Williams defensive back Colson Jenkins scooped up the loose ball and raced 45 yards to the end zone, giving the Titans a 6-0 lead 17 seconds into the game.
"I told them there were going to be ups and downs," Ross said. "I didn't know it was going to be that down right at the start, but ... those things happen."
It didn't take the Wolverines long to dismiss any concerns about the early miscue having a lingering effect.
On the next play from scrimmage, West Potomac responded with a 60-yard touchdown pass from quarterback Mark Ellis to receiver Brandan Lisenby.
It was the first six touchdowns for the Wolverines, who cruised to a 42-18 win over the Titans on Oct. 24 at T.C. Williams High School.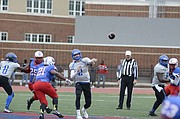 Lisenby had seven receptions for 143 yards and two touchdowns, helping West Potomac turn an early 6-0 deficit into a 21-6 lead before the end of the first quarter.
Facing third-and-13 with less than 3 minutes remaining in the opening quarter, Ellis looked to his left and completed a pass to Lisenby near the West Potomac sideline. Lisenby broke a tackle and picked up a first down, but No. 5 didn't stop there. He juked a T.C. Williams defender and sprinted the final 30 yards into the end zone, extending the Wolverines' lead to 21-6.
"He's done it all year in spaces," Ross said. "He's a dynamic kid that can make a lot of plays."
Lisenby's big afternoon also served as re-assurance after West Potomac standout receiver CJ Burch suffered a broken collar bone during the first half following his lone reception of the contest. Burch had surgery on Tuesday, during which a metal plate and screws were used to repair his collar bone. He said he should return before the playoffs, which start Nov. 13. Until then, it's up to Lisenby and other receivers to make plays in the passing game.
"I feel like all our receivers are capable of making plays," Lisenby said. "That's a big loss, but I think we'll be able to regroup and be able to make plays."

Ellis completed 12 of 20 passes for 239 yards and two touchdowns.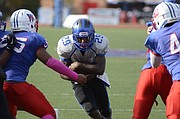 West Potomac also found success on the ground with running backs Justine Annan and Daiimon Cleveland.
Annan carried 18 times for 100 yards and two touchdowns. His 1-yard scoring run with 4:01 remaining in the third quarter gave the Wolverines a 35-12 lead.
Cleveland gained 37 yards on 13 carries and also scored a pair of touchdowns.
Defensively, West Potomac limited T.C. Williams to 133 yards from scrimmage. Linebacker Horace Johnson made multiple plays in the Titans backfield, including a strip sack in the second half.
"I feel we played great," Johnson said. "We kept the intensity up. The focus was matching their intensity and overcoming it and that's what we did today."
Michael Tenkorang and Kreshawn Dikes each had an interception for West Potomac.
"Defense played their tails off," Ross said. "They did a great job."
T.C. Williams quarterback Ethan Hall completed 13 of 21 passes for 72 yards and a touchdown. He was intercepted twice. Hall connected with Daniel Davis for a 4-yard touchdown pass on the final play of the first half, cutting the West Potomac lead to 28-12.
TC running back Mahlique Booth scored on a 1-yard run with 1:11 remaining.
The win improved West Potomac's record to 6-2 overall and 3-2 in Conference 7. TC has dropped four straight and fell to 2-6 overall and 1-4 in the conference.
West Potomac is tied for No. 7 in the latest VHSL 6A North region power rankings. T.C. Williams is No. 19. The top 16 teams make the playoffs.
West Potomac will travel to face undefeated South County at 7 p.m. on Friday, Oct. 30 before closing the regular season with a home game against Mount Vernon on Nov. 6.
T.C. Williams will travel to face Annandale at 7 p.m. on Friday, Oct. 30.
"I think we're playing great," Lisenby said. "I think we're playing way better than we were last year. I think we can carry that into the playoffs."