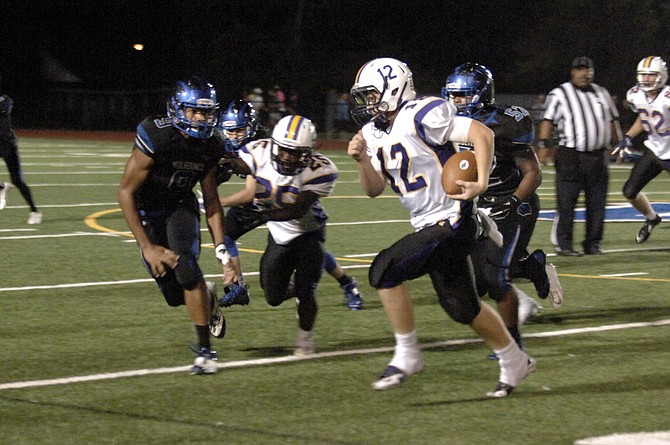 Facing fourth-and-6 from the West Potomac 18-yard line on the final play of the third quarter, Lake Braddock quarterback Kyle Edwards rolled to his right and looked down field before encountering a West Potomac defender. Edwards came to a stop, avoided the defender and headed back across the field to his left before scoring the go-ahead touchdown.
With less than 7 minutes remaining in the fourth quarter, West Potomac faced fourth-and-goal at the 5-yard line. Rather than attempt a field goal, head coach Jeremiah Ross went for the lead, but quarterback Mark Ellis' pass, intended for standout receiver CJ Burch, fell incomplete.
The West Potomac football team played well enough to have a chance to upset the Lake Braddock Bruins during Friday's battle of undefeated Conference 7 opponents. But when plays had to be made in crunch time, it was Lake Braddock, winner of at least a share of six consecutive Conference 7/Patriot District titles, which found a way to get it done.
The Lake Braddock defense made two fourth-down stops in the final quarter and the Bruins held on for a 24-21 victory at West Potomac High School.
After stopping West Potomac on fourth-and-goal, Lake Braddock punted the ball back to the Wolverines, who took over at their own 25 with 3:05 remaining. After a 6-yard pass play on first down, three straight incomplete passes gave the ball back to the Bruins, who were able to run out the clock.
Friday's victory extended Lake Braddock's win streak against West Potomac to eight games. The Bruins improved to 4-0, including 2-0 in the conference. The Wolverines fell to 3-1, 0-1 in the conference.
"I think [the defense] showed some maturity," Lake Braddock head coach Jim Poythress said. "We grew up a little bit today. Not only did we stop them [on fourth-and-goal], we had to hold them again and stop them. The kids didn't fold under pressure. That was my worry --- [we would] give up another bomb to [Burch]. We played tough. The goal-line stand, there was great coverage there."
Lake Braddock took the lead for good when Edwards scrambled for an 18-yard touchdown on the final play of the third quarter, giving the Bruins a 24-21 advantage.
"We originally wanted to throw toward the West Potomac (right) sideline," Edwards said. "We had a nice pass play set up. As soon as the ball was snapped, they adjusted well to it. I rolled out that way figuring I was going to take off and then I kind of peeked out of the left side of my eye, and then my entire line was set up sort of in a wall. I got maybe nine or eight real good blocks running down the sideline."
Edwards completed 18 of 34 passes for 179 yards. He was intercepted once. He also carried 10 times for 48 yards and a score.
"He is a gamer," Poythress said about his quarterback, "and you've just got to keep giving him opportunities."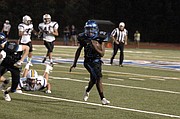 West Potomac's best chance to tie or take the lead came when the Wolverines had first-and-goal at the 8-yard line with less than 8 minutes remaining. But after a run play on first down gained three yards, the Wolverines came up empty after three straight incomplete passes.
Rather than attempt a tying 22-yard field goal, Ross opted to go for it on fourth-and-goal at the 5. After the game, Ross brought up that Lake Braddock had pressured West Potomac's extra-point attempts.
"My thought process is: I liked our guys versus their guys as far as athletically," Ross said. "I like our matchups. When you're playing a team like that, I really wasn't playing for the tie."
On fourth down, Ellis looked for Burch, who was covered by Lake Braddock cornerback Peyton Scott, but the ball bounced off Burch's hand.
"I knew he was their best receiver and I knew they were going to try to go to him," Scott said. "We're coached well and I knew what I had to do to stop him. I was alert. I was ready for the ball to come his way."
West Potomac led 14-10 at halftime after blocking a field goal attempt on the final play of the half. Lake Braddock responded with a 12-play, 69-yard drive to open the second half, and took a 17-14 lead on Lamont Atkins' 1-yard touchdown run with 8:15 remaining in the third quarter.
Atkins finished with 20 carries for 111 yards and a touchdown. Ibrahim Mansaray carried seven times for 62 yards and a score.
Burch had a big night for West Potomac, catching six passes for 146 yards and a touchdown. His 48-yard touchdown catch with 4:03 left in the first quarter gave West Potomac a 14-3 lead.
Ellis completed 16 of 33 passes for 280 yards and two touchdowns. Ellis connected with Brandan Lisenby for a 37-yard touchdown with 4:45 remaining in the third quarter, giving the Wolverines a 21-17 advantage.
Lisenby had four receptions for 80 yards.
West Potomac running back Justine Annan had 13 carries for 49 yards and a score.
"We had a chance to win it and we didn't," Ross said. "The kids played their tails off. That was a great high school football game."
Lake Braddock will host Centreville at 7 p.m. on Friday. West Potomac will travel to face Woodson.
"The kids are hurting right now and they should because they care," Ross said. "I told them that. I said, 'Hey, let it hurt tonight … but tomorrow we watch the film and then we get in the weight room … and get ready for Woodson.' I think this team's got a lot of football [left] in it."