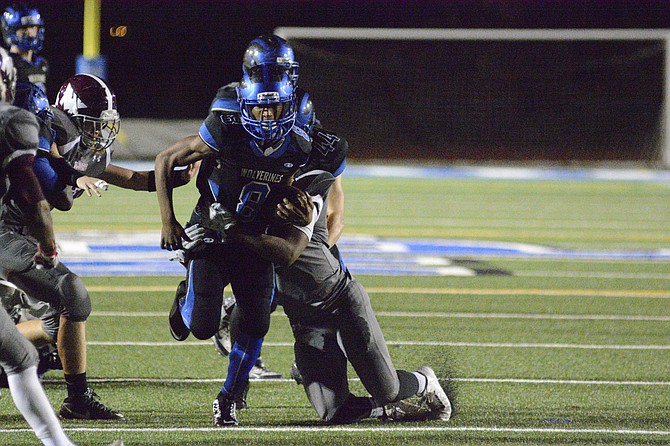 UPDATE: This story has been updated to reflect West Potomac receiver CJ Burch's injury status. The senior is unlikely to play against West Springfield on Friday after Wednesday's doctor visit revealed there is still a slight crack in his collar bone.
The West Potomac football team throttled rival Mount Vernon 40-6 on Nov. 6, improving the Wolverines' record to 7-3 while giving the program its best regular-season finish since 2011.
As West Potomac enters the postseason, the Wolverines will have a chance to eliminate an opponent responsible for one of their three losses.
West Potomac is the No. 9 seed in the 6A North region playoffs and will travel to face No. 8 West Springfield (6-4) at 7:30 p.m. on Friday, Nov. 13. The Conference 7 foes met on Oct. 9, with the Spartans winning 28­9 at West Potomac High School.
The Wolverines averaged 36.7 points per contest this season, and West Springfield was the only team to hold West Potomac to fewer than 20 points in a game.
"They just did a lot of good things," West Potomac head coach Jeremiah Ross said. "Credit to them. It was probably [our] worst-played game of the year."
West Springfield held West Potomac to 236 yards from scrimmage, and Wolverines quarterbacks combined to throw four interceptions. The Spartans led 22-0 at halftime following a weather delay of more than 2 hours.
"Offensively, we've got to get into rhythm," Ross said about Friday's playoff contest. "They did a good job getting us out of rhythm" during the regular season.
The West Potomac offense will likely be without standout receiver CJ Burch, who suffered a broken collar bone against T.C. Williams on Oct. 24. Burch, a first-team all-conference selection, missed games against South County and Mount Vernon, but said Tuesday in a Twitter direct message that he would be "officially cleared" on Wednesday. However, Wednesday's doctor visit revealed Burch still has a "slight crack" in his collar bone and he is not yet cleared to play, Burch wrote in an email.
"Apologies to the Wolverines and family for the letdown," Burch wrote, "but I'll be ready soon. It's just a process I have to go through to make sure my future is fine."
Burch caught 43 passes for 829 yards and six touchdowns in eight regular-season games. He had seven receptions for 68 yards and a touchdown against West Springfield on Oct. 9. After the game, Burch was taken from West Potomac High School in an ambulance with a possible concussion. He played against Annandale the following week.
"Missing the last few games kind of hit me hard because I felt I could've made a difference as a leader on the team," Burch wrote in an email. "[I] felt like I let people down."
West Potomac running back Justine Annan suffered an injury against South County and missed the Mount Vernon game, but is expected back for Friday's playoff game, Ross said.
After beating West Potomac, West Springfield defeated T.C. Williams 14-12 on Oct. 16 to improve to 5-2. However, the Spartans dropped two of their final three regular-season games.
West Potomac and West Springfield finished tied for eighth in the VHSL 6A North power rankings with a rating of 29.1, but the Spartans won the tiebreaker — and received a first-­round home game — due to beating the Wolverines during the regular season.
Ross said while the Wolverines are looking for a win against the Spartans, desire for revenge fades once the game starts.
"Sure, it would be nice to be able to get a win against them, but we just want to keep playing," Ross said. "... Once you get hit in the mouth, it's not about revenge; it's about playing the next play."
The winner West Springfield/West Potomac will face the winner of No. 1 South County and No. 16 Annandale.
"I think [a playoff win] would mean a lot to the guys," Ross said. "They've worked extremely hard and I want that for them."