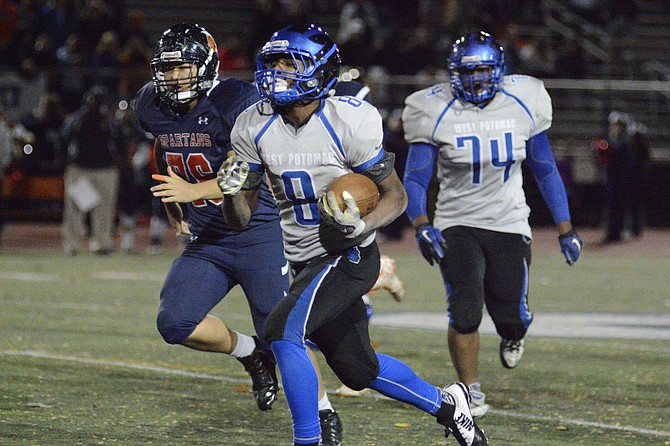 West Potomac's regular-season meeting with West Springfield resulted in the Wolverines producing season-lows for rushing yards (50) and points during a 28-9 loss to the Spartans on Oct. 9.
One month later, the Wolverines' first play from scrimmage in Friday's postseason rematch with the Spartans nearly doubled their rushing output and gave onlookers a glimpse of what would be a dominant performance on the ground.
With West Potomac facing first-and-15 at its own 10-yard line, running back Daiimon Cleveland took a handoff, headed to his left and turned up the field. After about 15 yards, the sophomore cut back to his right, dropped a West Springfield defender with a stiff arm, brushed off another Spartan and headed to the end zone for a 90-yard touchdown.
Cleveland would score three more touchdowns in the second half and No. 9 West Potomac defeated No. 8 West Springfield 40-19 in the opening round of the 6A North football playoffs at West Springfield High School.
The Wolverines rushed for 437 yards and five touchdowns Friday night and earned the program's first playoff victory since 2011. West Potomac will travel to face No. 1 South County in the quarterfinals next week.
"Hats off to [the Spartans] the first time we played them," West Potomac head coach Jeremiah Ross said. "They out-coached us, they out-played us, but we really felt like that was not indicative of the type of team we were, so we had to come out and prove that tonight."
How did the Wolverines get improved rushing results against the Spartans?
"We made some adjustments," Ross said. "… We were able to game plan a little bit [for] some of the pressures they brought at us; I think we were a little bit more prepared for it. [We used] a couple different formations, a couple different packages, put a few more physical matchups in there that we felt were to our advantage."
Ross, a former three-year starter at right tackle for Fresno State University, praised the performance of the West Potomac offensive line, which is composed of left tackle Jordan Burgess, left guard John Leon, center John Holzworth, right guard Ozzie Opoku and right tackle Tay Diggs. Tight ends Grant Monson and Horace Johnson also contributed to West Potomac's success on the ground.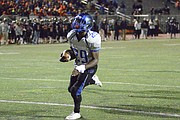 "I thought they played excellent," Ross said. "… The challenge for our guys is --- they're a great group of kids, fundamentally sound, they play hard --- but [they need to finish]. We want them to stay on blocks and finish and we felt like we did that a little bit better tonight.
"That's the key: staying on the bocks --- maintaining it snap to whistle."
Running backs Cleveland and junior Justine Annan took advantage of the O-line's performance, combining for 380 yards and five touchdowns.
"Daiimon and Justine continue to get better," Ross said. "… Justine's a junior, Daiimon's a sophomore [and] they get better every game."
Cleveland carried 25 times for 291 yards and four touchdowns, highlighted by his 90-yard first-quarter scoring scamper.
"I saw them go to the right and the play was going to the left," Cleveland said. "I was just like, 'OK, I'm going to have to cut back.' As soon as I cut it back, I knew I was gone. I saw the first dude, threw him, I saw the second dude and threw him and I was like, 'Yeah, I'm in the end zone.'"
Cleveland on Friday surpassed 1,000 rushing yards for the season. He has 1,030 yards and 20 touchdowns on the ground and is averaging 6.4 yards per carry. He also has 12 receptions for 132 yards and a touchdown.
"He's a great player," Burgess said. "He's going to be an even better player. And the good part about it, he's only a sophomore."
Annan carried 15 times for 89 yards and a score on Friday. His 4-yard touchdown with 10:39 remaining in the second quarter gave West Potomac a 13-0 lead.
Senior running back Jarrod Denham had seven carries for 57 yards for the Wolverines.
After falling behind 13-0, West Springfield quarterback Peter Muskett threw an 8-yard touchdown pass to Jacob Estes and scored on a 13-yard run, leading to a 13-all tie at halftime. West Potomac controlled the second half, however, starting with a touchdown on the opening possession of the third quarter.
The Wolverines marched 63 yards in 11 plays and took a 19-13 lead when Cleveland punched it in from 1 yard. West Potomac led for the remainder of the contest.
Cleveland also scored on runs of 6 and 45 yards in the third quarter. After Cleveland's fourth touchdown, West Springfield linebacker Marshall Wilson was taken off the field on a stretcher as a precaution after suffering a neck/back injury.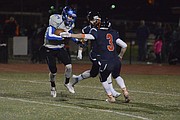 A 33-yard touchdown pass from quarterback Mark Ellis to Cory Jones gave West Potomac its largest lead of the night at 40-13 with 8:18 remaining in the fourth quarter.
Muskett threw a 19-yard touchdown pass to Najee Green with 5:36 left in the fourth quarter. Muskett completed 27 of 40 passes for 295 yards, with two touchdowns and one interception.
Muskett's interception came in the first quarter with the Spartans trailing 7-0. West Springfield faced second-and-6 at the West Potomac 11-yard line when Wolverine linebacker Johnson intercepted Muskett at the 2-yard line.
Ellis completed 8 of 12 passes for 85 yards and a touchdown for the Wolverines.
West Springfield, which won a share of the Conference 7 championship last year, finished the season with a 6-5 record, including losses in three of its final four games.
After earning its first playoff win since 2011, West Potomac (8-3) will travel to face South County (11-0) at 7 p.m. on Friday, Nov. 20 in the 6A North quarterfinals. The Stallions defeated the Wolverines 53-20 during the regular season on Oct. 30.
"It feels good to be able to bring that back to the school," Burgess said. "We know we've always had a good tradition here, but Coach Ross has really helped bring it back."