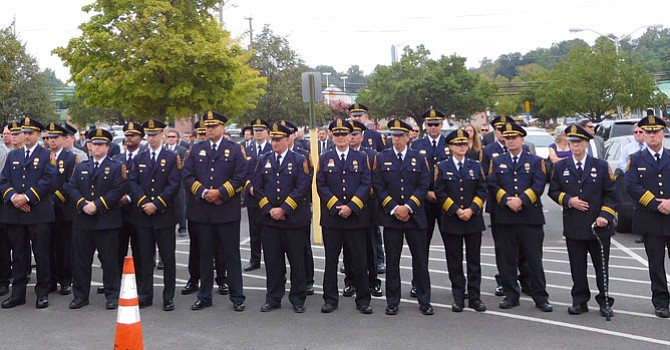 Friends, family and the Fairfax County Police Department said goodbye to one of their own this week when Sgt. Ryan Matthew Lindenbaum was laid to rest. Just 30, the Centreville resident died last Thursday, Aug. 27, after a 15-month battle with brain cancer.
"He fought with honor and dignity," said his mother, Gail Lindenbaum. "He never complained, and some of his fellow officers didn't even know he had cancer. Even while taking chemotherapy, he only spoke about it to a few family members and friends."
Well-liked and respected, he was a nine-year veteran of the department. He served as a patrol officer at the Franconia District Patrol Division and was on the Neighborhood Patrol Unit/Selective Enforcement Team. And since being promoted to sergeant nearly 18 months ago, he worked in the Patrol Division of the Sully District Station.
In 2009, Lindenbaum received the department's Meritorious Service Award and was named the Fairfax County Police Association Officer of the Year in 2010. He was also the Sully District Station's Officer of the Month in July. A graduate of Edison High, he received his Associate of Science degree from Northern Virginia Community College and was working on his Bachelor's degree in global affairs, with a minor in Arabic, at George Mason University.
Monday morning, Aug. 31, Immanuel Bible Church in Springfield was filled with row after row of both uniformed and plain-clothed police officers, as well as Lindenbaum's friends and loved-ones. Also there were Fairfax County Police Chief Ed Roessler, former Police Chief and now Deputy County Executive Dave Rohrer, county Sheriff Stacey Kincaid and Springfield District Supervisor Pat Herrity.
A police honor guard carried in Lindenbaum's flag-draped coffin and placed it at the altar. Then the Rev. Andy Morgan led everyone in prayer, read a Bible passage and talked about Lindenbaum. "For Ryan, the fears, worries and uncertainties of life are all gone," he said. "Ryan's life here on earth was so short, yet he left his mark and lived a full life." Noting that Lindenbaum's nickname was "Hercules," Morgan said he was "larger than life to all who knew him."
Even at birth, added his mother, he was 10 lb., 12 oz. "He came out hungry and determined and never looked back," she said. She described her son as "strong-willed and bossy," but also smart and inquisitive. He liked playing with toy guns with his brother Kyle, she said, and was "destined to protect people. Ryan could be gruff outside, but with a gooey, marshmallow center. He and his brother shared a close bond and looked up to each other."
When Lindenbaum had a car accident in 2014 and needed surgery, doctors discovered he had a glioblastoma, or brain tumor. "But the next day, he said, 'OK, I've got it; what's next?'" said his mother. "He stepped up to the plate and faced it with bravery, courage and stoicism."
He eventually got the beast at bay and went on with his life. He hung out with his buddies, did his job and continued his studies. Yet, said his mom, "We lived in the shadow that someday the cancer would return. In July, our worst fears were confirmed, and it happened very quickly."
She said Jess Coe, "the love of his life," stood beside her son through it all. "They were never married, but he'd fully committed his life to her," she said. "They were together almost four years, and she made him a better person. She's the daughter of my heart."
"His brothers in blue also helped shape his life, and he grew into a dedicated cop and made many friends," continued Gail Lindenbaum. "Since Ryan was first hospitalized in 2014, his colleagues provided support to him."
She then named several officers and friends — including his close buddy, Jeff Mauro — who helped in many ways. They did everything from bringing him food to walking his German Shepherd, Niko, to building a ramp from his townhouse after he became wheelchair-bound.
"It's been a great honor to raise this extraordinary young man," said his mother. "And I know he's part of God's army in heaven protecting all of us who remain behind. He's once again strong and healthy and probably enjoying an awesome meal in heaven. And I know I'll see him [there] again one day."
Coe addressed the crowd accompanied by Niko, who gave a few barks of his own. Describing herself as "Ryan's girlfriend and soulmate," she said he made her a better person. "I was able to achieve great things I might not have done without his encouragement," she said.
"Ryan was passionate about protecting the community and doing the right thing," said Coe. "He was a man full of integrity, strength and courage. He tried to be the best at whatever he did — and thought he was; he was very competitive." Then, crying, she added, "I know Ryan will always be with me. He'll be in my dreams until I see him again in heaven. I miss him so much, and I'll never stop loving him."
His brother Kyle said Ryan's police colleagues were by his side until the end. And he said Ryan showed him that everyone can have a positive influence on others. "The words 'strength, courage, selflessness and resolve' defined Ryan," he said. "He never wanted pity. Whenever he took a punch from cancer, he responded with grace and humility. For that and much, much more, I'm honored to be Ryan's brother."
Roessler said only one out of 25 applicants becomes a Fairfax County police officer, and he signed Lindenbaum's paperwork when, on Feb. 21, 2006, he made it. "I tell every new recruit to always remain a student of the profession, and he did," said Roessler. "He was a patrol officer, on the bike team, on the civil-disturbance unit and became a sergeant — all while pursuing his educational goals. And he was a natural leader. I'm so blessed to have met Ryan and will continue to hold him in my memory. God bless you, your family and all of us."
Police 2nd Lt. Jonathan Weeks called Lindenbaum a "funny dude," as well as a good friend who was there whenever needed. "Doctors told him 85 percent of those diagnosed with this cancer don't survive," said Weeks. "But he kept fighting and wouldn't surrender."
Lindenbaum's father, Francis Lindenbaum, said Ryan "didn't talk about his faith, but lived as a Christ-like example. I knew God built him with His hands. He told me, 'I believe in God and Jesus and I know how the story ends.' He was never out of the fight, and his strength came from God."
"The night before Ryan died, I kissed him goodbye, saluted him and went home, getting out of the way of God's plan," he continued. "The next morning, he was in heaven. So when you celebrate Ryan's life, remember that he's healed and alive forever."
After the funeral service, police officers lined up outside the church, standing at attention and saluting as Lindenbaum's casket was carried outside and placed into the hearse for burial at Fairfax Memorial Park. In lieu of flowers, donations may be made in his memory to the National Brain Tumor Society http://braintumor.org/ or to the National Law Enforcement Officers Memorial Fund http://www.nleomf.org/contribute/.
Snapshot of Sgt. Lindenbaum
Written by Capt. Bob Blakley, commander, Sully District Police Station.
Ryan Lindenbaum was promoted to sergeant in November of 2014 and transferred to the Sully District Station, under my command. He was assigned to the day shift on B squad, one of the most senior squads at the station.
I was impressed by Ryan's confidence and calmness as a new supervisor. He immediately earned my respect, and respect from his subordinate officers, through his confident, yet quiet, leadership style. Ryan quickly adapted to my leadership style and supported me very well. He knew what was important to the community and to me as the station commander and found a way to lead his troops in that direction.
In a supervisor's meeting in the spring, I asked all the supervisors to put their heads together and think of a way that we could share information better. I wanted cops working patrol areas to be able to share information across all six shifts so that we could be more responsive and effective at combating crime and locking up repeat offenders.
Within a day or two, and without asking him to do so, Ryan had organized a group of sergeants at the station and led an effort to reinvent the way we communicate internally. He approached me with a solid solution, which we implemented and is working very well today. I knew from talking to others that the idea was his, yet every time I tried to compliment him in front of others, he would always throw the credit on others. He was a born leader.
In July — and before we knew that Ryan's cancer had resurfaced — the Chief's Advisory Council awarded Ryan with Officer of the Month. It is not customary for supervisors to win this award, as it is reserved for line-level officers, but his leadership on the communication project, as well as some outstanding examples of operational leadership, had earned him this prize. Ryan was the first supervisor to win this award in several years.
Ryan was a great, humble man. He just wanted to get back to work and serve his community well. His loss will create a void on his squad and at our station that will be difficult to fill; however, our mission demands our focus and Ryan would expect nothing less. His death has reminded me how fragile life on this earth is; Fairfax County has lost one of its rising stars.