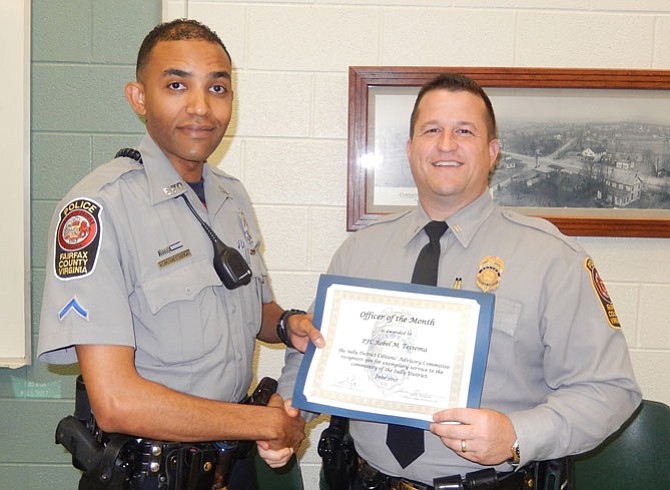 PFC Robel M. Tessema has been chosen the Sully District Police Station's Officer of the Month for June. He was honored at the Sept. 13 meeting of the station's Citizens Advisory Committee. (The committee doesn't meet during the summer).
He was nominated for this award by Sgt. Justin Drinkwater. In his nominating letter, Drinkwater wrote that Tessema consistently performs all his duties in an "exemplary" manner.

"He recently worked a case where he attempted to conduct a traffic stop on a driver with felony warrants out for his arrest," wrote Drinkwater. "When PFC Tessema went to place the driver under arrest, the suspect took off running and a foot pursuit ensued."
However, Tessema was able to catch up with the suspect, apprehend him and place him under arrest. But that's not all. "During a search of the suspect, Tessema located a large quantity of crack cocaine along with marijuana," wrote Drinkwater. "The suspect was charged with possession with intent to distribute crack cocaine and possession of marijuana and was also served with the two outstanding warrants."
Drinkwater further noted that Tessema leads the entire Sully District patrol station in field contacts. And he's also tied with another Fairfax County police officer for the most felony arrests at the patrol level.
In addition, said Drinkwater, "To go along with his hard work in apprehending criminals, Tessema also speaks Amharic, which is the official language of Ethiopia." The sergeant also stressed that, several times over the past month, Tessema has assisted the police department's Criminal Investigations Bureau – including making a trip to New Jersey – to help translate.
As if all that weren't enough, Tessema is also the station's Midnights B-shift squad's Accident Investigation Unit officer. "He consistently assists his fellow officers in taking pictures and collecting evidence to assist in the prosecution of the offenders," wrote Drinkwater. "It is a pleasure having PFC Robel Tessema serving in the Sully District, and he is well-deserving of the recognition as Officer of the Month."