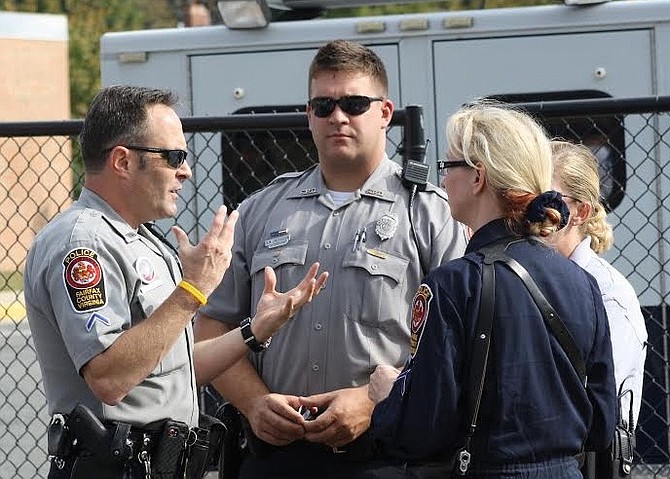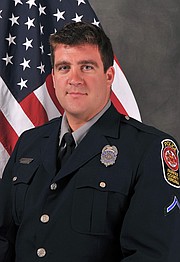 A Fairfax County police officer assigned to the Sully District Station, Sgt. Ryan Lindenbaum was just 30, in August 2015, when a brain tumor he'd fought for 15 months took his life. His loss devastated his family, friends and colleagues; yet even though he's gone, he continues helping others.
His legacy lives on through The Hercules Foundation, established in 2016 by three of his high school friends, Alex Fetterman, Andrew Donahoe and Brian Beruete. It raises money for college scholarships for law-enforcement families and assists them in other ways during times of need.
The foundation's premier event – inspired by Lindenbaum's badge number – is its annual golf fundraiser. And the fourth annual 314546 Invitational Golf Tournament is set for Friday, May 17, at the Pleasant Valley Golf Club, 4715 Pleasant Valley Road in Chantilly.
Cost is $90/golfer. Breakfast is at 7:30 a.m., the tourney, at 9 a.m. Mission BBQ of Chantilly – where Lindenbaum's photo is proudly displayed – provides lunch afterward at the golf club, and awards will be presented. Registration is limited to the first 144 golfers. The last two years were sellouts, so those interested should register quickly at www.herculesfoundation.com (click on Golf Tournament). Donation and sponsorship opportunities are also on the Website.
It's attended by FCPD Police Officers, and volunteers include family, friends and police officers, including Chief Ed Roessler. The FCPD Honor Guard kicks things off with the National Anthem. The first three tournaments raised more than $30,000 to support the law-enforcement community.
LINDENBAUM was with the Department for just nine years, but it was long enough to distinguish himself. He received FCPD's Meritorious Service Award in 2009 and was named the Fairfax County Police Assn. Officer of the Year in 2010. And at the time of death, he was working on his bachelors in Global Affairs at GMU.
"Ryan was a one-of-a-kind person," said Beruete. "His personality and infectious laugh lit up whatever room he was in. Ryan's dedication to family, community and friends inspired me, personally, to help start The Hercules Foundation. Alex, Andrew and I heard about the support network that develops around an officer when someone joins the force. We wanted to supplement that effort and provide assistance to the greater community, as well."
By awarding scholarships to reflect Lindenbaum's dedication to excellence, and helping first responders who've fallen on tough times, Beruete said he and his buddies "hope to keep Ryan's memory alive and inspire others to continue his legacy of giving and caring for those around him. If we're able to help even one person gain a degree and better themselves – or if we can help one family through a rough patch – we'll feel as if the effort we've put into the foundation was well worth it."
Since it's been established, said Beruete, "We've met an untold amount of people who were touched by Ryan over the years – either others on the force or just people he'd made relationships. We've heard countless stories we'd have otherwise never been able to hear about Ryan's big heart and fun nature. His passing, while tragic, has brought together so many people. We all aim to celebrate his life each year at the golf tournament and remember him as the beautiful person he was, always."
Donahoe said that, after Lindenbaum's death, "I reflected on his life and realized the positive impact he had on me and many others. I never told Ryan the influence he had on me, and I regret that; I looked up to him. To be friends with him was to be his family. He was a full-time police officer and student, yet somehow always found the time to support us all. He showed up to help after a child was born, helped one of us move or was just there when we needed someone to listen."
Even while recovering from surgery and receiving chemotherapy, said Donahoe, "Ryan informed me he'd be grocery shopping and buying me diapers when my son was born. He put others' needs ahead of his own in his personal and professional life. So, when I had the opportunity to continue his legacy through The Hercules Foundation, I jumped at the chance. It's important to me to honor his legacy and have my children understand the significance of a man like him."
Describing Lindenbaum as "a fun-loving teddy bear," Donahoe said he was lovingly referred to as "Hercules" by his fellow police officers and family. "Ryan had a warm personality and was a natural-born leader and superior police officer," said Donahoe. "During his cancer battle, he displayed amazing strength – both mental and physical – and his endless positivity and determination ensured that he was never out of the fight."
Afterward, since Lindenbaum liked golfing, his buddies gathered together his friends and family for a one-time, golf outing to celebrate his life and raise some money for charity. But seeing the large outpouring of support for him, they decided to create a foundation to help others in his name.
Besides being a police officer and student, said Donahoe, "Ryan was a kind soul and fiercely loyal friend; those are the pillars for The Hercules Foundation. Our vision is to 'Continue a legacy larger than life.' We combined Ryan's passions and have successfully made small impacts on people who play such an integral role in our society."
SO FAR, 10 scholarships totaling $23,000 have been awarded, and several financial contributions given to first responders in need. One, for $5,000, went to a local police officer whose 8-year-old daughter was murdered in 2018.
And each December, the foundation sponsors a local, law-enforcement family facing a challenge similar to Lindenbaum's. It sends them on a weekend getaway and provides tickets and transportation to a Washington Capitals game, etc., to lift their spirits. That way, said Donahoe, "We're able to pay forward Ryan's compassion for others and provide hope to those who've had to face uphill battles."
"We're proud of all we've accomplished over the last few years in memory of Ryan and look forward to a lifetime of success in his name," added Fetterman. "He had a profound and remarkable influence on my life, and I wish I'd have had the foresight to have told him. Ryan was a patriot who put God, country and family first. As a highly decorated police sergeant, he committed his life and career to protecting and serving his community and his country."
Fetterman said establishing The Hercules Foundation has been "one of the highest honors of my life, and I view it as a way of telling Ryan what I didn't have the chance to tell him while he was still here – that he was my role model, a man I looked up to and respected, and a man whose physical and mental strength were truly a gift from God."
After meeting hundreds of people whose lives Lindenbaum affected, Fetterman called their stories enlightening, saying they "reinforce our belief that Ryan's [many attributes] are worthy of being remembered. Through the foundation, we hope to pay forward his values, passion for life and dedication to excellence."
Ryan's father, Fran Lindenbaum, called the foundation a blessing. "It benevolently brings the same love and comfort to [the recipients] in their times of tribulation as Ryan's FCPD brothers and sisters brought to him and the entire Lindenbaum family throughout ours and afterward," he said.
He's also pleased the scholarships recognize "Ryan's ardent commitment to his [own] college education." Indeed, at the foundation's first golf tournament, Ryan's bachelor's degree from GMU was presented to his family posthumously. Additionally, the Lindenbaums now have their first grandchild. On March 21, Ryan's brother Kyle and his wife had a son – Jacob Ryan Lindenbaum.

"No words can describe how I feel living in this world without Ryan," said his father. "However, I know he believed in Jesus as his Lord and Savior and, therefore, is alive in heaven with Christ. Our family knows that, when our time on earth is over, we'll be reunited with Ryan in heaven.
"Christ heals my heart and restores my soul. The last time I hugged Ryan was the day he went home to heaven; the next time will be the day I go home to heaven, and that hug will last forever."