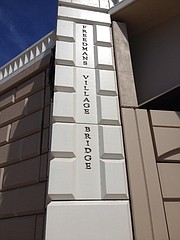 The Virginia Department of Transportation (VDOT) will dedicate the new Freedmans Village Bridge on Thursday, Sept. 10, in a ceremony at the crossing of Washington Boulevard and Columbia Pike at 10 a.m. Gov. Terry McAuliffe will be the featured speaker, along with representatives from the U.S. Department of Transportation, VDOT, and citizens groups. There will be a color guard presentation and march-by of black soldiers in Civil War uniforms.
Among the speakers will be John Richardson, vice president of the Arlington Historical Society, and Craig Syphax, chairman of the Black Heritage Museum of Arlington. Syphax's predecessor, the late Dr. Talmadge Williams, campaigned for wider recognition of Freedman's Village, a model community for former slaves established in 1863 on the grounds around Arlington House, the Custis-Lee mansion. The new bridge is a short distance from the historical village site, and numerous residents of the village are buried in Arlington National Cemetery. Freedmans Village Bridge is a recognition of Williams' efforts.
The new bridge, which carries Washington Boulevard over Columbia Pike, is wider and longer than the former structure.
The dedication ceremony is open to the public. Attendees should plan on arriving by 9:30 a.m.; some parking can be found in the Sheraton Pentagon City Hotel overflow lot at 900 S. Orme St.