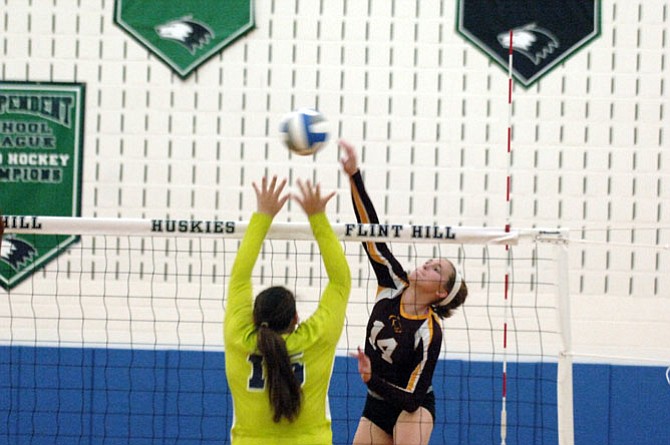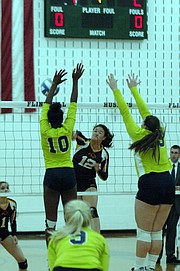 First, members of the Oakton volleyball team had to get past the mystique of Flint Hill, one of the state's best programs in recent years. Banners inside the Vienna private school's gymnasium display the Huskies' achievements, including six of the last seven ISL championships and six of the last seven VISAA state titles. Last season, Flint Hill finished 34-0.
Once Monday's match started, Oakton had to deal with the powerful right arm of Flint Hill senior Morgan McKnight, who is capable of littering the court with high-velocity kills.
Oakton also had to overcome a slow start to the second set, which led to head coach Dan Courain telling the Cougars to "wake up" during a timeout.
On this night, however, Flint Hill's winning tradition, McKnight's 26 kills and a little adversity weren't enough to derail Oakton.
OAKTON defeated Flint Hill 3-1 (25-22, 22-25, 31-29, 25-19), beating the Huskies for the first time in four tries. The Cougars trailed in each set, but bounced back and improved their record to 13-2.
Flint Hill fell to 4-5.
"They definitely have a lot of talent," Oakton senior Emily Meier said, "and in past years we've come in and were kind of like, 'It's Flint Hill, we don't really have to try because we know we're going to lose anyway.' But this year, we really wanted to win and we really wanted to come out strong. It was just very exciting to beat them."
The teams split the first two sets before Oakton took control of the match by winning a tightly-contested third set. With the score tied at 29, a kill by junior outside hitter Alice Yang gave the Cougars the lead before a Flint Hill error gave Oakton the set.
The Cougars led 18-17 in the fourth set before closing the match with a 7-2 run.
"It's always intimidating playing them because they've been so good," Oakton senior libero Alex Marquis said. "But when [opponents] are better, I think we come together more as a team and we know we have to work harder and it makes us play better together against good competition. We executed really well today and we just played as hard as we could."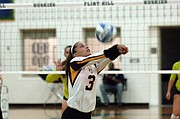 Monday's win was another signature moment for an Oakton team with lofty expectations. The Cougars opened the season with nine consecutive victories, including winning the NVVA Invitational on Aug. 29 in Sterling. On Sept. 15, Oakton defeated Vienna foe Madison 3-2. The Warhawks finished state runner-up last season.
"It builds confidence," Courain said. "We really see that we can compete with anyone. There's not going to be a night we don't walk into the gym and believe we can win. But that being said, we've also got to be focused because we know every time we walk into a gym, we're going to get everyone's best. [Opponents] know that we're beating Flint Hills and Madisons and ... we can't take an off night."
MONDAY'S VICTORY didn't come easy. McKnight was a force for the Huskies, finishing with 26 kills.
"As soon as you see her jumping up, it's always a little scary," said Marquis, who finished with 23 digs. "But this season we've been playing good against some teams and I knew that I could dig her if I was in the right spot and if I just go for everything. You just can't be intimidated and you have to play like you can dig every ball."
McKnight wasn't the only player who had a big offensive night. Yang led Oakton with 21 kills, and Heier finished with 20.
Senior opposite hitter Coral Hulcher tallied seven kills and nine digs.
Senior setter Meghan Wood totaled 46 assists. Six days earlier, Wood set the Oakton record for assists with 56 against Madison.
Oakton sophomore outside hitter Grace Cozad, who is third on the team in kills, suffered an ankle injury during warmups and did not play. Junior outside hitter Kaila Ross stepped in and totaled eight kills.
Oakton will host Washington-Lee at 7:15 p.m. on Monday, Sept. 28. Flint Hill will host Trinity Christian School at 3 p.m. on Friday, Sept. 25.