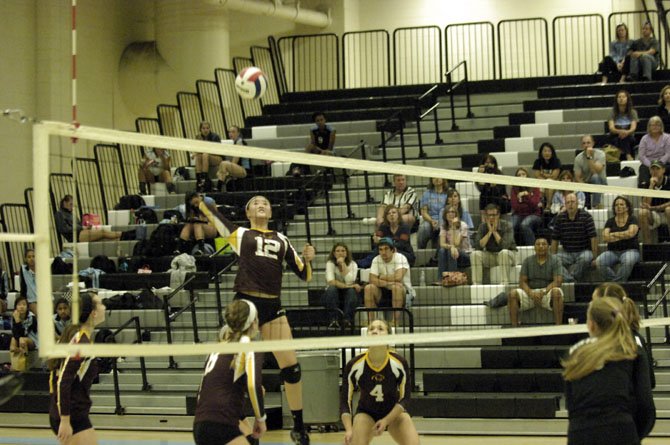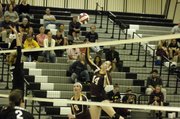 The Oakton volleyball team isn't playing as well on the road as head coach Dan Courain would prefer. On Monday night, however, even a sub-par effort by the Cougars was enough to maintain their hot streak and earn a victory in a gymnasium Courain referred to as a "house of horrors" for Oakton.
Oakton defeated Centreville 3-1 (25-18, 20-25, 25-21, 25-14) on Sept. 29 in both teams' Conference 5 opener at Centreville High School. The Cougars have won six of their last seven, including a runner-up finish in a tournament at South County High School on Sept. 20. Courain said Oakton has struggled at Centreville in the past, but the Cougars found a way to start conference play with a win.
"It wasn't our best match," Courain said. "We've definitely had better matches all year. Give Centreville credit. It's always tough coming in here."
OAKTON SNAPPED a three-match losing streak with a 3-1 victory against West Springfield on Sept. 15. Three days later, Oakton lost to Stone Bridge, one of the top teams in the area, but managed to win a set. From there, the Cougars have won six of seven, improving their record to 12-6.
"I think we've been rolling, playing very nicely," Courain said. "I think being at home really helped us. We bring a lot of energy. We've got to find a way to bring energy earlier in these road matches."
Junior middle hitter Emily Heier and sophomore outside hitter Alice Yang have been primary reasons for Oakton's success this season.
Heier entered Monday's match with 165 kills, and Yang had 160. The rest of the team combined produced 152.
"The great thing about them is they're always working on getting better," Courain said. "They have their shots that they know they can hit --- Alice knows she can hit the ball across [the court] --- but they work every day in practice on adding to their repertoire."
Yang led the Cougars with 17 kills Monday. Heier finished with 11.
"They're our go-to hitters," Courain said. "You can see it from the stats, you can see it watching tonight. We ride them all season and they've been stepping up every single match we've played."
With the score tight during the pivotal fourth set, Yang scored four straight points for Oakton, helping the Cougars pull out a 25-21 win.
"We've both been varsity veterans," Yang said. "A lot of the [players], it's their first year on varsity, so we know what it's like and we know how they feel, so we try to guide them as best as possible."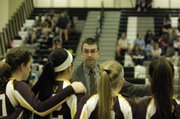 FRESHMAN OPPOSITE HITTER Grace Cozad finished with 10 kills for Oakton. Senior middle hitter Camille Baechler had five.
Junior libero Alex Marquis has been a strong addition to the team this season. A standout point guard on the Oakton girls' basketball team, Marquis is in her first year as a varsity volleyball player. Courain said Marquis has brought the girls' basketball team's winning mentality to an Oakton volleyball program that finished 5-20 last season. Her athleticism helps compensate for her lack of volleyball experience.
"Her reaction time is unmatched by anyone on the team," Courain said. "She doesn't know the rules of volleyball, she doesn't understand the rules, I just throw her out there and say, 'If you see the ball, go get the ball,' and she'll be in front of people before they even have time to react."
While Oakton won on Monday despite not playing at its best, the Cougars will likely need a superior performance to earn a victory on Wednesday, Oct. 1, when they host Chantilly. The Chargers are 6-2, including a victory against defending VHSL 6A state champion Langley on Sept. 22.
"We're nervous because it's the best team in our conference," Heier said, "and so we're really excited."