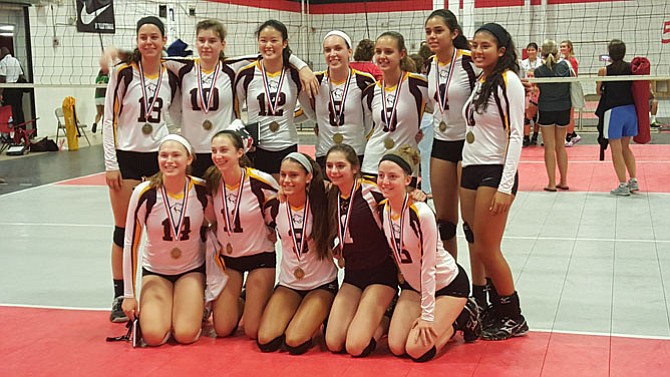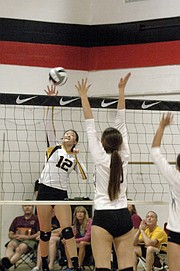 The Oakton volleyball team cruised through pool play undefeated at the NVVA Invitational on Saturday in Sterling, earning a spot in the championship match.
Unfortunately for the Cougars, the quickness with which they dispatched opponents early in the tournament led to roughly three hours of down time.
Oakton players found ways to stay busy while waiting to compete in the first-place match, including bouncing on yoga balls, listening to music and dancing. When it came time to play, the Cougars made their way to court No. 1 at the Virginia Volleyball Center and made quick work of McLean, defeating the Highlanders 2-0 (25-20, 25-17) on Aug. 29 to win the tournament title.
OAKTON swept each of its five two-set matches.
"Obviously, they showed they can come back and get ready quickly," fourth-year Oakton head coach Dan Courain said. "It was a nice test for me, also, [to] see how quickly they can get ready ... to play."
The Cougars defeated Edison, Washington-Lee, South County and South Lakes during pool play.
"It shows that we're a team to compete with," senior middle hitter Emily Heier said, "and it shows that we have the power and the team to beat really tough teams."
Heier led Oakton with nine kills during the championship match. She also had two aces.
Junior outside hitter Alice Yang and sophomore outside hitter Grace Cozad each had six kills against McLean, and senior middle hitter Caitlin Becker had two. Senior setter Meghan Wood had three aces.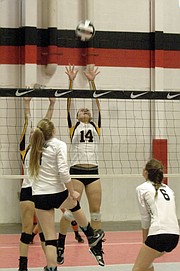 "For the people [who were] on the team last year, it's a huge confidence booster," Yang said of winning the tournament, "because we're, I think, so much better compared to what we were last year."
Oakton went 17-12 and finished Conference 5 runner-up in 2014, losing to Westfield in the conference championship match. The Cougars lost to Fairfax in the opening round of the 6A North region tournament.
Yang, a VHSL second-team all-state selection, and Heier were Oakton's primary threats in 2014. Courain is hopeful other Cougars will step up and help shoulder the load in 2015.
"One thing we're hoping for this year is actually to see a little less of [Yang and Heier]," Courain said, "because we have more key players."
Cozad and senior opposite hitter Coral Hulcher are expected to be key offensive contributors. Junior libero Lexi Barker, a transfer from Dallas, and senior defensive specialist Alex Marquis are also standouts.
Yang was named tournament MVP. Heier and Wood were also named to the all-tournament team, along with McLean's Madison McArthur and Autumn Brenner, and Fairfax's Savannah Powers and Taris Pittman.
"I think this is the deepest team we've had at Oakton," Courain said. "We've got 12 girls who can play. ... Our practices are spectacular. We've got 12 girls out there who are really pushing to compete out there on the court ... [and would] probably start on almost every other team out there."
Oakton will travel to face Tuscarora at 7:15 p.m. on Thursday, Sept. 3.
THE COUGARS' FIRST home match is Sept. 10 against South County.
"Right now we've got a target on our back and we know that every team is going to give us their best," Courain said. "They've got to know they need to be ready and hopefully they're not complacent with this because a tournament in August is nice, it's good to boost the confidence, but the tournaments in October and November are the ones we want to be able to compete in and do well [in]."