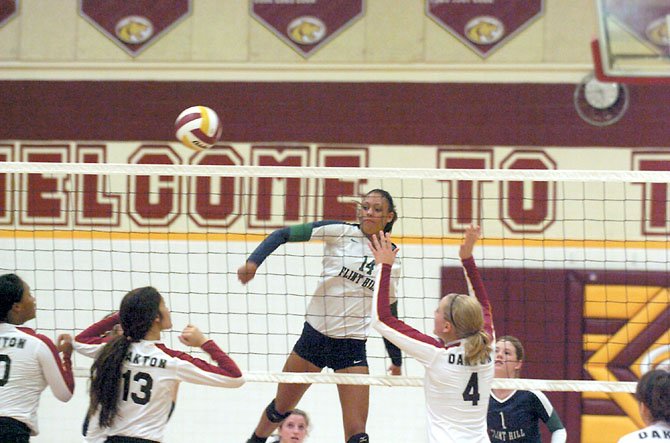 Vienna — Five-foot-11 Erica Narel was a force at the net, using her long arms to put away kills and disrupt Oakton hitters. Five-foot-10 Ally Ford pounded kills with violent swings and 5-foot-9 Haley McClure displayed versatility.
The tall, talented trio led the Flint Hill volleyball team to a 3-0 (25-23, 25-14, 25-20) victory on Sept. 21 during a Vienna private-public school matchup at Oakton High School. The victory improved the Huskies' record to 9-1, a start similar to those of the Flint Hill teams that won three consecutive VISAA state titles from 2008-10. Last year's team struggled in comparison, finishing 19-16 and losing in the state semifinals, but the return of Narel, the addition of Ford and the leadership of McClure have the Huskies playing at a high level.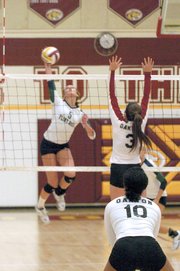 Narel, a junior middle blocker who is committed to North Carolina State, sat out her sophomore season. On Friday, she finished with 11 kills against the Cougars.
"She's so athletic," Flint Hill head coach Carrol Anderson said. "She touches 10 feet, she gets up, [and her] blocking is huge for us. She has an eye and a feel for the ball, so our setters are still learning how to connect with her."
Ford, a sophomore outside hitter, transferred to Flint Hill from Tuscarora High School in Leesburg. She tallied a team-high 14 kills against Oakton, many of which were of the high-velocity variety, and had four aces.
"She's so confident," Anderson said. "She's confident about taking a swing from the back row, from the outside, anywhere … and she's pretty much unstoppable."
McClure, a senior outside hitter, had 10 kills and four aces.
"Haley's our captain, our leader," Anderson said. "The girls look up to her and we go, in a lot of ways, as Haley goes. If Haley's energetic [and] charged up, I know it's a good day for us. She's very dynamic. She hits the ball well [and] serves the ball well, but it's her leadership on the court that's just as important as those things."
Narel and Ford each had six kills in game one, which Flint Hill survived, 25-23. The Huskies had an easier time in game two, building a 10-3 lead en route to a 25-14 victory.
"Last year, I came from public school ... so personally I get real pumped when we play [public schools], especially [because] the ISL, it's not as much competition," Ford said. "The [public school] atmosphere is just crazy, so it really pumps you up."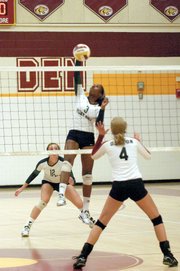 Flint Hill held a slim 11-10 lead in game three before starting to pull away with six straight points, including three consecutive Ford aces. The Huskies improved their record against public schools to 7-1.
"We're just really underestimated when we play public schools," McClure said. "People have never heard of us and we're such a small school. Every time we go out there, no matter who we're playing, we always have something to prove."
Anderson said Friday's match was Flint Hill's first against Oakton in her 10 years with the Huskies.
"I thought our girls responded really well and handled the atmosphere," she said. "I told them, when I was in your shoes, I would love to be out there on the court in this [environment] and to come out and beat a team on their home court … I think it was a big win and a satisfying win for our team."
Meanwhile, Oakton, led by first-year head coach Dan Courain, dropped to 11-5.
"There were moments where I thought that we showed that we could play with them, but [we struggled due to] inconsistency," Courain said.
Senior outside hitter Misa Mori finished with a team-high eight kills against Flint Hill. Senior Emma Olson had six kills while handling setting duties.
"She does everything," Courain said about Olson. "The fact that she's second on our team in kills and she's pretty much a primary setter [shows her versatility]."
Oakton will travel to face Fairfax at 7:30 p.m. on Thursday, Sept. 27. Flint Hill will host Sidwell Friends at 5:45 p.m. on Thursday.
"I still think that teams think we're a good team, but they think we're beatable and that's OK," Johnson said. "That's good because that gives us a motivating factor."