Second in a four-part series on new principals in Alexandria City Public Schools.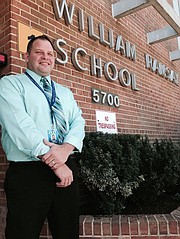 For some of us there are defining moments in our lives that forever color who we will be. For Michael Routhouska, the new principal at Ramsay Elementary School, one such experience happened in first grade. "I remember being really shy as a first grader. It's funny because I'm not at all shy now. But, I remember my teacher sent me to the principal's office for refusing to read out loud. And my principal, Mr. Powers, I still remember his name. I remember Mr. Powers just had me read to him. That was my first impression of being a principal." That day and Mr. Powers, stayed with Routhouska for the years to come.
A far cry from his first grade shyness, today, Routhouska is a straight-shooter, unafraid to say what's on his mind. Perhaps, it's his New Yorker roots. "I'm from New York actually, well some wouldn't say that, because I'm from central New York." He was raised in Auburn, a small city just southwest of Syracuse. "My family is still up there." He was raised the second of four boys. His mother was a social worker, his father a jailer at the local jail. He describes them as not having a very hands-on role in Routhouska's education. In those formative years, he recalls how his grades would fluxuate depending on his relationship with a teacher. "If I had a good relationship with a teacher, I could get an A, if not I could get a C. Relationships were crucial for me in education," he recalled.
Routhouska went on to earn a BA from Nazareth College in New York and a Master's in educational leadership from George Mason University.
It's lessons from Principal Powers and from his own educational experiences that informs Routhouska's role as principal: "I want kids to fear disappointing me. Not to fear me. You're really doing your job as an administrator if you can achieve that."

Routhouska is creating new traditions and practices at Ramsay. He's started with a collective process of creating a school credo: "Running the road to success." It's a nod to the school's roadrunner mascot.
He has new plans in place for supporting students with the greatest need and ways of showing off their successes. One way will be through end of day PA "shout outs" that recognize students who have done great work that day. He has plans to streamline Title I requirements to reduce their burden on teachers as a way of fending against high staff turnover.
Routhouska lives nearby Ramsay on Van Dorn Street, with his wife, a special education teacher, and their 6-year-old son. His free time is limited, but when he has it, he enjoys going to the pool with his son. "He's going in the deep end, which is huge for him. His big thing is touching the bottom of the pool. He can do it," he says with a smile.
And More....
For Michael Routhouska:
Favorite Music Artist: The Kings of Leon
Favorite Book: Hemingway's "Complete Short Stories" and "The Lone Ranger and Tonto Fist Fight in Heaven"
Favorite TV Show: "The Walking Dead"
Something surprising about you: I was the lead singer in a rock band. We played covers and originals around the D.C. area.