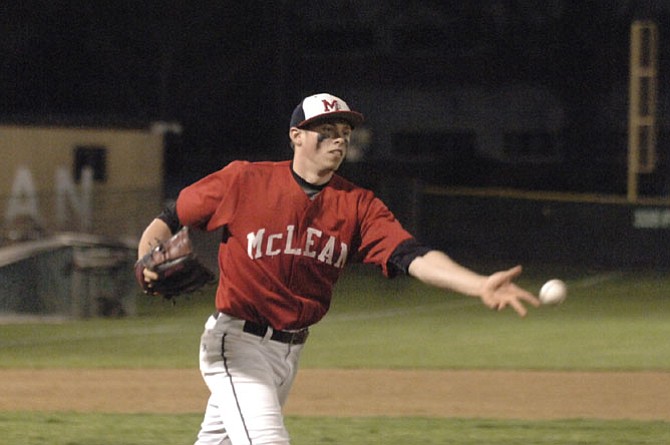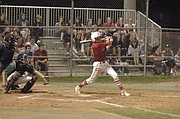 McLean pitcher Jon Clines shut out rival Langley for six innings on April 1, limiting the Saxons to just one hit.
After the senior left-hander ran into trouble in the top of the seventh inning, the Highlander lineup came through in the bottom half, assuring Clines' performance resulted in a win.
Senior shortstop Conor Grammes delivered a walk-off RBI single in the bottom of the seventh and the McLean baseball team defeated Langley 2-1 on Friday at McLean High School.
With the score tied at 1, McLean pinch hitter Jack Slade led off the bottom of seventh with a single. Trevor Schleppenbach re-entered as a baserunner, stole second and advanced to third on a wild pitch. After two intentional walks loaded the bases with no outs, Grammes, who play college baseball at Xavier, hit a fly ball to deep left that fell for a hit and drove in the winning run.
"Conor's our 3 hitter for a reason," McLean head coach John Dowling said. "Conor has an exceptional ability to put the barrel of the bat on the ball. If you give me him up with the winning run at third base, I've got a good feeling about him putting the barrel on it somewhere and doing the job."
CLINES, who will play at VMI, threw a complete game and earned the win. He allowed one earned run and two hits while walking two and striking out 10.
After surrendering just one hit and no walks through six innings, Clines allowed a leadoff single to Langley catcher Danny Hosley and walked two Saxons during the top of the seventh. With the bases loaded and one out, designated hitter Josh McQuaig hit a ground ball to third that turned into a fielder's choice and an RBI, but nearly resulted in a game-ending 5-3 double play.
Clines avoided further damage with his 10th strikeout of the evening.
"Jon pitched his tail off," Dowling said. "We believe that he gives us a chance to win every night out and he did a very, very good job for us tonight. I can't say one bad thing. I think he's had days where he's had better stuff, but he did not allow that to impact his confidence to go out and execute a pitch."
How does a pitcher get the job done when he doesn't have his best stuff?
"Competing ­­­ that's a word that we use every minute of every day," Dowling said. "Jon has been on varsity for three years, playing serious, serious innings for three years and has taken that to heart and he competed for seven innings today."
Clines said he needs to do a better job of incorporating his legs when he pitches.
"That game, for some reason, I just felt like my top half was just working the whole game," Clines said. "By the time I got to the seventh inning, the top half was dead. I've just got to get more lower half in there so I can breeze through the seven innings that I get each game."
Clines drove in McLean's first run with a fielder's choice in the bottom of the first. He went 1-for-3 at the plate.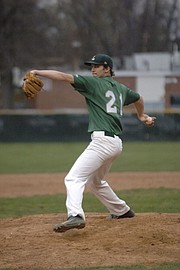 Third baseman Tom Shue and designated hitter Will French each had a hit for McLean.
Dowling praised catcher Grant Williams for his performance behind the plate. Williams saved a run in the top of the second by retrieving a wild pitch and throwing out a Langley runner trying to score from third.
Langley starting pitcher Jake Trautwein suffered the tough-luck loss.
The senior right-hander threw a complete game, allowing two earned runs and five hits in 6-plus innings. He hit two batters, walked five ­­­ two intentional ­­­ and struck out four.
"Jake pitched his tail off," Langley head coach Kevin Healy said. "He did it for us at South Lakes (on March 16) when we got that win. He did it on spring break and we kind of kicked a few balls around. We told him after the game, all you can do is what you can do and he's doing a great job."
THE VICTORY was McLean's third in a row and improved its record to 6-3 overall and 3-1 in Conference 6.
"I think we're starting to finally figure out who we are as a team, starting to figure out what works for us, what doesn't work," Grammes said, "and I'm just really excited to see what we have in store for us in the future."
McLean will travel to face Yorktown at 6 p.m. tonight.
After the loss to McLean, which dropped Langley's conference record to 2-2, the Saxons played two games on Saturday. Langley lost to Grove City (Ohio) 15-10 and beat George Mason 13-2, moving its record to 4-5.
The Saxons will host Fairfax at 6:30 p.m. tonight.