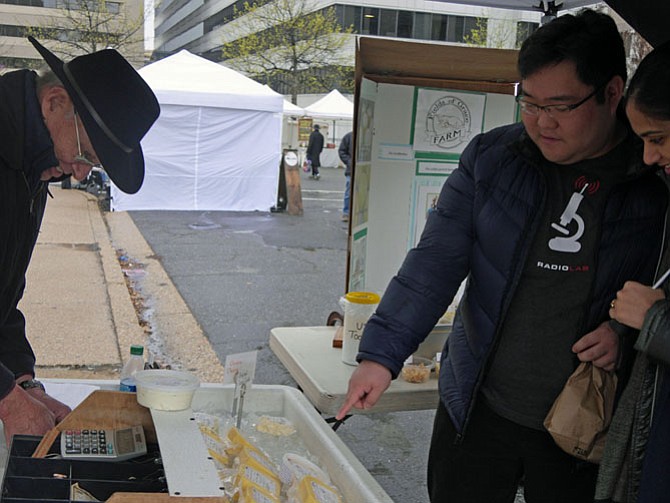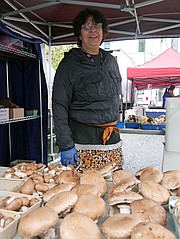 "My job is to reach out and bring in more millennials who are interested in green living and turn them into new 35-year loyalists …."
— Dalia Boclin, food access and outreach manager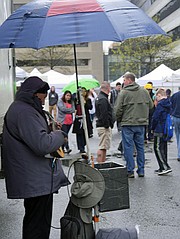 The Clarendon Farmer's Market at Courthouse slipped into its summer season amidst the raindrops on Saturday, April 2. Chester Beahm has driven 60 miles from Rivington, Va. to open his cheese stand at 8 a.m. Fields of Grace Farm offers four aged cheeses, four flavored cheese curds, two flavors of mozzarella, feta and more. He said the best seller this week was the aged cheddar. Albert Choi, who lives a block away, loads up with a variety of cheeses. His friend, Saumya Singh, visiting from New York, said, "We came to get a cheese for an omelet but everything looked so good, we bought all of these."
Cynthia Singiser, market manager for the Clarendon market, said it isn't the greatest day for the opening but almost everybody is here. This year they have 36 vendors at the market including two new vendors, a fresh press juice vendor and a fresh fruit pie vendor. "A few vendors are still waiting for their things to come out of the ground, like the berry and fruit people. They will be here the 16th or so," Singiser said.
Paulino Gonzalez, burrito and crepe vendor stops by for a chat. Nick Stavely, market and program manager for Community Foodworks, the non-profit organization that manages this market and others in the area, is eating a "Number 2 burrito:" Chorizo, egg, black beans and cheese. Stavely said, "Gonzalez grinds 200 pounds of his own chorizo every week for his burritos and crepes." Gonzalez added, "This morning at 8 a.m. when the market opened, I had 20 people waiting in the rain for a breakfast crepe. The most popular is number 18 — the apple, egg, swiss cheese and bacon."
Across the market, Ferial Welsh is sharing a recipe for fiddlehead fronds, a wild gourmet vegetable, with a customer who explains that her friend is a chef and had just told her these were his favorite. "They are so hard to find." Welsh has been coming to the market since 2000 with her chanterelles, shitakes, oysters and other specialty mushrooms that are available for only a few weeks each year.
The mushrooms come from Phillips Mushroom Farm and Mother Earth Organic Mushroom Farm in Kennett Square, Pa. She drives in from Maryland, about an hour and 15 minutes away. Another customer inquires about the mixed basket of mushrooms—"only $11—we haven't raised our price on these since 2002."
Clarendon Farmer's Market is one of the oldest Farmer's Markets in the metropolitan area, in operation since 1979. Dalia Boclin, the new food access and outreach manager for the market, said they open and close at the same time so customers build up a habit. She added, "We got a whole ton of interest from potential vendors this year and had to turn a lot of applicants away. We only allow local food vendors, and we want to be flexible so we added sandwiches made with local meat, bread, etc. Prepared food draws people out."
Decisions on new vendors are made on who will do well there, making sure they have the clientele to support the product. The market currently has 5-6 vegetable vendors, at least three selling meat, two dairies, three bakeries and a variety of other unique vendors.
Boclin works for Community Foodworks, a non-profit organization that has taken over management of the Farmer's Market from Arlington County. She says this move allows the market to accept the Federal SNAP (food stamps) benefits which was not allowed by the county. Boclin adds that Community Foodworks supplements food stamps dollar for dollar, which allows the low-income person to stretch their food dollars and to use them for healthy foods.
Boclin said her job is to manage the vendors, to promote the market and bring in new customers. "Traditionally the market has had the same loyalists for 35 years. My job is to reach out and bring in more millennials who are interested in green living and turn them into new 35-year loyalists, to explain to them why they should consider buying bison. We're surrounded by all of these apartment buildings, and we're hoping to get more community involvement." In addition, they are reaching out to make the market more inclusive for low-income customers by partnering with Arlington Food Assistance Center and other groups. She added the Senior Farmer's Market Nutrition Program is a Federal benefit that provides sacks of dry food during the year and $5 vouchers in the summer that can be used to buy fruits and veggies at the market.
Although the first day of summer season was gray and drizzly, Singiser said, "In the summer we'll probably be complaining about the heat."