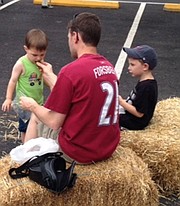 Local Great Falls Dads are amazing: They work so hard at their careers, contributing good to the world - yet find the time to coach, counsel, guide, chauffeur, applaud and cheer their awesome kids.
Kudos to all our farmers-market dads who come by most Saturdays, buy their kids a muffin, cinnamon bun, empanada, crepe or even an entire baguette - and hang out at the market, listening to music while doing some shopping for family meals. We especially love those Dads who cook for their family – searching for, and finding - the perfect ingredients for their favorite recipes.
How to show Dad your appreciation on Father's Day? Well, here are some of our ideas from our "unique boutique" farmers market vendors…
Good Eats
How about grass-fed, pastured beef? A pastured chicken? Day Spring Farm has a wide assortment of beef, chicken and other meats.
Empanadas from around the world? World Eats, recently opened by local resident, Luke Wahlgren, hand-makes empanadas using recipes from around the world.
A hot quiche, spiced to perfection? Plain & Simple, owned by Great Falls resident, Jo So, delights your taste with imaginative, perfectly seasoned quiches.
A cold salad, or grilled veggie tray made from local vegetables? Whether potatoes and onions for potato salad, cucumbers and tomatoes, zucchini, squash, mushrooms and more, local Diaz Berries and Veggies from Colonial Beach, Virginia or Tuscarora Organic Growers Coop of Pennsylvania – two-thirds of the member small family farms are Amish. They have what you need to add flavorful seasonal produce to your special occasion. And then there is Oh! Pickles who has the pickles and sauerkraut to add pizzazz to any meal.
An assorted tray of cheeses with crunchy baguette slices? Let Carl of Tom's Amish prepare an assortment of cheeses for you to fill your cheese tray. Purchase a crunchy baguette at Baguette Republic – slice it thin and toast lightly, a great accompaniment to cheese. Add cheese, tomato, olive oil and vinegar for a lovely appetizer.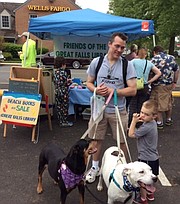 Amazing Treats
A striking world-class pastry? Xocolata's founder and chef Cassity Jones, has more than 14 years experience in pastry arts, working in five-star, five-diamond hotels and restaurants—including Le Cirque, Circo, Bellagio, and Four Seasons—with world-renowned pastry chefs who have contributed to the evolution of culinary arts and science. His macaroons, mousse cakes, and brownies, and other creations, combine traditional flavors with more exotic combinations and modern design to create a palatable and visual experience - satisfying the most demanding and sophisticated tastes. (If this describes your Dad, you know what to bring for dessert!)
A plain and simple tart – minimal sugar? Check out Jo's individual berry pies, pecan pie tarts and salted carmel brownies, on the menu this Saturday. Plain and Simple focuses on the simplicity of good ingredients with traditional southern methods. No frills. No fuss. Just good stuff.
An artistic fruit pie? Kandis Smith is returning to our market with her highly artistic apple, strawberry and blueberry pies – big enough for the whole family.
An artisan bakery special? Baguette Republic has been at our market since day one, enjoying many long-time fans. An artisan wholesale baker, you can find your Dad's favorite pastries, breads, cakes and pies at this stand in the European tradition.
Gourmet vegan? Postmodern Foods, owned by Denise Hicks, can provide Dad with a thick rich smoothie, juice, salad, savory or dessert, fresh as can be, and nutrient dense raw to boot – and now is available all week long at a storefront next to the Old Brogue.
A bowl of berries with chocolate sauce on top? Looking for blueberries, blackberries, gold berries, raspberries? Alma of Diaz Berries & Veggies has them all, grown by her husband, a master berry farmer! Cassity Jones, owner of Xocolata, prepares an exquisite chocolate sauce – low on sugar, high on fruit and chocolate - that can be dripped over the top.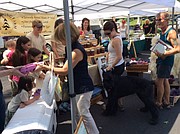 How About A Unique Gift?
Local history? A book, a stack of postcards, or a T-shirt from the Great Falls Historical Society.
A bicycle repair? On Site Bike Repair is coming to our farmers market on July 4. Set up an appointment.
Anti-allergy honey? Jeff & Sharon Rainey's Backyard Eden Honey.
A three-day-cleanse/juice fast? Postmodern Foods is the place to go to purchase an excellent 6-drink-per-day three-day fast, known for its great detox results.
A fusti of extra virgin olive oil? What's a fusti? Meet Pericles Konstas, a Vienna, Va., resident and owner of Spartan Olive Oil, who will be at our market next Saturday with this and other gift items, sure to delight Dad.
A complete set of hot sauces? Bob Henry of Henry Hot Sauces grew up here in Great Falls. He has a wide array of hot sauce flavors and heat levels to spice up Dad's summer barbeque effort.
A raised-bed veggie garden in your backyard? Ian Mc Keown of State Gardens will install a vegetable garden for Dad that he can enjoy all year long.
A lambskin? Day Spring Farm has some lambskins for sale that are wonderful to sleep on and are reputed to relieve aches and pains. If age is getting to your dad, this could be a very comforting gift.
How About a Farmers Market Basket
Want to win a Farmers Market basket for your Dad? At the start of the summer market season every year we have a "Get to Know the Vendors" raffle: The more vendors you shop at, the more chances you have to win the Farmers Market Basket. We give you a free raffle ticket each time you make a purchase.
Want to eliminate the risk of losing? You can purchase a Farmers Market basket for Dad. If you want to give Dad a bit of everything the market offers – something from every vendor at the market, our choice – you may order a basket for your Dad in advance. The cost is $120, which will be split among the vendors based on what they contribute to the basket. To order, call 917-673-3149. Pick up at the market next Saturday.
The Great Falls Community Farmers Market brings what vendors have grown, cultivated, produced or made to our discerning Great Falls community, who know a quality product when they see it. Our market celebrates community as part of building a vibrant semi-rural village atmosphere. The farmers market is open every Saturday from 9 a.m. to 1 p.m. at the parking lot next to the Wells Fargo Bank at 778 Walker Road at the Great Falls Village Centre.