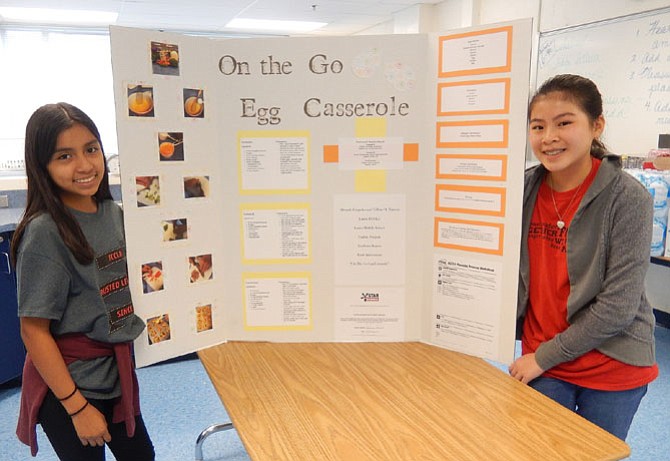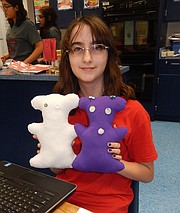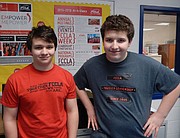 More than two dozen students from Lanier Middle School, plus some Fairfax High School freshmen, are vying this Saturday in a statewide competition. On Thursday, April 7, they head to the Virginia Beach Conference Center for the Family, Career and Community Leaders of America (FCCLA) State Leadership Conference.
"I'm overwhelmed with the dedication these kids put in – coming to meetings, giving up their weekends to do fundraising and then working on their projects," said their adviser, Susan von Schaack, who also teaches FACS (Family and Consumer Sciences). "After 26 years, I've grown to enjoy my job even more because of them and their enthusiasm and determination to do their best."
The students will be in the STAR (Students Taking Action for Recognition) portion of the competition for seventh-, eighth- and ninth-graders. Altogether, more than 825 students from 125 schools will participate at states. And to make the trip, not only did the Lanier team's projects have to qualify, but the students had to raise $3,000 for their travel expenses.
The team will compete April 8 in five categories. Seventh-graders Sahar Marufkhail, Hajera Hayat and Iman Khan did The Pawject, under the auspices of National Programs in Action. "Some 4,000-5,000 animals a year go into shelters throughout Fairfax County," said Sahar. "So we collected needed items on the county Animal Shelter's Website."
THE GIRLS made announcements in school to remind other students to bring in things such as leashes, collars, harnesses, batteries, paper towels, Ziploc bags, Dawn dishwashing soap, plus toys for the animals. Over two weeks, they collected 60 items and then delivered them to the shelter. "We even made homemade dog treats," said Sahar.
"We all have a love for animals and are already good friends, so it was easy for us to work together," she added. "It was fun and it felt good to do something for the animals. The people at the shelter work really hard, and it was good to see the smiles on their faces because they needed people to donate these items."
At states, the girls' display board will explain what they did, including their concerns, goal, plan and follow-up. "I feel pretty confident because the speech we'll give is like a conversation," said Sahar. "And we got first in our division in the National Programs in Action."
Eighth-graders Christian Heiche and Chloe Kim, plus Fairfax High School freshman Laura Stravach did the Promote and Publicize category. "We had an FCCLA week, Feb. 22-26," said Christian. "We created an online survey that students took at lunch to see how much they knew about FCCLA, and we analyzed the data." On other days, students took a trivia quiz and answered questions about FACS.
"We wanted to get more members, while teaching the students what FCCLA is," explained Christian. "We put this information on a poster to show to the judges at states. We have about 26 members now and hope for more next year. We'll leave information about what needs to be improved, and we're also on social media, so kids can find out about us that way, too."
He and his teammates are thrilled about states, and Chloe believes they'll do well and go on to nationals. And, she added, "I loved being able to connect more with other students at this school through this project." Lanier grad Laura was happy to be on the team one more year.
"I was in this club last year, and now I'm seen as a mentor and the club president," she said. "Last year, I got a bronze medal at nationals for investigating the career of interior design. I really enjoyed it and the atmosphere, but it's more about competing against yourself for a higher score. At states, it's competing against other schools to get there, and I think all our projects can make it to nationals."
In FCCLA, said Laura, "You really learn lifelong skills and make friends you might never have crossed paths with. And all these competitions teach you how to research things, be a leader, set goals and reach out to companies for mentors or help with your project. You also learn planning and organization, the oral skills needed to present a project, plus how to put together the presentation to make it appealing to the judges."
Nora Farid, Jules Welch and Sami Saghir did a community service project, collecting nearly 650 pairs of socks for the homeless and donating them to the Katherine Hanley Family Shelter. And Fairfax High freshmen Jacob Major and Spencer Gulich entered information online about the FCCLA's national events.
Spencer submitted details about The Pawject, while Jacob entered a summary of a dinner the club made and served to the school staff at Christmastime. The students also created the invitations, designed the menu and ordered the food, thereby learning about working in both the front and back of a restaurant.
Meanwhile, Lanier eighth-grader Michela Donohue did a project for the Recycle and Redesign category. She made teddy bears out of old T-shirts, tucking pillow stuffing inside them and using buttons and shells for their faces. Each bear took about five hours to make.
"I love teddy bears and, as a kid, I liked wearing my dad's old T-shirts while painting," she said. "So I figured they'd be a good fabric for the bears. There's a lot of trash in the world, but much of it can be used for something else, instead of throwing it out – and lots of clothing can be reused. I think I'll do great at the state competition, and I've never been to Virginia Beach, so I'm excited about it."
SEVENTH-GRADERS Tiffany Nguyen and Miranda Cespedes are in the Food Innovations category. They created a breakfast item that would appeal to middle- and high-school students. It had to include an ancient grain, and they chose quinoa in developing a breakfast casserole similar to a mini-quiche.
"It was soft and had lots of vegetables to make it healthy," said Miranda. "It also had eggs and sausage and was baked in an oven," added Tiffany.
The girls made three prototypes and tested them on the FCCLA members, who listed what they liked and didn't like about them. "They had to answer questions about the texture, taste and appearance," said Miranda. "Then we took pictures and made a display board for states."
Tiffany's favorite part was the cooking, and Miranda was surprised everyone liked their creation, even though it contained vegetables. "Many teenagers don't have time to make breakfast or don't eat it at all," said Miranda. "So we called this On the Go Casserole."
"It takes 12 minutes to make and about 10 minutes to put together," said Tiffany. "And I learned to eat healthier."
Although the FCCLA will be busy at states this weekend, they are already eyeing the National Leadership Conference, July 2-7, in San Diego. But they need to raise the money for it in the next month.
"It'll cost at least $1,800 per student for travel, registration and lodging, and we could really use some financial support from the community," said von Schaack. "We're looking for businesses and organizations to sponsor us." To contribute, email her at SEVonSchaack@fcps.edu or send a check payable to Lanier FCCLA to: Lanier Middle School, 3801 Jermantown Road, Fairfax, VA 22030.