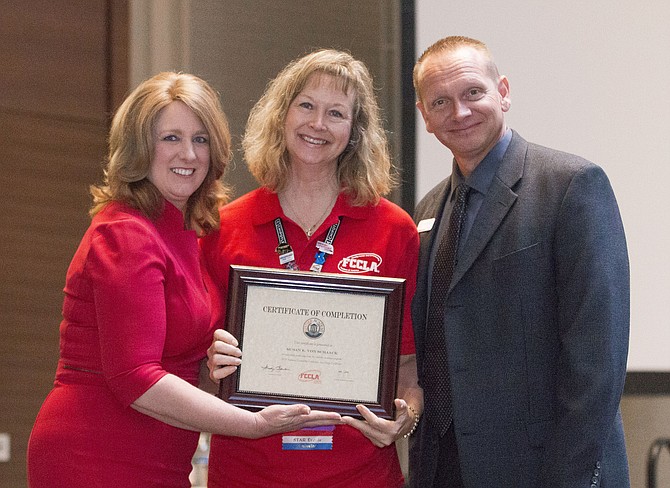 When local students Christian Heiche, Chloe Kim and Laura Stravach flew home from California recently, they did so with something new around their necks – silver medals. They won them at a national competition in San Diego, where their advisor, Susan von Schaack, was acknowledged, as well.
Kim and Heiche, who just graduated from Lanier Middle School, and Stravach, a rising sophomore at Fairfax High, all participated in Students Taking Action for Recognition, or STAR. They did so, July 3-7, at the Family Career and Community Leaders of America National Leadership Conference, FCCLA, in San Diego.
More than 4,500 students competed in the STAR events, which represent college- and career-readiness skills taught in Family and Consumer Science classrooms. Stravach, Heiche and Kim were in the Promote and Publicize category, and their project focused on promoting the FCCLA organization and mission in their schools and local community.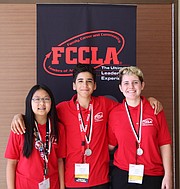 BACK IN FEBRUARY, they held an FCCLA week at Lanier. Working together, they created an online survey that students took at lunch to see how much they knew about FCCLA. They then analyzed the data. They also had Lanier students take a trivia quiz and answer questions about FACS.
"We wanted to get more members, while teaching the students what FCCLA is" explained Heiche. "Then we put this information on a poster to show to the judges at States and Nationals."
Throughout the year, FCCLA programs and competitions enrich student learning, improve self-esteem and serve students with a wide range of ability levels, economic situations and cultural backgrounds. STAR Events are based on the belief that each student is a winner. Competition, evaluation and recognition all emphasize cooperation as the basis of success. Both students and adults work together to manage events and evaluate other participants.
The 2016 National Leadership Conference gave Kim, Stravach and Heiche the chance to attend leadership and program training and hear national speakers. They also got to meet the National Executive Council, as well as explore colleges and careers.
The conference's theme was "Empowered," aimed at inspiring attendees to make the right choices and commit themselves to making a positive impact within their families, schools, and communities. Stravach was one of the conference participants who attended the Leadership Academy program.
During the national conference, she was recognized as a graduate of the FCCLA Advisor Academy. Von Schaack was honored for being a teacher who makes significant contributions to the organization.
"We are proud to honor the recipients of the FCCLA Advisor Academy Certificate of Completion as outstanding leaders in their communities, schools and states," said FCCLA Director of Membership Leah Buller during the event. "Advisor recognition plays an important role in highlighting the accomplishments and efforts of FCCLA's educators." FCCLA helps young men and women become leaders and address important personal, family, and work issues via Family and Consumer Science education.