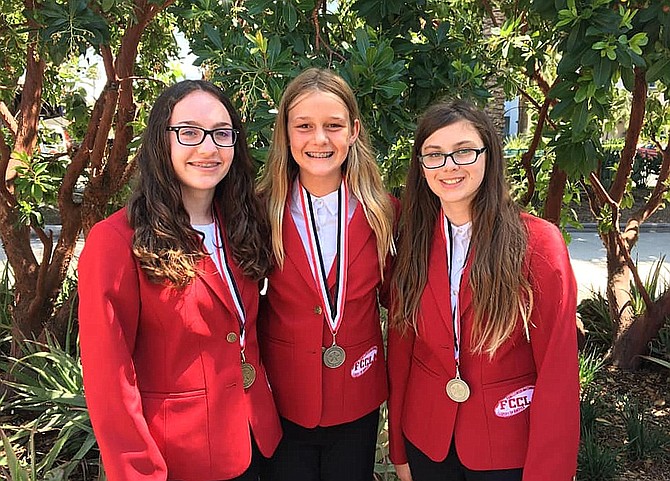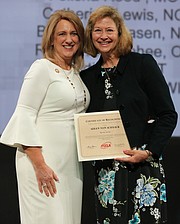 Before school even began this year, a group of Fairfax students was in Anaheim, Calif., competing in a national event. And both the students and their teacher came home with awards.
It was the FCCLA (Family, Career and Community Leaders of America) National Conference, held in July, and the contingent from the City of Fairfax did its hometown proud. The participating students were from Lanier Middle School and Fairfax High and won silver and gold medals, respectively, and their adviser, Susan von Schaack, was honored by the organization.
"I have had the pleasure of working with students who have earned the opportunity to compete both at the state and national levels consistently for the last six years," she said. "Students earning this distinction are true models of FCPS' Portrait of a Graduate characteristics. What it takes to be successful, these students possess.
"I am always honored to be their adviser and see them earn this deserving recognition," continued von Schaack. "The members, their parents and advisers are excited that the 75th FCCLA National Conference will be in Washington, D.C., next summer. It will be an event not to be missed."
AT THIS YEAR'S national conference, many FCCLA students from Fairfax City attended multiple leadership-training sessions, while others competed in STAR (Students Taking Action with Recognition) events.
Caitlyn Clark and Sierra Warden, both Lanier eighth-graders, earned a silver medal for their project in the Focus On Children category. "This is the first time the pair has ever competed in a national competition, after placing first in the Virginia State competition in April as newcomers," said von Schaack. "Since the girls are passionate about saving the environment and reducing waste, Caitlyn and Sierra developed a lesson to teach lower elementary students about upcycling, using a 'Jeopardy'-like game and a hands-on activity."
First, the girls researched water bottle pollution and recycling efforts to prepare for their presentation. Then they went to two of the local elementary schools to field-test the lesson with third-grade students in the after-school program. Every student made a bird feeder from the water bottles, played the game and learned about upcycling.
"Ms. von Schaack had the perfect balance of guiding the girls, but also having them make their own decisions on the project and presentation," said Caitlyn's mother, Annie Clark. "She showed the girls how to follow the rubric and guidelines of the competition and let them be as creative as they wanted. We are very happy that she dedicates her time to be the adviser of this chapter and helps all the students become leaders, themselves. It is a great chapter and organization."
Fairfax High sophomore Emily Sarber, in her third year of competing in the FCCLA National Conference, won a gold medal in the Career Investigation STAR event. "When she started FCCLA as a seventh-grader, Emily told me that she wanted to be a teacher," said von Schaack. "But she had to investigate a different career, event planner, for her project category this past year."
As part of the STAR event, Sarber took several Interest Inventory Assessments to determine additional careers to select and research. Then, after narrowing her search to event planner, Emily was required to learn all she could about the career by using a variety of resources.
"She had to prepare a 10-minute presentation referencing a thoroughly planned portfolio to use in front of three judges," explained von Schaack. "Emily took time from school to shadow a local, event planner and impressed the judges with her work to earn a gold medal."
Von Schaack, herself, was also recognized at the conference. During the Scholarship and Awards Ceremony, she was selected to receive the National Master FCCLA Adviser award. Over the last six years, von Schaack has guided numerous state and national winners, advised the Virginia State Officer of Membership and helped Fairfax High student Jacob Major win the FCCLA Japanese Exchange National Program.
AS A RESULT, he received a free trip to Japan, where he stayed for six weeks. A five-year FCCLA member, Major said, "Through years of encouragement and networking with others who had applied and received the scholarship, Ms. von Schaack supported me when I went to apply and receive the full scholarship."
In addition, the local FCCLA chapter coordinated many, community-service projects and supported the Fairfax school community in the drama, choral and science departments. And von Schaack has been asked by the FCCLA state organization to chair its Ruby Circle Committee on the Alumni and Associates Board.
The parents are also pleased with the growth and maturity they've seen in their children as a result of participating in the FCCLA program. For example, dad Marcos Contreras, said, "FCCLA has helped my son, Marcus, develop as a student, individual and citizen. Marcus has gained confidence, plus an awareness of and appreciation for today's society and preparation for tomorrow's opportunities."