Wakefield High School French teacher, Susan Haley, was awarded a training grant from the French government to study for two weeks in Vichy, France. The grant (Stage Pédagogique de Courte Durée) includes housing with a French family, daily classes focusing on teaching French as a Foreign Language, as well as French language and culture. It is sponsored by CAVILAM - Alliance Française. CAVILAM stands for "Centre d'Approches Vivantes des Langues et des Médias", which means "Center for Living Approaches to Language and Media." Additionally, a stipend towards plane and train fares, as well as teaching materials is provided.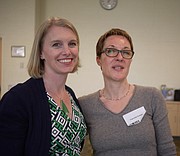 In 2016, a total of 20 awards were granted in the United States: 16 awards to teachers of French as a Foreign Language, and four for teachers in French bilingual schools.
The Embassy of France is presenting a program on "How to Create Immersion Classes in French in a Public School" on Wednesday, April 13, from 7-8:30 pm at the Salle Tocqueville, Embassy of France, 4401 Reservoir Road, NW, Washington, D.C. 20008. Entry is $10 for members of Alliance Française, $15 for non-members. For more information contact christiane.ciccone@gmail.com or 301-529-7810.

For more about awards for French language teaching, see:
http://frenchlanguage.frenchculture.org/sites/default/files/candidature_spcd_2016.pdf
http://frenchlanguage.frenchculture.org/news/spcd-summer-programs-france
http://www.cavilam.com/programmes-et-tarifs/formations-pour-professeurs-de-fle/ateliers-thematiques/pratiques-techniques-fondamentales-lenseignement-du-francais-langue-etrangere/