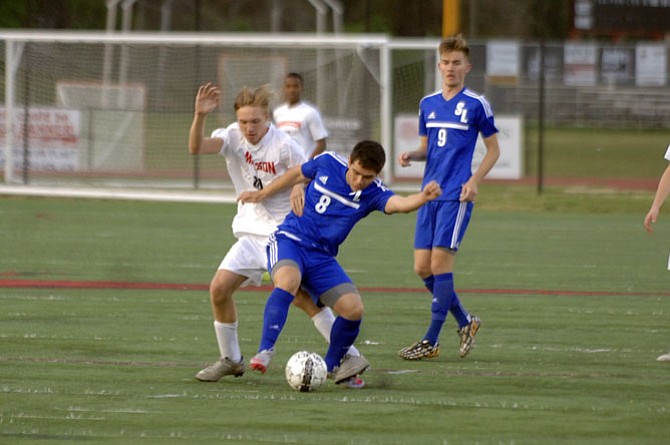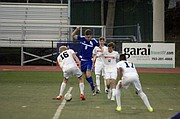 South Lakes boys' soccer coach Marty Pfister joked that a recent minor achievement by the varsity team was cause for joy following a rough start to the 2016 season.
On Monday night, the Seahawks gave their coach a more significant reason to be pleased.
Sophomore forward Bardia Kimiavi scored in the 10th minute and South Lakes held on for its first win of the season, beating defending state runner-up Madison 1-0 in Vienna.
The Seahawks entered the match with an 0-4-1 record.
"We've been working hard all year," Pfister said. "It seemed like every mistake we made was scored on."
South Lakes standout goalkeeper TJ Bush, who will play for JMU, suffered an injury in the season opener and his absence has affected the team, Pfister said. Bush was a first-team all-conference selection last season and helped the Seahawks hold opponents to just five goals during the regular season.
"The defense all of the sudden, which was kind of young, doesn't have a big stud keeper back there," Pfister said. "Mistakes go the wrong way and you lose confidence [and] one or two wins that we should have had turn to losses."
Can Monday's victory boost the team's confidence?
"We just needed a win," Pfister said. "I was glad when the varsity beat the JV the other day just because we needed something positive. ... It was good to come out here under the lights and win a game like 1-0, so hopefully we can build off of that."
Junior goalkeeper Dean Huber helped South Lakes defense shut out Madison on Monday.
Junior forward Conor Gill is the Seahawks' leading goal scorer this season.
Madison entered the match having won three straight after an 0-3 start, but couldn't put one in the net.
"[T]hey got one in and they put seven guys behind the ball for the rest of the game," Madison head coach Matt Griep said. "I thought we did well in winning possession of the ball and maintaining possession. We were able to build attacks up until we got to about the final third and then we just lost it and they would clear it and we would [come back] again and it was just that over and over and over again."
The Warhawks have been without a pair of starters due to injury: senior center back John Dyson (sprained MCL) and senior outside left fullback Nick Bomgardner (torn meniscus). Griep said Dyson could return in a week-and-a-half, but Bomgardner might not return.
Dyson, whose long throw is a big part of Madison's offense, should make a significant impact when he returns, Griep said.
"It's been difficult trying to figure out where we're going to generate our goals from, especially with John Dyson out," Griep said. "We don't attack the sideline and end line like we would with him because we can't take advantage of the throw-in. ... John Dyson will be a great help to add some vocal leadership out on the field. I think that's something that we truly do lack at this point and time. Nobody has stepped up to fill that leadership role."
Senior forward Gunnar Almquist and junior midfielder Blake Machonis each have four goals for the Warhawks.
South Lakes (1-4-1) will host Edison at 7:15 p.m. on Thursday, April 14. Madison (3-4) will travel to take on Yorktown at 7:15 p.m. on Monday, April 18.