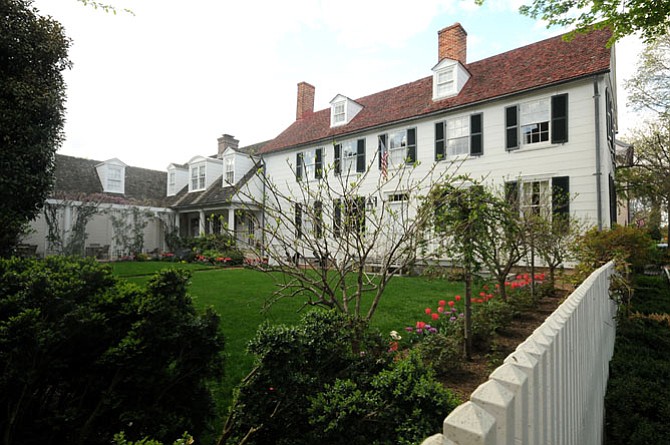 Some of the most spectacular gardens will be in bloom and on display during the 83rd annual Historic Garden Week in Virginia. The statewide event will include 30 different tours of more than 200 homes and gardens. Old Town Alexandria and Arlington, Falls Church and Fairfax County are participating in the Northern Virginia tours.

"These houses are historic and they all reflect the homeowners' personalities and interests," said Catherine Thompson of the Hunting Creek Garden Club in Alexandria. "Some are owned by young families. Some have small gardens and some have large gardens."
The Hunting Creek Garden Club teamed up with The Garden Club of Alexandria to organize the Old Town tour, a walking tour which includes five row houses with courtyard gardens. In addition to the private homes, which were all built during the 1700s and 1800s and still retain many original architectural features, tour goers will have access to the Carlyle House Historic Park, Lee-Fendall House Museum and Garden, George Mason's Gunston Hall and George Washington's Mount Vernon Estate and Gardens.
"They are all really wonderful and beautiful homes and gardens and we feel very lucky to have them on the tour."

— Catherine Thompson of the Hunting Creek Garden Club
"They are all really wonderful and beautiful homes and gardens and we feel very lucky to have them on the tour," said Thompson. "The homes are within two to three blocks of each other, so unlike some other [areas], we run a walking tour."
From large oak trees planted shortly after the Civil War and gardens bursting with colorful blooms from hydrangeas, camellias, rhododendron, crepe myrtles and wisteria to homes with views of the Potomac River and clematis flowing over a pergola, visitors will be treated to vivid spring displays as five Old Town residents open both their homes and gardens.
"People don't expect to have these amazing gardens behind these homes that can appear tiny from outside," said Amy Bertles of the Hunting Creek Garden Club. "One home has two gardens with amazing sculptures that were done by the home owner who is an artist. She decorated her garden with a few of her sculptures."
In Arlington and Falls Church, Gothic Revival, Greek Revival, Arts and Crafts and Victorian architecture await visitors who take the tour hosted by the Garden club of Fairfax. The gardens include four 100-year old holly trees, an herb garden and a garden of Victorian-era plants. Two of the homes are on the National Register of Historic Places and are Virginia Historic Landmarks. The tour also includes visits to Mason Neck State Park, Gulf Branch Nature Center and The Falls Church.
Properties are chosen for the tour by local garden clubs. "They're looking for properties that they know the public will enjoy," said Karen Miller Ellsworth of the Garden Club of Virginia and director of Historic Garden Week. "They're looking for beautiful interiors, an interesting history and a really nice garden."
In addition to its aesthetic appeal, Historic Garden Week, which 3,300 Garden Club of Virginia members spend more than a year planning, has a significant economic impact. "[Visitors] travel from 30 states and foreign countries and 25 percent ... spend the night and average $1,207 on their [Historic Garden Week] trip," said Miller Ellsworth. "As a group, they spend $2 million in Virginia each spring. The cumulative economic impact over the last 45 years is an impressive $425 million."
Historic Garden Week began in 1927 when the Garden Club of Virginia organized a flower show and raised $7,000 to save trees planted by Thomas Jefferson at Monticello. Money raised from the Historic Garden Week tours fund the restoration and preservation of nearly 50 of the Commonwealth's significant historic public gardens as well as a new initiative with Virginia's state parks.
Old Town tour tickets are $45. Group tours for 10 or more people are $40 per person. Single-site tickets are $25. Tickets may be purchased on tour day at any of the homes and at the Alexandria Visitors Center. Advance tickets are available for $40 per person at www.vagardenweek.org and at the Alexandria Visitors Center, 221 King St., Alexandria.
Arlington-Falls Church tickets can be purchased online by credit card until April 24 by visiting http://gardencluboffairfax.blogspot.com/ or www.vagardenweek.org/main/tickets.www.vagardenweek.org/.