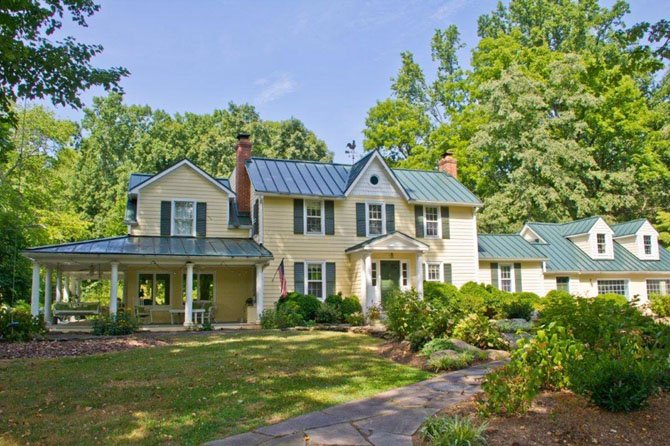 Historic Garden Week 2013 will feature approximately 200 private homes and gardens open on 32 separate tours throughout the state of Virginia over eight consecutive days. It is the largest ongoing volunteer effort in Virginia and represents the coordinated efforts of 3,400 club members. One hundred percent of tour proceeds are used to enhance Virginia's landscape. For 80 years, the grounds of the commonwealth's most cherished historic landmarks have been restored or preserved with help from proceeds from Historic Garden Week including Mount Vernon, Monticello and the grounds of the Executive Mansion in Richmond. In addition to the amazing interiors and gardens on display, Garden Club of Virginia volunteers will create more than 2,000 spectacular floral arrangements to decorate the rooms. Visit www.vagardenweek.org.
Saturday April 20, 2013
Old Town Alexandria
Sponsored by the Hunting Creek Garden Club and the Garden Club of Alexandria
10 a.m to 4 p.m.
All eight private properties on the historic Old Town Alexandria tour are within an easy walk of each other, allowing visitors to enjoy strolling the quaint streets lined with charming townhouses and intimate walled gardens. The full tour ticket includes free admission to George Washington's Mount Vernon Estate (entrance is normally $15 per person), as well as six other notable historic sites in Alexandria on the day of the tour. Refreshments are offered from 11 a.m. to 3 p.m. at the historic Lloyd House and garden. Adding further convenience for tour visitors is the free King Street Trolley that travels from the Metro station down our main commercial street to the Potomac River every 15 minutes.
Tickets are $40 and available at the Ramsey House Visitors Center at the corner of King Street and North Fairfax Street on the day of the tour. For advance tickets contact Mrs. Donald Rocen at Virginia.rocen@comcast.net or by phone at 703-684-3876. For more information, please contact Tour Chairmen Mason Bavin at mbavin@mcenearney.com, Twig Murray at attwig@twigweb.com or Catherine Bolton at 4boltons@comcast.net.
Tuesday April 23, 2013
Fairfax: Oakton/Vienna
Sponsored by The Garden Club of Fairfax
10 a.m. to 4 p.m
The Fairfax County communities of Oakton and Vienna have emerged from small rural towns into thriving family-oriented neighborhoods with homes and gardens reflecting a wide range of architectural and personal style. Ticket price includes admission to the Cosby Home, the Unger Home and Garden, the Buster Home and Garden, the Kampa Home and Garden, the Rosenthal Home and Garden and Meadowlark Botanical Gardens.
Advance tickets are $20 through April 9. Contact Marty Whipple at mwhip155@aol.com. For more information about the tour, contact Bonnie Rekemeyer at chezdarbon@aol.com.
Information, restrooms and refreshments on the day of the tour  at Church of the Holy Comforter, 543 Beulah Road, N.E., Vienna.
The Full Schedule, All Around Virginia
Ashland/Elmont: The Ashland Garden Club
Old Town Alexandria: The Hunting Creek Garden Club and The Garden Club of Alexandria
Smithfield: Elizabeth River and Nansemond River Garden Clubs
Augusta County/Staunton: Augusta Garden Club
Orange County/Somerset: Dolley Madison Garden Club
Nelson County/Albemarle: The Charlottesville, Albemarle and Rivanna Garden Clubs
Chatham: Chatham Garden Club
Nelson County/Albemarle: The Charlottesville, Albemarle and Rivanna Garden Clubs
Waterford: The Leesburg Garden Club and the Fauquier-Loudoun Garden Club
Oakton/Vienna: The Garden Club of Fairfax
Fredericksburg: The Rappahannock Valley Garden Club
Lynchburg: Hillside and Lynchburg Garden Clubs
Richmond: Chatham Hills/Windsor-on-the-James, The Boxwood, James River and Three Chopt Garden Clubs, and The Tuckahoe Garden Club of Westhampton
Williamsburg: Kingsmill Resort and the Colonial Area, The Williamsburg Garden Club
Petersburg: The Petersburg Garden Club
Harrisonburg: The Spotswood Garden Club
Martinsville: The Garden Club Study and the Martinsville Garden Club
Hampton/Newport News: The Huntington and the Hampton Roads Garden Clubs
Northern Neck/Northumberland County: The Garden Club of the Northern Neck
Richmond: Laburnum Park, co-sponsored by The Council of Historic Richmond Foundation and The Boxwood, James River and Three Chopt Garden Clubs, and The Tuckahoe Garden Club of Westhampton
Virginia Beach: The Princess Anne and Virginia Beach Garden Clubs
Warrenton: The Warrenton Garden Club
Danville: Gabriella Garden Club and The Garden Club of Danville
Norfolk/Ghent area: Norfolk Harborfront Garden Club and the Garden Club of Norfolk
Richmond/Rothesay Circle/Lock Lomond Area: The Boxwood, James River and Three Chopt Garden Clubs, and The Tuckahoe Garden Club of Westhampton
Warrenton: The Warrenton Garden Club
Middle Peninsula/Lower King and Queen County Area: The Garden Club of the Middle Peninsula
Eastern Shore: The Garden Club of the Eastern Shore
Gloucester/Mathews: The Garden Club of Gloucester
Lexington: The Blue Ridge Garden Club
Roanoke: The Mill Mountain and Roanoke Valley Garden Clubs
Winchester: Winchester-Clarke Garden Club and The Little Garden Club of Winchester
Front Royal: The Garden Club of Warren County