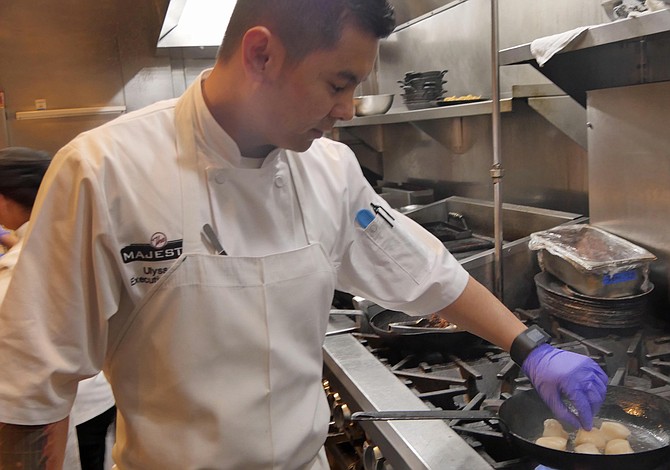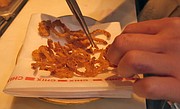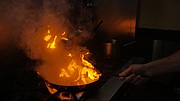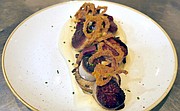 Executive Chef Ulysses Cabahug at The Majestic Cafe on King Street lines up six diver scallops and pats them dry on both sides to get a good sear. "Now is when the magic begins."
"These are as fresh as it gets from a premium seafood vendor in Ocean City." He says, "they call these day boat scallops because they are only harvested in small quantities in small boats and come straight here; they are never on ice which can waterlog the scallop."
Cabahug turns the heat to high under a cast iron pan and squirts in about one and a half ounces of a high-smoke-point oil (a mixture of 90 percent canola oil and 10 percent extra-virgin olive oil). Just enough to cover the surface of the pan. "You want it to be smoking before adding the scallops."
He seasons the scallops with kosher salt on one side. "That's the trick. I cook them one-and-a-half to two minutes on one side only." This allows the scallop to get a really nice crust but not get dry inside. Cabahug swirls the oil around the pan to prevent the scallops from sticking, and then places them side-by-side in the skillet. "See, this is the kind of crust you want."
Placing the scallops on a small plate to let them rest for a bit, he then turns to the thinly sliced shallots that have been soaking in buttermilk for a few hours. Cabahug tosses the shallots into a large aluminum bowl in a flour mixture with paprika, blackening seasoning, Old Bay and salt and pepper. Then into a wire basket. He plunges the basket into a vat of soybean and canola oil about a minute until they turn "a golden color. Just 10 more seconds and then onto a towel to drain."
The mushroom blend is next with about three ounces of a mixture of hen-of-the-woods, shiitake and cremini mushrooms sautéed in a hot skillet with oil until they soften and release their water. Again he sprinkles on a little kosher salt. Flames shoot high as he deglazes the mushrooms with a little white Chablis cooking wine and tosses the mushrooms. Finally he adds several bite-size pieces of cabernet-poached Anjou pears to the skillet.
Cabahug pulls out a container of puréed celery root, which he has previously prepared by peeling the celery root and rough chopping. "Then I simmered it in heavy cream and butter with shallots and garlic to add flavor. Then I add grated Manchego cheese and puréed it in a Vitamix blender."
The assembly of the final dish begins with a smear of celery root purée across the large plate. He artfully places the scallops on the plate in a zigzag pattern. "Now I'll put the pieces of red pear next to the scallops for a contrast in color."

The mushrooms form the next layer with the crispy shallots arranged on the top and a smattering of pine nuts. Cabehug picks up a plastic squirt bottle. He dots house-made fig balsamic on top of the scallops. "Finally I'll sprinkle on chopped chives."
Cabehug says this is the customer favorite "and my favorite, too with the contrast in flavors and textures." He says he invented this recipe after discovering the best scallops available.
Cabehug says he became a chef because "I love to eat." He says his grandma, his mom and his dad were all good cooks. "I poked my head into the pot to see what was stirring. I always had these pots in front of me." He says he would say his favorite dish at home in the Philippines was bone marrow soup. "I wanted to know how long do you simmer it to get all of the flavor out of the pot. What are the techniques?
"I learned the key to it is taking your time. I use the same strategy in everything I make, no shortcuts.
"My grandma always told me 'you love to eat so you have to cook. No one is going to cook for you all the time.'"