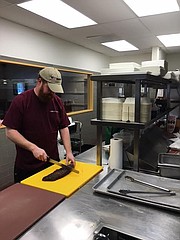 When Mookie's BBQ opened in Great Falls recently, barbecue fans must have gone wild. Really wild, for Northern Virginia does not boast many smoky, barbecue restaurants. Now, thanks to the devotion of Brian Varani and his family and friends, what started out as a food truck/catering company has burst onto the restaurant scene.
Oddly enough, said Varani, cooking was not his primary life's passion, although he loved to cook with his family, which boasts great home cooks. And at the age of 13, he did start working in a small breakfast/lunch eatery until he went to college. Even in college, he worked at other restaurants to earn his way. But he majored in accounting, not cooking, and upon graduation, he worked in the corporate world for several years.
But finally, he said, his love for cooking was reignited big time when he purchased his first smoker. "I loved it," he said, adding that his wife observed that there were all kinds of barbecue competitions going on. "So I got together a team," he said, "and in 2010, we did our first competition. It was mostly just my family and friends working together 6 to 8 times a year." He admitted that his barbecue technique is self-taught, learned from watching videos and reading articles online.
All that led him to a side business because Varani was asked by numerous friends to cater events. "I founded the business in 2010," he said, "but it was just a side business that I did for three to four years."
But as often happens to people, life took a big turn. "I left my day job in 2014 in search of good restaurant locations," he said. He had spotted the empty space from the former Serbian Crown, but someone else had put a bid on the property. So in the meantime, he along with his brother and cousin built a customized barbecue vending rig—featured even on television for its unique design—that they used for catering. "We use it for events," he said. "It has a giant smoker, a hog roaster, deep fryer and sinks. It is one of a kind. It took us one year to build."
But the group kept looking for the proper restaurant space, some place that would be family friendly in keeping with their vision. Then Varani found that his first-choice space was still available, so family, friends, and Varani pulled together a deal and settled on the location. "We had to transform the space back into a restaurant, putting in all brand new equipment and furnishings," he said. With the work done, Mookie's BBQ had a quiet opening at the end of September 2015.
Since then the business has grown enough so that the restaurant now opens for lunch, dinner and Sunday brunch, and has a bar setting that often attracts folks who sit and chat. "We have a ton of families who are regulars," he said, which underscores his family-friendly approach.
Of course, the biggest draw is the quality of the food—everything is made from scratch, he said, nothing is frozen or canned. And the most popular dish? Well, the smoky, succulent, meaty baby back ribs. Second place? The brisket burnt ends.

Mookie's BBQ, 1141 Walker Road, Great Falls. Phone: 703-759-2386. Hours: Lunch and dinner, Tuesday-Sunday; Brunch, Sunday.
Scratch Made Banana Pudding
Serves 12
9 large eggs
6 cups whole milk
2 cups sugar
1 cup all-purpose flour
1 teaspoon salt
1 tablespoon butter
1 1/2 teaspoons vanilla extract
6 bananas, peeled and sliced
1 box vanilla wafers
Whipped cream for serving
Combine the eggs and milk in a large bowl, and beat together lightly. Stir in the sugar and flour, mixing well, and pour into a medium saucepan. Heat over low heat, whisking constantly until thickened. Remove from the heat, and whisk in the butter and vanilla. Continue whisking until the mixture cools slightly. Place the pudding in a container, and refrigerate it to cool and set.
In a 9-x-13-inch pan, layer the wafers, bananas, and pudding. Repeat with a second layer in the same order. Garnish the top with more vanilla wafers. Refrigerate for one hour to firm, and serve with whipped cream.