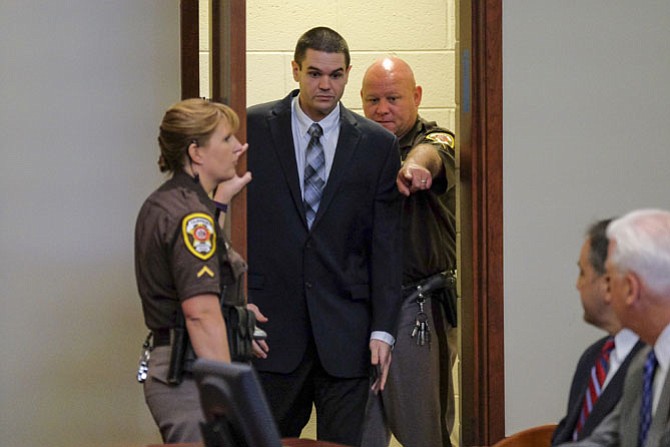 "What's important now is keeping pressure on the supervisors to make sure a review panel is enacted and they develop some timeline policy for handling these situations."

— Jeff Stewart, best friend of John Geer who witnessed his death
It was over before it began. Neither prosecution nor defense gave opening statements in former Fairfax County Police Officer Adam Torres' trial for the August 2013 murder of Springfield resident John Geer. Instead on Monday, April 18, Torres pleaded guilty to felony involuntary manslaughter for the August 2013 incident.
Police had responded to a call that day from Geer's live-in girlfriend Maura Harrington that he was throwing her belongings out of the house. Torres and another officer talked with Geer for 40 minutes before Torres fired, hitting him in the chest.
Torres claimed Geer suddenly lowered his hands, making him think Geer was reaching for a gun.
Harrington and Geer lived together for more than 20 years and had two teenage daughters. Harrington had told Geer that she was moving out.
The Sunday before the trial was set to begin, Commonwealth's Attorney Raymond F. Morrogh said Torres' attorneys contacted him with the plea offer. Morrogh then spoke with Harrington, the family's attorney Michael Lieberman and Geer's parents.
With the deal, Torres would serve 12 months in jail, getting credit for the eight months already served. Being a convicted felon would prevent him from owning a firearm or becoming a police officer again, a priority for Harrington and her daughters, Morrogh said.
Geer's mother was "vehemently opposed to any agreement," Morrogh said, adding that she "wants a life sentence."
The sentencing is set for June 24, at which point the judge may accept or amend the length of Torres' sentence, or reject the plea altogether. If that happens, Morrogh said, the case would go to trial with a different judge. Torres is the first Fairfax County Police Officer in the history of the department to be charged in a shooting death.
"It's certainly not an ideal or perfect situation," Morrogh said during a press conference following the hearing, outside the Fairfax Courthouse. "My role is to get as much justice as I can, for victims and family."
Morrogh said Harrington was concerned about defense plans to call Geer's 19-year-old daughter — who was at a neighbor's house at the time of the shooting — to testify about her father's past actions and character.
Morrogh also said the defense had an expert lined up to argue that Torres acted reasonably given the situation. "I thought we had real good evidence on where his hands were," Morrogh said, but "those are the kinds of things that can muddy the waters," for a jury.
"I weighed it all, this is my decision and I stand by it," Morrogh said.
IN A PHONE INTERVIEW, Lieberman said he was pleased Morrogh went with the plea deal. He said many prosecutors turn them down, but it can be difficult to get a felony conviction in cases like this with a police officer involved.
Lieberman said the family was also thinking of Torres' wife and children in accepting the plea. He supplied a statement from Geer's daughters in which they say, "Whatever his faults, Torres' wife and children did not murder our father, and it would be wrong to hurt them just to allay our own anger and pain. Robbing other children of time with their father would only make us complicit in another wrong."
The daughters cite the Fairfax County Board of Supervisors and Police Department, bodies which withheld details of their father's shooting from them for 17 months. That included personnel files and accounts of Torres having a history of outbursts and marital stress.
Until a $12 million wrongful death case brought by the Geer family forcing the release of information, Fairfax County Police stood by policy they said kept them from releasing Torres' name or many other details of the shooting while investigations into the incident were ongoing.
"As for the Fairfax County Board of Supervisors and the Fairfax County Police Department, we remain appalled by their actions in covering up the truth and putting Torres in the position to decide life and death given what they knew about his background," the daughters' statement continues. "Until such time that the ad hoc [commission's] recommendations are adopted and the policies of the FCPD are changed, we fear that these tragic events can occur again with different victims and different officers."
FAIRFAX COUNTY BOARD OF SUPERVISORS Chairman Sharon Bulova and Chief of Police Edwin Roessler sent out statements following the guilty plea that offered sympathy to Geer's family and friends. Though each have previously acknowledged the case wasn't handled as well as it could have been, their statements stopped short of admitting wrongdoing. They focused more on forging ahead.
"The death of John Geer and events that followed have sparked a number of changes in our Police Department to include a transformation in the way officers are trained to respond to critical incidents," Bulova said in her statement. "The Board of Supervisors is moving forward with recommendations made by the Ad Hoc Police Practices Review Commission, demonstrating Fairfax County's commitment to maintaining the public trust and making our Police Department a national model moving forward."
The county recently posted a progress report online for the implementation of the commission's 142 recommended policy changes.
In a statement, Supervisor Pat Herrity (R-Springfield) said, "The process to resolve this sad chapter in Fairfax County history has been lengthy and frustrating, much to our own doing."
Though some policies have been changed or updated, including a Diversion First program to direct nonviolent offenders with mental illness to receive treatment services rather than jail time, Fairfax County has yet to adopt or implement an independent auditor or citizen oversight board — two of the recommendations receiving considerable attention.
Roessler's statement added, "The men and women of the Fairfax County Police Department have fully cooperated with all authorities during this investigation. The action of one former employee is not reflective of the honorable work done day-in and day-out by all members of our Department."
Geer's best friend Jeff Stewart, who witnessed the 2013 shooting and went on to serve on the Fairfax County Ad Hoc Police Practices Review Commission, responded critically to Roessler's words.
"They weren't compliant," Stewart said in a phone interview, "otherwise we wouldn't have had to involve the federal Justice Department and [U.S.] senators."
Morrogh handed his initial investigation of the incident to the U.S. Attorney Dana Boente, later explaining that Fairfax County Police were withholding information from him. And U.S. Sen. Charles Grassley (R-Iowa), ranking member of the Senate Judiciary Committee, got involved in November 2014 when he sent formal inquiries to Roessler and Boente about the stagnant case.
AT THE PRESS CONFERENCE following Monday's hearing, Morrogh commented on the Fairfax County attorneys who advised the Board of Supervisors to go along with not releasing the information, saying, "I've never seen anyone act like that. I hope it never happens again, it was dead wrong."
"Because of that, we were left with nothing for 17 months," said Stewart, "which in itself is a crime. What's important now is keeping pressure on the supervisors to make sure a review panel is enacted and they develop some timeline policy for handling these situations."
Near the conclusion of the hearing, Torres said he was "truly sorry for my actions" and "heartbroken" for Geer's children. "No words I can say today … adequately express my remorse."
Geer's father Don said he didn't hear the apology in the courtroom, and that it was the first one he'd heard from Torres.
"A little late in coming," he said. "Nothing on this has been done in a timely manner."