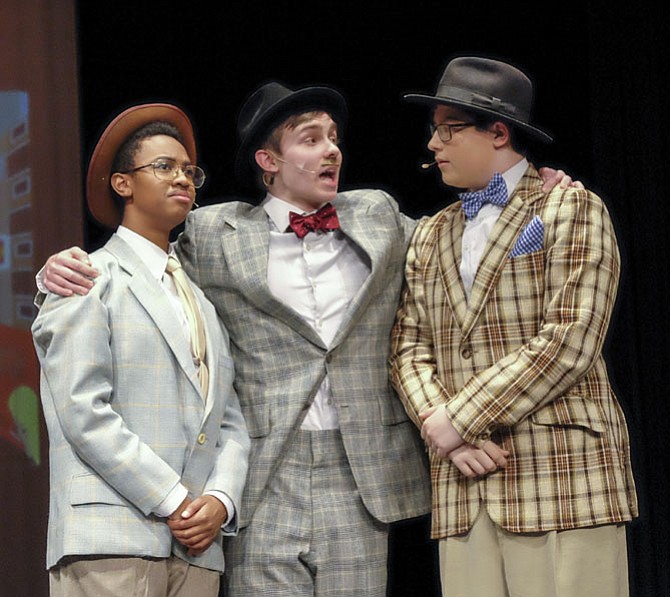 Two gamblers, a night club performer with a perpetual cold, and a Christian mission leader longing for the perfect love walk into a … no this isn't the setup for a bad joke. While the plot of Frank Loesser's "Guys and Dolls" may seem a little bizarre at first, the show has remained a treasure of the American theatre since it first opened in 1950. Mount Vernon High School sought to remind us all why this show is so loved, and they were quite successful.
The musical, with music and lyrics by Frank Loesser and a book by Jo Swerling and Abe Burrows, is based on several short stories by Damon Runyon and opened to rave reviews in 1950. The original production won five Tony Awards including Best Musical. Considered one of the best musicals of Broadway's "Golden Age" the vibrant comedy has become one of the most revived musicals on Broadway and led to a 1955 film version starring Frank Sinatra and Marlon Brando.
Nathan Detroit is host of the "oldest established, permanent floating crap game in New York" but is having trouble finding a place to host his next game. The ideal spot wants a hefty down payment of $1,000. When it's discovered that famed gambler Sky Masterson is in town, Nathan thinks he can make a bet with Sky that he can't get mission leader Sarah Brown to go to Cuba with him for dinner. Nathan must continually hide his gambling habits from Adelaide, who he has been engaged to for 14 years and has had a cold ever since due to their unmarried status. Hilarity, romance, and boisterous dancing ensue as the two couples try to figure out what they want and how they will be happy.
The show famously opens with a lengthy dance routine that was delightfully fleshed out by choreographers Erin Hugee and Bailey Sudler. This involved nearly every member of the ensemble performing hilarious pantomimes interspersed with well-intentioned dance breaks. Hugee and Sudler's choreography was very well planned and well executed by the large cast.
Tyler Shores gave a superb performance as Nathan Detroit. Shores carried many of the show's comedic moments and did an excellent job playing the cartoonish aspects of the character in an enjoyable way, without becoming too artificial. Sofi Harai was one of the most entertaining Adelaide's I have seen in awhile. Harai embodied the triple threat performer with her brassy belt, excellent acting, and formidable dancing; she also did a fantastic job bringing a thick New York accent without compromising diction at any point. Eva Alpar's performance as Sarah Brown heralded back to the golden age of Broadway with a sweet and soaring soprano in several of the most iconic numbers.
Fatemah Bahabib's projection design was vibrant and lively, allowing for minimal physical scenery, which provided immense freedom of space for the performers. Austin Shores' lighting design incorporated a color palette on the cyc to keep the characters and themes close in the audience's mind.
There are few musicals that need very little tinkering or innovation, and "Guys and Dolls" is arguably the greatest example of them all. Mount Vernon High School let the show speak for itself, and the cast and crew did an admirable job doing justice to this solid, time-tested piece of theatre.