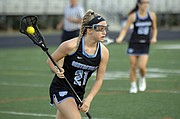 Chantilly girls' lacrosse coach Victor Chen pleaded with the Chargers during halftime to follow the scouting report and focus on slowing down Centreville junior Elizabeth Murphy, who had four of the Wildcats' eight first-half goals.
"I'm tired," Chen said, "of losing to one girl."
Murphy's dominant performance would continue, however, and she had some help along the way.
Murphy finished with seven goals and one assist and the Wildcats defeated the Chargers 15-5 on Monday night at Chantilly High School. The victory was Centreville's eighth in its last nine games and improved its record to 9-3 overall and 3-1 in Conference 5.
Centreville led 8-3 at halftime and opened the second half with six straight goals. Murphy's final goal of the evening, with an assist from junior Julie Vo, gave the Wildcats a 14-3 advantage with less than 12 minutes remaining.
"She's a key leader for us," Centreville head coach Ashley Kimener said, "on our offensive end."
Murphy's performance this season is a primary reason Centreville has remained competitive despite a change at head coach and the graduation of two athletes now playing at the Division I level.
Last year, Centreville reached the 6A North region and state semifinals, only to lose each game in overtime. The Wildcats finished the 2015 season with a 15-4 record, with three losses coming against eventual state champion Robinson, including a 15-13 overtime defeat in the state semis.
Centreville leaned heavily on a pair of US Lacrosse All-Americans: senior midfielder and VHSL state Player of the Year Caroline Wakefield, who now plays for the University of North Carolina, and senior attacker Reagan Newell, who now plays for James Madison University.
Newell finished her career as Centreville's all-time leader in goals (294), assists (166) and total points (460). Wakefield is second in each category (228 goals, 150 assists, 378 points).
Along with a loss of on-field talent, Kimener, a 2008 Oakton High School graduate and former Cougars assistant, replaced Christina Griel as Centreville head coach.
So far, the 2016 Centreville girls' lacrosse team hasn't slowed down.
How have the Wildcats been able to maintain success?
"I think we, offensively, have a bunch of ... kids that stepped up and came out of their comfort zones," Kimener said, "and recognized, 'We've got to take this team on our back.'"
Murphy has helped carry the Wildcats during her junior season. She leads the team with 74 goals (sophomore Emily Marciano is second with 32) and 88 total points.
"With Reagan and Caroline graduating last year, I think she's taken on the role of taking this team on her back when she needs to," Kimener said. "She's gotten more confident, being able to handle the pressure or take the team on her back, offensively."
Murphy is third on the Centreville all-time list for goals (150), assists (53) and total points (203).
"My freshman and sophomore year, I knew that [Newell and Wakefield] were the go-to players and then this year I knew with them graduating that ... as an upperclassman, that I need to step up and help my team," Murphy said. "Knowing that I need to do that, I think it's helped me ... play my role and do the best so that I can help this team."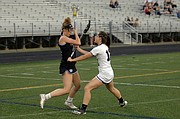 Sophomore midfielder Paige Richbourg, who is committed to Louisville, finished with one goal and three assists on Monday. For the season, she is second on the team in assists (19) and third in goals (28) and points (47).
"She will win the draw for us, she will get some goals, she will look to feed if she has to," said Kimener, speaking about Richbourg's versatility, "and then, defensively, she's that kind of kid that hustles all over the field ...."
Marciano, who is committed to Brown and scored two goals Monday, is also a key contributor. She leads the team with 23 assists and is second in goals (32) and points (55).
Freshman goalie Stephanie Zempolich had 10 saves against Chantilly.
Richbourg said having a new coach has benefited the Wildcats.
"With the new coach, it's kind of been a fresh start," said Richbourg, who also plays club lacrosse for Kimener. "We're not trying to replace [Newell and Wakefield], we're just starting new and we're bringing in a new offense where we're using everybody. It's really nice knowing that everybody on our offensive side can score."
Centreville senior attacker Jamie Chang had two goals and two assists on Monday. Sophomore midfielder Jaimi Pollack had two goals and junior attacker Yurie Hong had one goal.
For Chantilly, the loss was the Chargers' third in their last four games following an 8-1 start. Chantilly has secured its first winning record since 2011.
"We're climbing slowly but surely," said Chen, who is in his third season coaching the Chargers, "but we just have to find a way to get to that next level."
Senior attacker Taryn Hannam-Zatz led Chantilly with two goals on Monday.
The Chargers (9-4) finished conference play with a 2-3 record. Chantilly will conclude the regular season with a home game against Stone Bridge at 7:30 p.m. on Thursday, April 28.
"Hopefully they'll get their heads back on right," Chen said, "and get the consistency part down and then I think we'll make a good run in the playoffs."
Centreville will host Robinson at 7:30 p.m. on Thursday, April 28.