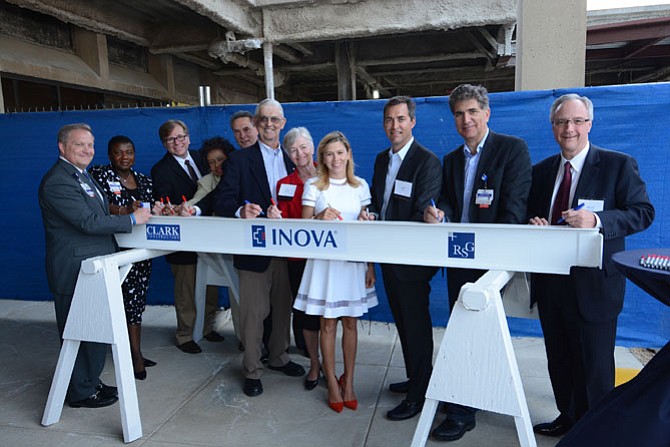 Huntington Club condos
2601 Indian Dr, Alexandria
The Huntington Club Condominium Association is reviewing developer bids for a new mixed-use project that would include 1,200 to 1,800 housing units, 600,000 to 1 million square-feet of office space and 127,000 square-feet of retail space.
Towne Place Suites by Marriott
Construction has begun on a 92-room Baywood Hotels extended stay hotel in the Woodlawn area, at the corner of Richmond Highway and Woodlawn Court, adjacent to Woodlawn Shopping Center. By summer 2016, the hotel should be completed.
Penn Daw area of U.S. Route 1: South Alex
The former Penn Daw Plaza shopping center was rezoned as part of a 2012 Comprehensive Plan amendment for the Penn Daw area and is set to be replaced by a mixed-use development. The development, now named "South Alex," will feature 400 apartments, 41 townhomes and 44,000 square-feet of ground-level retail space. Construction has been approved, but hasn't started yet.
North Hill area
33-acres along U.S. Rt. 1 by Lockheed Blvd.
In March 2015, members of the Fairfax County Redevelopment and Housing authority voted in favor of moving forward with interim agreement to develop the remaining 33 acres of North Hill. (Fifteen acres out of a 1981 land purchase have been developed as Woodley Hills Estates.) The Community Housing Partners of Virginia and Philadelphia-based developer Pennrose partnership have proposed building 278 multi-family apartments in six separate buildings, up to 195 townhomes and leaving some space for a park. A number of the units would be designated for households with lower incomes. An informational community meeting was scheduled for April 27 at 7 p.m. at Walt Whitman Middle School, 2500 Parkers Lane in Alexandria. More information is available online at www.fairfaxcounty.gov/rha/north_hill.
New Fairfield Inn & Suites
6421 U.S. Rt. 1
The Hersha Group has finished with demolition of the Fairview Motel and obtained construction permits to move forward with a new 108-room development renamed Fairfield Inn & Suites. Construction is ongoing.
Widening of Richmond Highway Still Underway
3.5 miles of U.S. Rt. 1 between Mount Vernon Memorial Highway and Telegraph Road
The $180 million project to widen Route 1 from four to six lanes, while also accommodating mass transit, bicycles and walking, is expected to be completed in five segments between late summer and early winter 2016.
"Embark Richmond Highway" transportation and land use planning for Route 1, Bus Rapid Transit and Metro Expansion
The planning team is a collaboration of Fairfax County staff from various departments and agencies working with a 13-member citizen advisory group to help coordinate community input. Goals of Embark Richmond Highway include implementing a Bus Rapid Transit System running along dedicated lanes on Route 1 from Huntington Metro to Fort Belvoir, and then extending the Yellow Line Metrorail to Hybla Valley.
"This has great potential for revitalization and economic development along the highway," said Edythe Kelleher, executive director of the Southeast Fairfax Development Corporation, "with a lot more and better access for people getting back and forth from home to work to shopping to whatever. For bringing tourists down, and other visitors, there's great potential."
The first community meeting is planned for May 9 from 7 to 9 p.m. at Walt Whitman Middle School, 2500 Parkers Lane in Alexandria. For more information, visit www.fairfaxcounty.gov/dpz/embarkrichmondhwy/meetings.htm.
Lennar multi-family housing development "Huntington Crossing"
The project team has filed a re-zoning application for the 6.3 acres site adjacent to the Huntington Metro and right up against the water. The draft plan calls for five stories and approximately 360 multi-family units. Access will be from Metro View Parkway.
Accotink Village
Richmond Highway between Fairfax County Parkway and Fort Belvoir's Tulley Gate
Construction is underway on a mixed-use development sitting on 6.6 acres of historic Accotink Village by the Bainbridge Companies and Eastwood Properties. The project includes 283 units of 1 and 2-bedroom apartments, as well as 24,000 square-feet of retail space. Building is anticipated to be completed by late 2016.
National Museum of the U.S. Army
Fort Belvoir
The Army Historical Foundation is continuing to raise money for construction of a brand-new National Museum of the U.S. Army to be located on a 41-acre campus at Fort Belvoir. The 185,000-square-foot main building will showcase 15,000 works from the Army Art Collection as well as 30,000 rare and never-before-seen artifacts, document and images from the service branch's 200-year history. A memorial garden, amphitheater and parade ground are planned for the exterior grounds.
New Inova Emergency Department to open November 2016
Inova Mount Vernon Hospital, 2501 Parkers Lane, Alexandria
An all-new 21,000-square-foot Emergency Department, scheduled to open the week of Nov. 14, 2016, will feature 35 private treatment rooms, dedicated space for children, "Fast-Track" treatment rooms for patients with less serious injuries and two new rooms for resuscitation emergencies.
The new department is being funded largely by Jeffrey Veatch, an entrepreneur from the Mount Vernon area, who's committed a $2 million lead matching gift toward the new construction.
Sources: District Supervisor Dan Storck (D-Mount Vernon) and land use aide, District Supervisor Jeff McKay (D-Lee) and land use aide, Southeast Fairfax Development Corporation, the Army Historical Foundation and Lee Barton, Senior Project Manager for Design and Construction with the Inova Facilities Management Department.