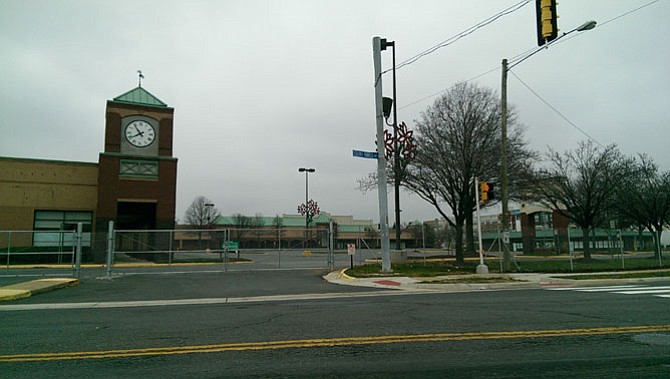 1 Huntington Club condos - 2601 Indian Drive
The Huntington Club Condominium Association is reviewing development group IDI's proposal for a mix of residential types, retail and hotel and office space.
2 Penn Daw area of U.S. Route 1: South Alex
The former Penn Daw Plaza shopping center was rezoned as part of a 2012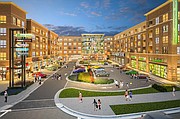 Comprehensive Plan amendment for the Penn Daw area and is set to be replaced by a mixed-use development. The development, now named "South Alex," will feature 400 apartments, 41 townhomes and 44,000 square-feet of ground-level retail space. Work on the site plan is underway, as is demolishing, clearing and grading. Construction should last from a year and a half to two years.
3 Novus Property Holdings - Richmond Highway at Fairview Drive
Novus, LLC (Cafritz Interests) is planning to replace the Wendy's Tai Kwon Do studio and Title Max loans building on a 5.3-acre site with a 340-unit multifamily dwelling structure. The developer has filed a rezoning application, however there aren't any hearings scheduled thus far.
4 North Hill area 33-acres along U.S. Rt. 1 by Lockheed Blvd.
In March 2015, members of the Fairfax County Redevelopment and Housing Authority voted in favor of moving forward with interim agreement to develop the remaining 33 acres of North Hill. (Fifteen acres out of a 1981 land purchase have been developed as Woodley Hills Estates.) The Community Housing Partners of Virginia and Philadelphia-based developer Pennrose partnership have proposed building 278 multi-family apartments in six separate buildings, up to 195 townhomes and leaving some space for a park. A number of the units would be designated for households with lower incomes. More information is available online at www.fairfaxcounty.gov/rha/ north_hill. The Fairfax County Board of Supervisors have yet to adopt Comprehensive Plan changes that would allow the plans to move forward.
5 Fairfield Inn & Suites - 6421 U.S. Rt. 1
The Hersha Group has nearly finished constructing a new 108-room development.
6 Embark Richmond Highway - Route 1 from Lorton to Huntington area
The Embark planning team is a collaboration of Fairfax County staff from various departments and agencies working with a 13-member citizen advisory group to help coordinate community input and information dissemination. Goals of Embark Richmond Highway include implementing a Bus Rapid Transit System running along dedicated lanes on Route 1 from Huntington Metro to Fort Belvoir, and then extending the Yellow Line Metrorail to Hybla Valley. "This has great potential for revitalization and economic development along the highway," said Edythe Kelleher, executive director of the Southeast Fairfax Development Corporation, "with a lot more and better access for people getting back and forth from home to work to shopping to whatever. For bringing tourists down, and other visitors, there's great potential."
"This is finally going to transform this section of the county in a way like we've never seen before," said Supervisor Jeff McKay (D-Lee). "It will be slow, not overnight, people have been talking about revitalizing the highway since I've been alive. It's a really exciting ride."
For more information, www.fairfaxcounty.gov/dpz/embarkrichmondhwy/meetings.htm
7 Lennar multi-family housing development "Huntington Crossing" - Adjacent to the Huntington Metro, up against the water, Huntington Avenue at Metroview Parkway
The draft plan calls for five stories and approximately 360 multi-family units. Access will be from Metro View Parkway.
8 Belvoir Square - Richmond Highway between Fairfax County Parkway and Fort Belvoir's Tulley Gate
Construction is underway on a mixed-use development sitting on 6.6 acres of historic Accotink Village by the Chesapeake Realty Partners. The project includes 283 units of one and two-bedroom apartments (170 one-bedroom, 113 2-bedroom), as well as 24,000 square-feet of retail space. Building is anticipated to be completed this month
9 National Museum of the U.S. Army Fort Belvoir - 41-acre campus at Fort Belvoir
The Army Historical Foundation is continuing to raise money for construction of a brand-new National Museum of the U.S. Army to be located on a 41-acre campus at Fort Belvoir. The 185,000 square-foot main building will showcase 15,000 works from the Army Art Collection as well as 30,000 rare and never-before-seen artifacts, document and images from the service branch's 200-year history. A memorial garden, amphitheater and parade ground are planned for the exterior grounds. An overview video is available on the museum's website at https://armyhistory.org/about-the-museum. A construction timeline depends on funding.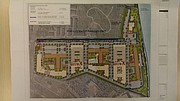 10 Sitco Property - 8800 Richmond Highway
An eight-acre property at this location is currently zoned C-8 and R-2. Stanley Martin Company is in the process of having it rezoned to bring a density of up to eight residences per acre.
11 Riverside Apartments - 5860 Cameron Run Terrace
Washington Real Estate Investment Trust has purchased the Riverside Apartments complex (constructed in 1971) that currently includes 1,222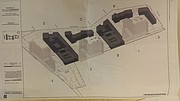 units on 15 floors in three high-rises. They're in the process of renovating existing units including replacing decades old windows, and have applied for rezoning to increase the density of the site in order to construct additional apartment buildings. The hearing is scheduled in the next nine months.
Sources: District Supervisor Dan Storck (D-Mount Vernon) and land use aide, District Supervisor Jeff McKay (D-Lee) and land use aide, Southeast Fairfax Development Corporation, and the Army Historical Foundation.