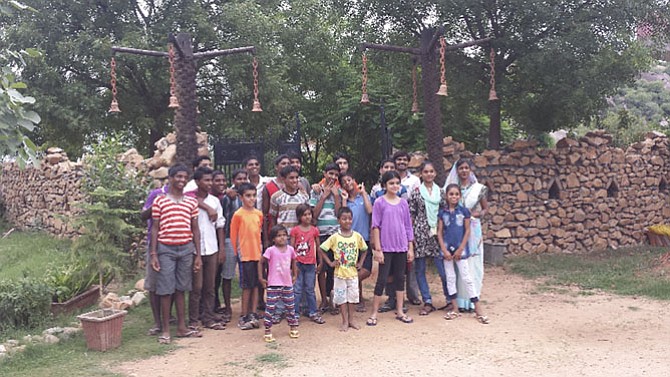 Vienna siblings Medhnaa Saran, 12, and her younger brother Kushaan, 11, are on a mission to help children halfway across the world, victims of child labor and trafficking, to be safe and to get an education.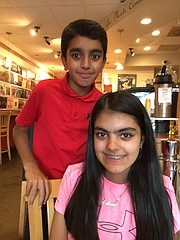 They raise money to combat child labor and trafficking. The Saran children have raised more than $5,500 over the past few years and have delivered the funds personally to the Indian orphanage, Bal Ashram, sheltering and educating these young victims. Besides economic support, they bring personal skills to teach math and play sports with the rescued children living at Bal Ashram, one of two orphanages founded and sponsored by Bachpan Bachao Andolan of the Save the Children Movement, established by Nobel Peace Laureate Kailash Satyarthi.
"We're a lot more fortunate than they are," said Medhnaa after their first visit to the orphanage four years ago. "That's how I got the idea, I wanted to help," she said. "Just seeing those other kids with no parents."
Medhnaa and Kushaan, along with their parents, returned from another trip to India and the orphanage in July. While there at the orphanage in July, they met Bachpan Bachao Andolan founder, Satyarthi, who won the Nobel Peace Prize in 2014 for his dedication to children's rights and welfare.
While Medhnaa worked with the young residents on math and science, her younger brother played soccer and cricket with them, giving them a sense of normalcy. The siblings taught their parentless peers art and socialized with them.
"I play soccer and cricket with them and they are having fun," said Kushaan. "They want to have fun, they want to learn."
At home in Vienna, the Medhnaa raised money with an all-day bake sale at the children's school, Pinnacle Academy in Oakton, while Kushaan organized a soccer tournament with a small fee to enter. Parents of other students cooperated by baking donations. Their first bake sale, in May of 2014, raised $1,000 which was matched by a donor. Raised funds came in at $1,500 in 2015, and in 2016, the children – with their bake sale and soccer tournament registration – brought in $1,600. The Saran family foundation benefiting the Bal Ashram, the Touch of Life Foundation, registered as a 501-C3 this year. Medhnaa and Kushaan have bigger plans for fundraising in the upcoming school year. Besides the bake sale and soccer tournament, the siblings are looking into a golf tournament and a cultural exhibition. They say they want to "grow" their own organization to help more children have a better life.
Kailash Satyarthi founded the first Bachpan Bachao Andolan orphanage, Bal Ashram, in 1980 and, since then, have rescued more than 83,000 children from 144 countries from exploitation. The two orphanages he founded rescue dogs as well as children.
"When I hear stories about all the bad things that happened to the kids there, like no parents to take care of them, I really want to help," said Kushaan.
"I want to get them started to have a good life."
To learn more about the Vienna 501-C3 foundation started by Medhnaa and Kushaan Saran, e-mail msaran@touchoflifefnd.org. Matching-funds and donations from community are welcomed.