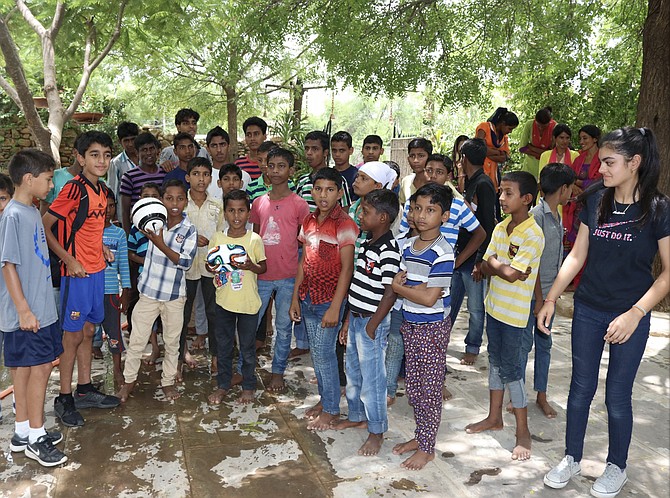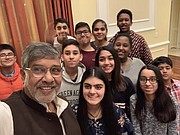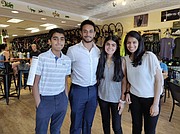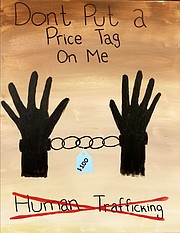 It was a privilege this week meeting the remarkable sibling duo, Medhnaa and Kushaan Saran of Vienna. Medhnaa, 15, and her brother Kushaan, 14, attend Pinnacle Academy in Oakton. Their school offers a dual-enrollment program that allows high school students to take college-level courses at Northern Virginia Community College in Manassas. There, Medhnaa takes three classes on top of her five high school classes, and Kushaan will begin NOVA classes next fall. Only a sophomore and a freshman, Medhnaa and Kushaan head their school's National Honor Society and National Junior Honor Society, respectively. This is only the start of many accomplishments these siblings have achieved.
EIGHT YEARS AGO, Medhnaa and Kushaan traveled to India, where they volunteered at Bal Ashram, an orphanage in Jaipur. Medhnaa and Kushaan wondered why the children wouldn't talk to them right away or why some had wounds or bandages. It wasn't until later that the Saran siblings learned these children were rescued from human trafficking and child slavery. The children's injuries were typically from abuse or dangerous labor they were forced into, and their hesitation to trust was a result of PTSD and living in fear of strangers' intentions.
"We knew we needed to help them," Medhnaa said, reflecting on the call she felt to support the children, and began raising money for Bal Ashram. In 2016, Medhnaa and Kushaan founded their own nonprofit organization, the Touch of Life Foundation, in an effort to spread awareness about the dangers and the exploitation individuals experience when they are victims of human trafficking. Touch of Life now hosts many events throughout the year such as community barbecues and clothing, toy, and book drives. They have also created lasting partnerships with local businesses who donate a percentage of their earnings to give to the children in India. They frequently mail packages of supplies to the children, and on some occasions, are able to hand deliver all they raised on their yearly trip to India. "We have so much to pack this year, because so much of it is going to the kids," Kushaan said about his trip to India coming up in December.
It was for her work advocating for the victims of human trafficking that Medhnaa was nominated for the International Children's Peace Prize this year. The prize was organized by Nobel laureates who recognize young people campaigning for a social right. Including climate change activist, Greta Thunberg, Medhnaa was a finalist selected out of over 2,000 nominees.
Medhnaa and her brother have also worked closely with state representatives in an effort to implement mandatory education in Virginia schools on what human trafficking is and how to identify it. The program is called Not My Child and has since been adapted for all school ages. "People that are trafficked are in life-threatening danger. Trafficking is so detrimental because it causes a lot of mental and physical trauma, so that's why it is so important that people know the signs and the risks involved," Medhnaa added.
There's a story about a hummingbird that saved a forest from being engulfed in flames, by bringing droplets of water to the fire again and again. The rest of the animals realize what she's doing and begin to help her, carrying more water and eventually putting out the fire.
A children's rights activist and Medhnaa's mentor, Kailash Satyarthi, calls her the hummingbird because he knows that "she is making, and will continue to make such an important change for children's rights."
ON NOV. 16, the Touch of Life Foundation will host it's 4th annual cultural function at the Stacy C. Sherwood Community Center in Fairfax to benefit the children at the Bal Ashram orphanage in India. The event is for all ages and is to celebrate Diwali, the Hindu festival of lights. Guests will be able to light a diya, a small oil lamp or candle, in honor of a child at Bal Ashram.